All hat sizes are approximate. There are slight variations from one hat to the next. It may be necessary for you to take your hat to a local hat shop for sizing in order to obtain that "just right" fit.
Any hat shop can easily size your hat up or down a full size.


---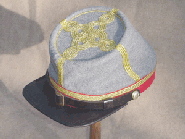 Here's your chance to get a great deal on a brand new officer's kepi. Your choice of branch of service trim and rank. This is a very well made kepi. The metal braid sewn in a quadrafoil design is gold plated. Just like the originals. Made from 100% wool with black cotton lining. Top grade leather brim with a bound edge. The adjustable leather chin strap comes complete with brass buckle and C.S.A. button's.
The kepi in the photo has blue trim denoting infantry but you can have yours without trim or with yellow, blue or red trim. Sizes available are medium and large, medium fits approximately a 7 1/8 to a 7 1/4 hat size and a large will fit approximately a 7 3/8 to a 7 1/2.



(75% of adult males wear a 7 1/4 or a 7 3/8)



Remember, all sizes are approximate and any hat shop can size these bad boys up or down a complete size or more. Normally they only charge a couple of bucks to resize a hat. This is the exact same kepi you've seen selling at other places for almost twice the price that we sell them for. Even the most discriminating reenactor will approve of this kepi. They make a great decoration for your war room or to any civil war display. Take advantage of this great deal, you won't be disappointed.


---
THESE KEPIS ARE OFFERED IN GRAY ONLY
CHOOSE THE SIZE HAT YOU NEED FROM THE LIST BELOW

MEDIUM, SIZE 7 1/8 TO 7 1/4 CHOOSE NOW!

LARGE, SIZE 7 3/8 TO 7 ½ CHOOSE NOW!


---
ADD BRANCH OF SERVICE TRIM
GRAY SAME COLOR AS THE KEPI. CHOOSE NOW!

FRENCH BLUE FOR INFANTRY CHOOSE NOW!

RED FOR ARTILLERY CHOOSE NOW!

YELLOW FOR CAVALRY CHOOSE NOW!


---
CHOOSE THE OFFICERS RANK FOR YOUR KEPI FROM THE CHOICES LISTED BELOW.
LT's., ONE ROW &nbsp ITEM #791 &nbsp $29.00 &nbsp BUY NOW!

CAPTAIN, TWO ROWS &nbsp ITEM #797 &nbsp $39.00 &nbsp BUY NOW!

MAJOR OR COL. THREE ROWS ITEM #793 $49.00 BUY NOW!

GENERAL, FOUR ROWS, &nbsp ITEM #794 &nbsp $59.00 &nbsp BUY NOW!


---


Click here to see
HAT BRASS AND BUTTONS
on page SEVENTEEN

Click here to refer back to catalog INDEX page.



www.blockaderunner.com

Phone: 931-389-6294 Fax: 931-389-0486

---
This site designed and created by Blockade Runner Publishing
Copyright © 2010 - No portions of this website may be redistributed in any form without expressed written permission from
Blockade Runner Inc.