RIFLE SLING INSTALATION VIDEO
CLICK HERE

After the video hit the "back button" to return to this page.
---
COMPLETE MUSKET CARE & CLEANING KIT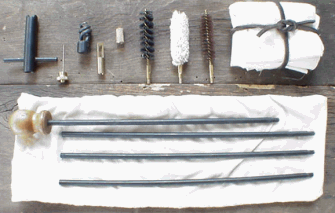 It has everything you need to take care of your musket. 4 steel rods with a wooden handle that is long enough for any military musket. 2 brushes, one brass and on nylon. One cotton bore swab. A .58 cal. worm / wiper that screws onto the rod or almost any Euroarms / Armisport Enfield or Springfield musket ram rod. A brass adapter so your brushes will fit the steel rod or your ram rod. A musket nipple wrench without a nipple pick. A bundle of cotton rags to cut into oil cloths or patches. A brass slotted jag for cleaning patches. A cloth draw string bag (colors vary) for it all to fit in. This is the most complete musket cleaning kit on the market. All you need is a bottle of oil and you're ready to go!



COMPLETE MUSKET CLEANING KIT ITEM #304 $36.95
BUY NOW!




---
BASIC CLEANING KIT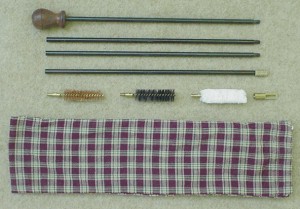 Comes complete with four steel rods, wooden handle, brass jag, .58 cal. cotton swab, .58 cal. brass brush, .58 cal. nylon brush. This item comes packed in a cotton draw string bag as seen in the photo. Colors of bags vary



BASIC CLEANING KIT #2121 $24.95
BUY NOW!


---


Click here to see
DEFARBED MUSKET
on page TWO-A in the Blockade Runner catalog!!!!

Click here to refer back to catalog INDEX page.



www.blockaderunner.com

Phone: 931-389-6294 Fax: 931-389-0486

---
This site designed and created by Blockade Runner Publishing
Copyright © 2013 - No portions of this website may be redistributed in any form without expressed written permission from
Blockade Runner Inc.