8 INCH STAMPED STEEL SKILLET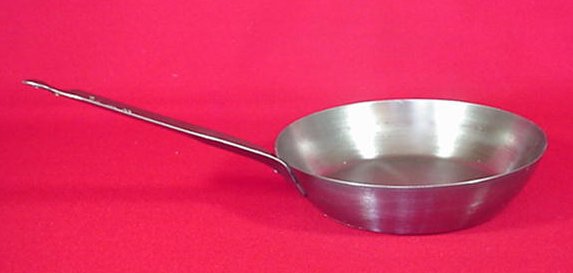 I'm really happy to once again (after a long absence) be able to offer a great stamped steel skillet. This one is 8 inches wide with the total length, handle and all, 15 inches. It's heavy enough for years and years of good service yet light enough to carry on campaign. The quality of this piece is excellent.



8 INCH STAMPED STEEL SKILLET
ITEM # 2507 $11.95
BUY NOW!




---
NEW JERSEY BOWL
We are very happy to have this item back in stock. I don't think we have ever had more request for the return of an item than for this one. The "New Jersey" bowl, it's a very convenient size measuring two inches tall and eight inches wide at the top. Now that may not sound like a very large bowl but it will hold a whopping four cups of your favorite gruel!
Did I mention tuff? Your not man enough to destroy this bowl and it has a good smooth tin coating to resist rust, not that ugly farb fest hot dipped look.
Why do we call it the N.J. bowl? Because somewhere out there, there's a great photo of a N.J. mess sitting in front of their early war training camp tent with this exact bowl in hand. If I live long enough I'll find it and post it.



NEW JERSEY BOWL
# 2014 $11.95 BUY NOW!



---
RIBBED TIN COFFEE POT
Here's a great little personal size Ribbed Tin Coffee Pot that's just the right size to hang off your back pack or haversack. I'm not going anywhere without my coffee pot and the more convenient the better. This little devil holds about a quart give or take a sip. The lid is hinged so you don't have to worry about dropping it into the campfire. The handle and the bail are large enough you can get your hand around them for a good grip. It stands about 6 1/2 inches tall and just for the record those of you who drink Coke for breakfast are communist.



RIBBED TIN COFFEE POT
ITEM # 2337 $24.95 EACH TEMP. OUT OF STOCK.


---
RIBBED TIN CUP
We may be a little "late out of the gate" with this item, I know some other folks have been offering you this item for some time. Sorry but I was not going to list these until I found a tin maker who would make a quality cup at an affordable price. It took a while but here it is. The photo left is of our small, it stands three inches tall and is three inches wide. The large model stands four inches tall and is four inches wide.
These cups are made from good heavy quality tin which is "ribbed" in the center for extra strength. They are made of a good period design so they look great. The handle is large enough to get your hand in comfortably and it has the heavy wire throughout the handle which attaches it to the top of the cup. The small version of our cup holds 1 1/3 cups while the large holds 3 full cups! That's a lot of coffee, I can't afford to have mine filled at fivebucks, whoops, I mean Starbucks.



RIBBED TIN CUP SMALL
ITEM # 299 $9.95 EACH TEMP. OUT OF STOCK!

RIBBED TIN CUP LARGE
ITEM # 300 $11.95 EACH BUY NOW!


---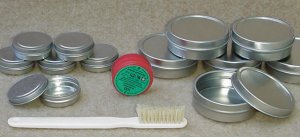 TIN CONTAINERS
We are very happy to be able to offer these great tin containers once again. I underestimated just how popular they would be. We sold out of them in just a few weeks even though I bought the last supplier completely out.
Fortunately we have secured a large shipment and should not run out any time soon.

The uses for these great little tins is just unlimited. Use them for your med.s, tooth powder or to replace that plastic pistol cap container that's been rolling around in the bottom of your haversack for the last 6 re-enactments. I'm sure you can think of many more uses than I can. Any time you need a period correct container here's the answer.
The smaller tin measures 1.5 inches wide and 5/8 of an inch tall. Very similar in size to the old pistol cap tins.
The larger of the two measures 2.5 inches wide and 7/8 of an inch tall. Large enough to carry all the "in field" sewing gear a volunteer needs. Order several of each, at this price how can you go wrong?



SMALL TIN CONTAINER
ITEM # 2226 $.95 EACH BUY NOW!

LARGE TIN CONTAINER
ITEM # 2226-A $1.95 EACH BUY NOW!




---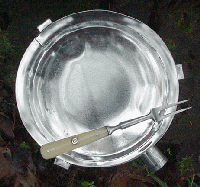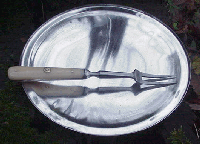 CONFEDERATE MESS KIT
This has to be one of my favorite pieces. I have been planning to reproducing this kit for years but I was determined to make it in it's complete form. Only recently did I find someone who could reproduce the forks for me and I am very glad to now be able to offer it to you.



Now class if you will turn to page 58 of your Sylvia and O'Donnell canteen book please take a look at the photo at the bottom of that page.
Is that cool or what?!!!
An original Confederate tin drum canteen with one side removed, found with a two prong fork laying inside of it. This canteen was dug in a Confederate camp near Centreville Virginia. The camp was occupied by Georgia troops in the winter of 1861/62. Just cause we Southerners talk slow don't mean we think slow. I don't think you could come up with a better, all around mess kit if you tried.
And take a look at that fork, bone handled, brass riveted to hand worked steel. The only thing I am sorry about is frauds and fakers will pass these off as originals in the near future.

It's a plate, it's a pan, it's a storage container for your rations. You can take a short stick and put it in the spout. that will enable you to use it like a pan for heating coffee. And even though the side that was removed was not found with the original we are going to include it with your kit. It makes a great plate. When your all done and have cleaned your kit, ready for the march, you can take your day's rations along with your fork and the stick that you used for the handle and put it all inside of the canteen. Put the side back on and with a leather thong tie it all securely into place. ready to toss into your haversack. It weights practically nothing. You won't even know it's there. And that's a good thing on a long march. Or even a short march.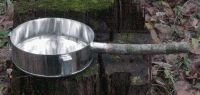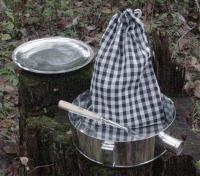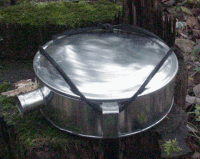 YOUR COMPLETE KIT INCLUDES ALL OF THE FOLLOWING


1) Confederate tin drum canteen with one side removed
1) The side that was removed
1) Two prong bone handled fork
1) Leather thong
1) Wooden handle
1) Ration bag



This kit would be over $40.00 if bought separately.

When bought in it's complete form only $34.95
CONFEDERATE MESS KIT # 2034 $34.95
BUY NOW!

CANTEEN ONLY # 2034-A $19.95
BUY NOW!

FORK ONLY # 2034-B $9.95
BUY NOW!


---
MONTEAGLE CANTEEN 1/2 SKILLET




Although the canteen 1/2 skillet is a popular item in the re-enacting world, I did not want to make one until I had a good example of an original. Our skillet is an exact copy of the one dug from a camp on Monteagle Mountain in Grundy County Tennessee. The original now resides in the Charlie Harris collection. You may know Mr. Harris from his book "Relics of the Western Campaign". He also did all the photos. You can find a very good photo of the original skillet on page 118 in his book. It is a very good reference book and still available at almost any of the larger relic shows. Considering it's age, the original skillet is in extremely good shape. This made it much easier to copy. We make our skillets one at a time here in our black smith shop. Every detail is reproduced including the odd shaped spout opening of the original canteen. The wrought iron handle is affixed to the 1858 smoothside canteen 1/2 by means of "bradding" original crate nails dug in Civil War camps.

Sorry but we have finally exhausted our supply of crate nails and we are now using iron rivets to affix the handles.

In Mr. Harris's book he lists the nails used as being "horse shoe nails". It's a simple mistake. Lots of folks around here refer to any square nails as horse shoe nails. The nails used on the original skillet are crate nails. Small square cut nails that during the Civil War era were used in the manufacture of shipping crates. You often dig a handful of these nails from fire pits in Civil War camps as many of the crates, once emptied were simply burned. I think you will be very pleased with this skillet. I know I am.



MONTEAGLE SKILLET ITEM # 2013 $19.95
BUY NOW!


---
CONFEDERATE COPPER MESS PLATE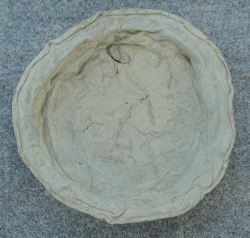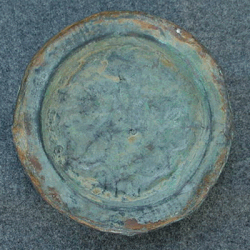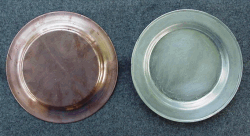 Boy have we been working on this one a long time. I've been a digger here in middle Tennessee since 1983. Every so often I or one of my bud's would find one of these copper plates in the Confederate camps. Mostly along the Duck River line in and around Shelbyville. Remember the chapter in Sam Watkin's book "Co. Aytch", about him and the boys frying and eating the mussels they found in the Duck River? Well this is the plate they ate them off of.
After doing a little research and showing my plate to other diggers around the country I found that they were more wide spread than I first imagined. There are samples of the same plate dug in Vicksburg Miss., Shelbyville Tenn. and surrounding camps, Franklin Tenn. and from Confederate camps used during Gen. Hood's ill fated battle of Nashville. Most are exactly alike but a few have slight variations. All are tin plated on the top but not the bottom. The similarities of all these plates suggest a single source. My best guess would be that they were all ran through the blockade. If they were made by a southern company the raw material would have had to have run the blockade first. Due to the extended time span these plates were used I opt for the Blockade Runner theory as southern manufacturers often had to move with the shifting lines. Relocating equipment often means lost or damaged dies and molds. Remaking molds and retooling (in my opinion) would have resulted in greater variations from one time period to the next.
I have always thought this plate was a great relic and needed to be reproduced but I could never find that one person with all the expertise to make them. Not any more!

Our plate is made here in the states one at a time. Hand spun on wooden molds just as the originals were. They are then tinned over a charcoal fire one at a time using the exact same process used in the 1860's. They measure 8 1/2 inches wide and approx. 1 inch deep.
The plate in the photo top left is from my collection, I have another from the same Shelbyville camp but it's a little squished. The plate on the right is from Sanford Pott's award winning collection seen at major relic shows around the country. It too was dug in a camp near Shelbyville.



CONFEDERATE COPPER MESS PLATE ITEM # 2151 $14.95

BUY NOW!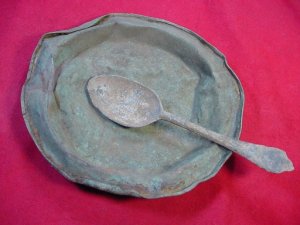 Another Copper Plate
Since we introduced our copper mess plate we have watched several of our friends here in Middle Tennessee dig even more of these originals. The photo above is of one of the nicest ones to come out of the ground lately. It was dug in one of CS General Van Dorn's camps near Columbia Tennessee. Larry Hicklen had it for sale at his shop (Yesteryear, you can find it on our links page) and it sold before I knew he had it! I should have checked more often. Anyway I just thought you would like to see it. Cool pewter spoon too! Just in case you are curious, this plate sold for $75.00 That was a steal. Just a few weeks ago I offered a guy $150. for one that was just a little better than this one and he turned me down. I did buy one last week that was dug in Lynchburg Tn. for $45. but it is in pretty rough shape.


---
U.S. OR C.S. STAINLESS STEEL MESS PLATE


Here is a great deal on your choice of a brand new U.S. or C.S. stainless mess plate. Made from stainless steel. You can treat it any way you like and it will still look like new. You just can't hurt these plates!

They measure 8 3/4 inches across and are 3/4 of an inch deep. A very good plate all in all and at a great price.

U.S. PLATE ITEM # 904 $9.95

BUY NOW!

CS PLATE ITEM # 905 $9.95

BUY NOW!


---
1851 PATENT 2 GALLON BRASS BUCKET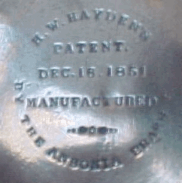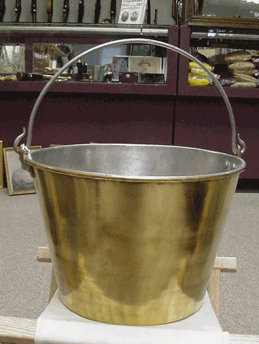 A brand new 1851 large brass bucket with the inside tinned. This is a perfect copy of the 1851 Hayden patent bucket. The bottom is marked with the manufacturer stamp (that's us!) photo right. That's the original makers mark and patent photo left. We chose not to use the original makers mark as these buckets are just too easy to fake as originals already. It holds 2 gallons of whatever. It's almost 9 inches tall and 12 inches wide at the top. It has a hand forged iron handle that has also been tinned so there is no portion of this bucket that will rust. I guess that's why you see so many of the originals still around and when you take into account how many of these buckets fell victim to the WW2 scrap drives, well they must have sold a lot of buckets! Why are they tinned on the inside you ask? Well one reason is there just easier to keep clean. You don't have to worry about getting the green rub (polishing brass). This bucket has 101 uses around a camp site. Just like the original these buckets are spun, that means there made from one piece of brass. No solder joints! So you can heat all the water you want over the fire with no worries about it falling apart in the fire. And think of all the farby equipment they will replace. Whether your a cavalryman, a wash women or just the poor sap who got stuck cleaning all the mess gear you will love this bucket. I don't know personally but I've been told they're great to chill beer in, imagine that!



BRASS BUCKET ITEM # 877 $89.95
BUY NOW!


---
HEAVY TIN BOILER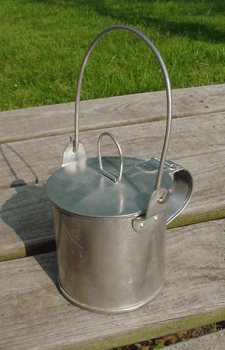 Here's your chance to get a great deal on a brand new heavy tin "hot dipped" boiler. If your impression has to be the best then you know it's all in the details. When you look at an original boiler you'll notice that the finish has a sort of textured look to it. That's because the tin they were made of was dipped. Our new boiler is not only an exact, and I do mean exact copy of an original in every detail but it is also "tin dipped". If you want the best of the best this is it. If you don't think so just send it back because these things are flying off the shelf and we have not even started to advertise them yet! We know we could charge a lot more for them but I want everyone who wants one of these to be able to afford one.

ITEM # 874 $29.95

BUY NOW!

---
US & CS MARKED STAINLESS STEEL DEEP DISHED PLATES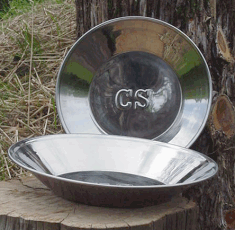 Our stainless steel deep dished U.S. & C.S. stamped plates hold a lot of grub! They're 9 inches wide (that's about the same width as a regular plate) but they're 1 1/2 inches deep. Fill this baby up and there won't be any need for another trip through the chow line. The great thing about stainless is you can't hurt it. I don't care what you do to it. It will still wipe clean and be ready for you next mess. Unless you lose it, you will never have to buy another plate again.



ITEM # 864 US MARKED $11.95

BUY NOW!

ITEM # 865 CS MARKED $11.95

BUY NOW!


---
Stainless Steel Mucket/Boiler


Take a look at these great stainless steel muckets!


One piece construction makes them almost indestructible and since it's stainless cleanup is very easy. Even when you can't clean it right away! It's great for cooking up that first cup of coffee in the morning or for trying to make some sort of stew from those crappy rations the first Sgt. handed out even though you chipped in $10. and he promised to bring steak. But I'm not bitter.
Unless you lose this mucket you will never have to buy another.
It comes with a hinged lid to keep out the ash while cooking.
Holds a full quart and a bail to hang it with. We had these manufactured especially for the Blockade Runner so we had to buy a bunch.



That's why we are selling them for only....$24.95....
Item # 313 BUY NOW!


---
HEAVY DUTY CUPS
HEAVY TIN CUP

This is the top of the line tin cup. It's made from heavy, bright finished tin. It holds almost a full 24 ounces. Take care of this cup and it will last you for years. It's a great copy of the original right down to the reenforcing wires that run through the handles.

#292 $9.95 BUY NOW!

LARGE COPPER CUP

These heavy copper cups are great. They will never ever rust. If you lost this cup in the field for 10 years all you would have to do is clean it and it can go right back in your kit. This could be the last cup you ever have to buy! It holds almost a full 24 ounces. of your favorite beverage.

#293 $16.95 BUY NOW!
---
SMALL HEAVY DUTY TIN CUP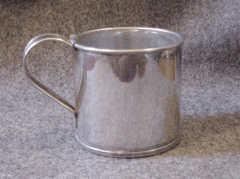 A wonderful reproduction of the original. It has the heavy reenforced handle where the wire loops over the rim of the cup and is soldered to the body as well. This cup is sure to last you. It is a smaller version of the "large heavy duty cup" holding about 12 ounces. You won't find a better cup for $6.95 anywhere.

#290 $6.95 BUY NOW!
---
FOLDING KNIFE, FORK AND SPOON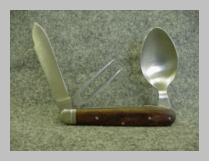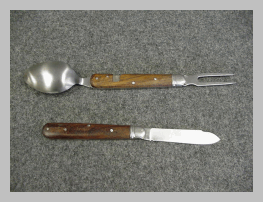 Here is a great repro of a private purchase folding knife, fork and spoon. Although these were never an issue item there dug in every theater of operation in camp after camp. I have owned several originals myself.
My favorite feature is that it comes apart so that your fork and spoon are on one piece and your knife is on the other.
And at our great price.

...$19.95... Item # 564 BUY NOW!


---
CIGAR TIN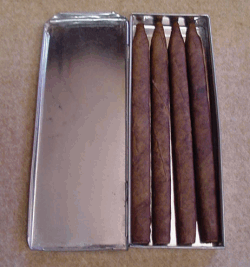 KEEPS YOUR STOGIE FROM GETTIN' BROKE!
This Civil War era reproduction cigar tin holds 4 of your favorite stogies. You'll never have to worry about breaking another cigar. The lid snaps shut tight until your ready for a smooth smoke. Made from bright finished, heavy tin. The lid snaps shut to keep everything inside safe and secure.
Cigars not included
It makes a great sewing kit too!

ITEM # 309 $11.95 BUY NOW!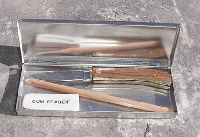 I know your used to seeing this tin used as a cigar holder but it has lots of different uses. It works great for a pen and pencil box as seen in the photo. Your limited only by your imagination. You can use this box to store any of those items that normally end up in the bottom of your haversack. Crochet needles perhaps? Sewing needles, thread with lots of room left over for patches. What ever you decide to use it for I'm sure you'll enjoy this tough and functional tin.


---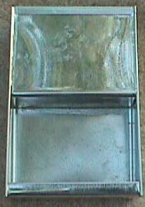 CARTRIDGE BOX TINS


This pair of Union style cartridge box tins
Will fit any standard style cartridge box.
Unless you have a home made, odd size box these will fit.

CARTRIDGE BOX TINS ITEM # 305 $8.95 per pair

BUY NOW!


---
FOLDING TIN CANDLE LANTERN
This folding tin candle lantern measures 6 inches tall by 4 inches wide. This little lantern puts out a ton of light. The bright finished tin case acts as a reflector to put the light right where you want it. Just look at that reflection, it's almost like a mirror. You will be amazed at just how bright these handy little candle lanterns are.

#307 $17.50 BUY NOW!


---
3 TINE FORK, KNIFE & SPOON SET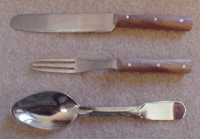 Finally a great looking reproduction of original style cutlery. This knife fork and spoon set is copied from the most common style you would find during the war. It's very simple and with a little use and age, it will look just like the original without the cost! And it won't be a heart breaking experience if you lose one of these.

FORK, KNIFE AND SPOON #667-A $12.95 BUY NOW!


---
KNIFE, FORK, SPOON COMBO

This is actually a Union issue item. What a great space saver. It all just slides together and slips neatly into your haversack or knapsack. You won't even know it's there until its time to eat.

ITEM #563 $11.95 BUY NOW!
---
TIN PLATES
ECONOMY TIN PLATE 10 INCH TIN PLATE WITH HIGH RIM. GREAT FOR SOUPS AND STEWS!

ITEM #295 $3.95 BUY NOW!


---
STAINLESS STEEL PLATES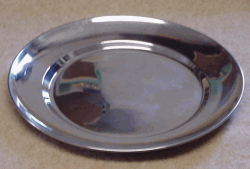 If you're tired of buying 3 new plates a year because you got to a reenactment and found your old one had rusted to Gettysburg and back here's the cure. A 10 inch wide 1 inch deep stainless steel plate. It will never ever rust regardless of what you do or don't do to it ( like forgetting to wash it for a couple of weeks). It's deep enough to hold that god awful stuff event organizers call Brunswick Stew without spilling it all over your lap. And if anyone doesn't like your plate just throw your stew on them. Even if you lose the fight you will be in less pain than if you had to actually eat the stuff.



10 INCH STAINLESS STEEL PLATE
ITEM #296 $9.95 BUY NOW!

8 INCH STAINLESS STEEL PLATE THE EXACT SAME PLATE AS ABOVE BUT JUST A LITTLE SMALLER
ITEM #296A $7.95 BUY NOW!

6 1/2 INCH STAINLESS STEEL PLATE THE EXACT SAME PLATE AS ABOVE BUT JUST A LITTLE SMALLER
ITEM #296B $5.95 BUY NOW!


---
STAINLESS STEEL CUPS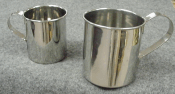 Are you tired of throwing away those rusted tin cups just to have to go and buy another at the next event? Well here's the last reenacting cup you will ever have to buy. Tough durable and will not rust regardless of what you do to it. All stainless steel construction for a cup that will last you a life time. Available in 2 sizes.

SMALL STAINLESS STEEL CUP Item #672 ....$7.95.... BUY NOW!

LARGE STAINLESS STEEL CUP Item #673....$9.95.... BUY NOW!


---
VIDEO
HOW TO "SEASON" CAST IRON.
SEASONING CAST IRON VIDEO

WE OFTEN HAVE ANTIQUE SKILLETS, DUTCH OVENS & SPIDERS FOR SALE. CALL FOR AVAILABILITY.
---
PRE-SEASONED CAST IRON SKILLETS
Pre-seasoned cast iron cookware and 3 sizes to choose from. Pre-seasoned means a thin layer of carbon has already been "laid down" on your cookware by coating it with a thin layer of cooking oil and burning it off several times. The same thing your Grandmother did to her skillets to give them that nonstick surface so food would not stick and burn.

Now for the three sizes. Which size do you need? The small 6 inch skillet for one perhaps. If you enjoy cooking and spend a lot of time around the cookfire the 8 inch might be more to your liking. If you're cooking for more than one you would probably prefer the 10 inch.
Regardless of which skillet you prefer you can count on years of good service from any of these three.



6 INCH CAST IRON SKILLET
Item #673-A....$11.95.... BUY NOW!

8 INCH CAST IRON SKILLET
Item #673-B....$14.95.... BUY NOW!

10 INCH CAST IRON SKILLET
Item #673-C....$18.95.... BUY NOW!




---
CANTEEN HALVES, USED AS BOWLS.


It's brand new and made of bright finished tin. It's from an 1858 style smooth side canteen. The troops would take an old canteen and throw it in the fire to melt the solder out of the center joint. Then they would let it cool and pop it apart. You've got bowls! This is pretty common item to dig around large camps. These do have the spout notch cut out of the top for the spout just as the originals do.



CANTEEN HALF ITEM #301 $8.95 BUY NOW!




---
SMALL COPPER CUP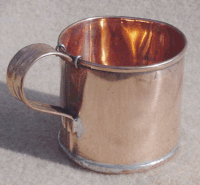 Brand new small copper cup. It holds one full pint, that's 12 ounces. More than enough room for your favorite canned beverage. These cups really look great but the best thing is they will never ever rust. If you don't lose it or run over it with your truck this could be the last reenacting cup you ever buy!



SMALL COPPER CUP ITEM # 802 $11.95 BUY NOW!




---
BUGLE CORDS
Brand new military bugle cord. Made just like their Civil War counter part from 100% wool. They're almost 3/8 of an inch thick and 20 ft. long. If you look in any book dealing with Civil War musicians you will see that buglers used a variety of different knots and wraps to attach their cords to their instruments. I chose to use the pattern you see in the photo above because I had a good period photo of a union bugler using this design.



BUGLE CORD, RED #254 $19.95 BUY NOW!

BUGLE CORD, BLUE #255 $19.95 BUY NOW!

BUGLE CORD, YELLOW #256 $19.95 BUY NOW!


---


Click here to see on page TWENTY-SEVEN

Click here to refer back to catalog INDEX page.



www.blockaderunner.com

Phone: 931-389-6294 Fax: 931-389-0486

---
This site designed and created by Blockade Runner Publishing
Copyright © 2017 - No portions of this website may be redistributed in any form without expressed written permission from
Blockade Runner Inc.