STONEWARE PITCHER


This brand new stoneware pitcher is pale green on the outside, the inside has been fired with a white finish. It holds approx. one half gallon. Perfect for your 19th Century kitchen or your refugee impression.



STONEWARE PITCHER $19.95
BUY NOW!




---
PEWTER TEA POT
This design of teapot goes back to the 1700's and is still being produced today. It works just as well for Rev. war as it does for CW. It is used and has a couple of very faint dings. It is in overall great shape and will give you many years of good service regardless of where you choose use it. It stands almost 10 inches tall.



PEWTER TEA POT $19.95 BUY NOW!



---
COFFEE POT
This coffee pot is not for brewing but rather for serving. It is silver over copper. It is used and has some very small dings but nothing that really detracts from it's overall appeal. It stands 9 inches tall, holds over a quart and is ready for your table just as it is.



COFFEE POT $19.95 BUY NOW!



---
ORGANIC APPLE BETTER!
BACK IN STOCK, FALL 2017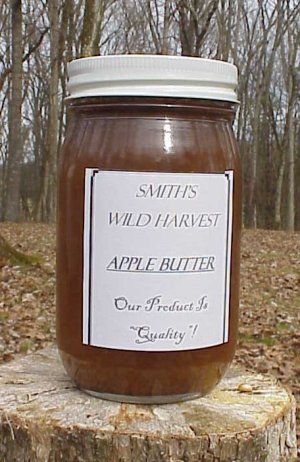 Apple Butter? Nope, Apple Better! This is the best tasting, most versatile apple product you can have on your shelf. Use it like jam, use it as an ice cream topping, as a traditional pie filling, as a fried pie filling or as a glaze for pork roast.
A flavor similar to Apple butter but with a much more appealing taste and texture. Delicious straight out of the jar.



APPLE BETTER
ITEM # 2517 $4.95
BUY NOW!




---
MULLBERRY SYRUP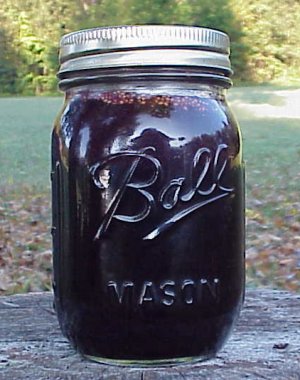 Mullberries are in my opinion the most delicious berry of all and the most under utilized. You seldom hear of anyone using them today even though they grow everywhere especially here in the South. I assure you that was not always the case. When I was a child I remember some of the older folks pointing out mullberry trees to me and remarking that when they were children that they helped their mother or grandmother gather berries from that very tree. It was often the youngsters job to climb the tree and shake the branches releasing a "rain storm" of the dark sweet treats. If you saw a very large single tree standing alone in the middle of an otherwise plowed field it was probably a mullberry that the farmer had spared in order to harvest the fruit.

This year we gathered about 20 gallons of mullberries from our wild mullberry trees so we could make a batch of my favorite, mullberry syrup. I prefer syrup over jelly or jam as it is the most versitile. Pour it over pancakes or icecream. Spoon it onto biscuits or into your coffee. During the holidays it makes a wonderful cordual.

Now if you have never enjoyed mullberries before then you are in for a real treat. Similar in many ways to wild blackberries but sweeter and much less tart. The seeds are tiny and almost impossible to remove even if you wanted to. Surprisingly the seeds are not hard as you would find in many berries. In texture they are very similar to toasted flax seeds.
The Eastern cultures attribute many health benifits to this delicous berry as well. But for me it's all about the taste.



MULLBERRY SYRUP
ITEM # 2533 $4.95
BUY NOW!




---
VIDEO
HOW WE MAKE OUR SPICED APPLE CIDER.
SPICED APPLE CIDER VIDEO
---
ORGANIC SPICED CIDER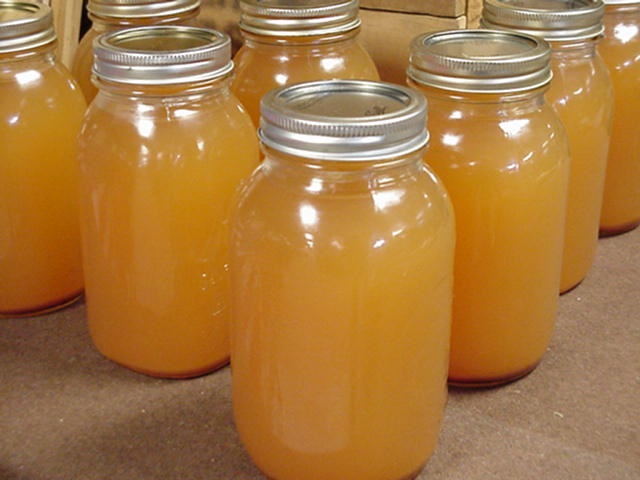 We've always been proud of our spiced cider and have shared it with friends for years. After much encouragement from our friends and neighbors we now offer it to you.
The Smith family has been growing "Arkansas Black" apples here in Bedford Co. since 1813, that's a lot of Great Grandfathers ago. The Arkansas Black is of the Winesap variety. It matures late and is very disease resistant making it ideal for organic growers.
Our small orchard produces around 200 quarts of juice a year and we do not intend to expand. Therefore this will be a limited or an in season product. When we are out - we are out until next year.
Our apples are hand picked and sorted, washed 3 times and then juiced on a Buckeye Cider Mill that is over 120 years old, yes, hand crank. Another reason we do not intend to expand.
Our juice is not filtered but allowed to "settle" in a holding tank and then drawn off reducing any need for filtering. Then the spices are added and it's on to be processed and canned in our "inspected" commercial kitchen. After that it's ready for you. Don't be surprised if you see a little apple pulp or a bit of allspice in your jar. It's perfectly safe to drink.
The best tasting Spiced Apple Cider you've ever tried. Great cold, better hot or add your own "special seasoning" for a great apple pie drink.



SPICED APPLE CIDER 1 QUART
ITEM # 2515 $6.95
BACK IN STOCK SOON!




---
"PEARLY LEGAL"

Pears in a lite spiced syrup. Organicly grown right here in the Blockade Runner Orchard and canned in our inspected commercial kitchen. These delicious pears are canned in a light syrup of their own juices, brown sugar, fresh lemon juice and just a splash of Bedford Co.'s finest 100 proof. (Just for flavor mind you.) A very fine unique flavor that's great all by itself or as a condiment. If you are clever it can be used in a host of desserts as well as mixed drinks to boot.



PEARLY LEGAL
ITEM # 2532 $4.95
BUY NOW!




---
BURLAP BAG W DRAW STRING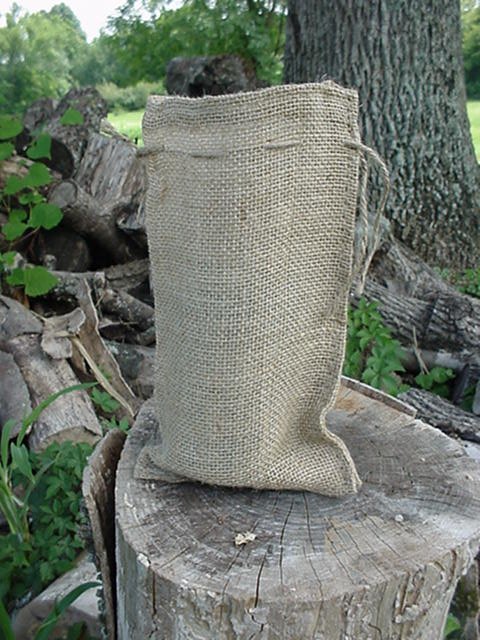 These little bags measure 6 inches wide and 10 1/2 inches long and what a handy little item they are. Great for sorting out your junk, I mean importent items for the trip to and from reenactments. Great for hiding stuff too. Although I know you would never bring anything to an event that wasn't 100%. For those who do - this is just about the size of a quart jar. As a matter of fact, there's a quart mason jar in the bag in the photo. The bag also helps to protect the glass from breakage and stops the clinking noise that jars make in transit. Store your stolen silverware in one of these so you don't have to share it with the Capt. Store your food stuff such as beans, rice, etc. in these. Anything wrapped in wax paper will fit in here nicely too. Limited item. They will be gone soon.



BURLAP BAG W DRAW STRING.
ITEM # 2509 $2.95
BUY NOW!




---
B.B.Q. SAUCE

Blockade Runner brand BBQ Sauce is based on a 300+ year old Virginia recipe. It's a tomato based sauce with a complex flavor that pulled pork lovers find hard to resist, yet it is mild enough to be pleasing to the most sensitive palate.
It's not just for pulled pork. It's great on everything from steak to meatloaf. It's so good it should come with a straw!



B.B.Q. SAUCE
ITEM # 2520 $4.95
BUY NOW!




---
BASTING MOP "RAG MOP"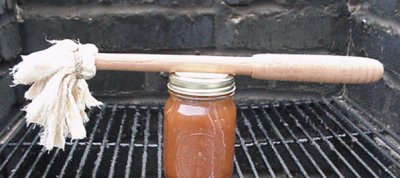 A rag mop for basting is an essential item for both home and camp. It is not only the most period correct item for the job it is simply the best item for the job. Nothing else works as well. It covers the meat with a smooth even coating with just one pass. No need to stand over the hot fire using something that was never made for the job (A paint brush). Applying multible thin coats of sauce while you melt!
Made from a turned cedar handle with a head made from strips of muslin rags, securely affixed to the handle by hemp string.
No two are exactly alike but all will measure approx. 16 inches long. When properly cared for this item will last for years.



RAG MOP FOR BASTING
ITEM # 2522 $22.95
BUY NOW!




---
SHIPS BICUITS / HARD TACK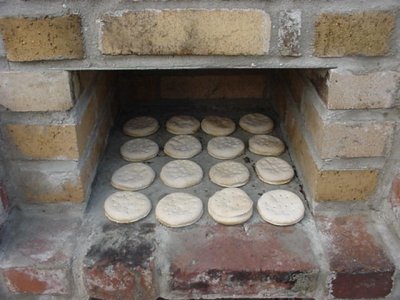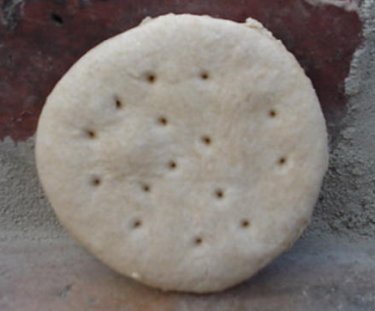 Owlcotes Baking Co. Ships Biscuits. The most palatable, longest lasting ship's biscuit available at any price. A rival to any London bakery! Enjoyed by sailors the world over. Our biscuits have been known to make the voyage from Portsmouth to Bombay and back without any sign of spoilage.
Capt. Ethridge, Master of the steamer "KATE" writes us, "I will not leave port until I'm sure that a goodly supply Owlcotes Ships Biscuits have been stored away for the voyage".
Available at the finer ship chandlers in most ports.
Packed in quantities of 4 biscuits per container. A full days ration!



SHIPS BISCUITS, PACK OF 4.
ITEM # 2518 $3.95
BUY NOW!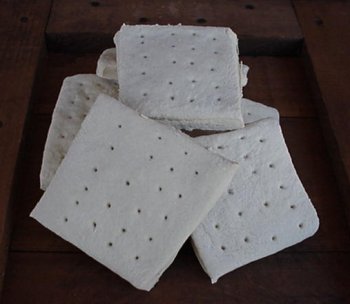 HARDTACK
Our hardtack biscuits are made of the exact same recipe and process as our ships biscuits above but cut into squares for the army. Four biscuits per package. No campaign will be successful if it's soldiers are hungry. A crate of our hardtack could be the difference between success or failure on the battlefield.



HARDTACK BISCUITS, PACK OF 4.
ITEM # 2518-A $3.95
BUY NOW!




---
CORK BOTTLE SPICES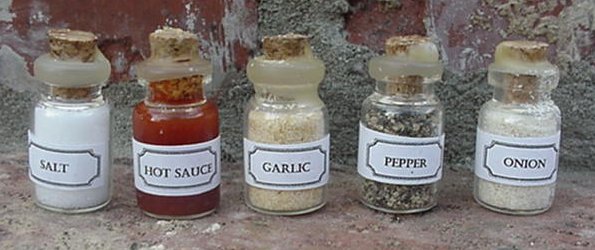 A poet once said, "Variety is the spice of life", but I beg to differ. Spices are the spice of life. If you have eaten many of the "meal provided" fare at reenactments you know exactly what I mean. So with that stomach churning thought in mind we have developed an easy to carry little spice chest that you can drop right into your haversack. You will never even know it's there until you need it. Ahhh but when you do need it, it will be the most appreciated item in your kit.
We offer this item in a variety of ways. You can buy the cork & bottle all by it's self and put what ever you like in them. You can buy them one by one filled with your favorite spices and if you like you can buy them along with one of our musket cap tins which will hold eight of these bottles safe and secure. That's not confusing at all is it? I'm sure you'll figure it out.
By the way, these little bottles hold one teaspoon full, Just the right amount for a weekend campaign. All of our bottles of spices are sealed with a beeswax coating over the cork.



CORK & BOTTLE ONLY (EMPTY)
ITEM # 2519 $.95
BUY NOW!

SALT, CORK & BOTTLE
ITEM # 2519-A $1.95
BUY NOW!

PEPPER, CORK & BOTTLE
ITEM # 2519-B $1.95
BUY NOW!

GARLIC POWDER, CORK & BOTTLE
ITEM # 2519-C $1.95
BUY NOW!

ONION POWDER, CORK & BOTTLE
ITEM # 2519-D $1.95
BUY NOW!

RED PEPPER, CORK & BOTTLE
HOT SAUCE IS NO LONGER AVAILABLE.
ITEM # 2519-E $1.95
BUY NOW!


---
8 OF THE BOTTLES ABOVE WILL FIT INTO THESE TINS
HICK'S US MUSKET CAPS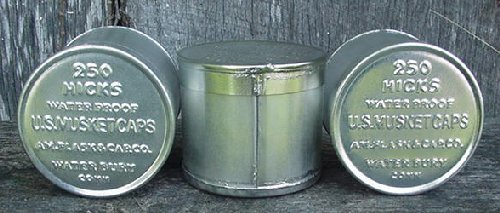 The Sam Davis Home & Museum in Smyrna Tn. has an identified Confederate soldier's musket cap tin just like this one on display. It was used by the soldier as a "housewife" (sewing kit). Just goes to show you that those boys did not throw away anything that could be re-used. I think that gives us licence to re-use ours as a spice tin.
The photo above shows the tin very close to actual size. It stands almost 2 inches tall and is 2 inches across. The joints and side seam are soldered just as the original.



HICK'S US MUSKET CAP TIN
# 2334-A $11.95 BUY NOW!



---
NEW LARGER CORK TOP
SPICE BOTTLE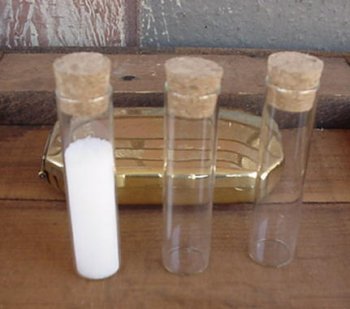 Some of you have ask for a larger spice bottle. The smaller ones are great for the single soldier but not quite large enough for the mess cook.
I think this one will do the trick. It holds 2 1/2 Teaspoons of your favorite spices. The brass tender box that is in the background of our photo stores 3 of these bottles nicely.

These work well with any medical impression also.



NEW LARGER SPICE BOTTLE
ITEM # 2527 $1.95
BUY NOW!

BRASS TENDER BOX
ITEM # 2113 $8.95
BUY NOW!




---
KITCHEN MASHER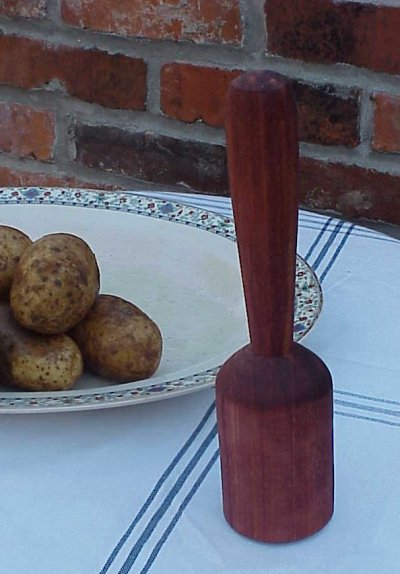 Here's another great product from our wood shop. A cedar kitchen masher. One of these would be found in every 19th century home. Used to tenderize meats, for making bread crumbs or mashing potatoes. It certainly would not be out of place in a refugee camp.
Hand made one by one no two Mashers will be exactly the same but our mashers generally measure 11 inches tall with a head 2 1/2 inches across. Why cedar? Cedar is the traditional wood used for most home and kitchen wares in Tennessee and the surrounding area during the 19th century. There are only 2 true cedar forrest in all the world, one is just north of Murfreesboro Tn.




KITCHEN MASHER
ITEM # 2521 $19.95
BUY NOW!




---
ROUND HANDLE CEDAR SPATULA





Our cedar spatulas are made right here in our wood shop. This style is turned on a wood lathe for a round handle then the business end is carved into a typical flat spatula shape. Not the type of spatula that you would use to flip eggs. Generally speaking, the word "spatula" is used for any wide flat utensil. If you have spent any time at all in the kitchen you know just how often you need this tool. Sometimes there is no other tool that will work for the job at hand. Anything that is sticky, gooey or heaven forbid over cooked will stick to the walls and bottom of the pan with a vengeance. A spoon just will not reach every little nook and cranny. You know that any spot that is left unstirred it will burn and there goes all that work.
Our cedar spatulas measure 12 inches long and 2 inches wide at the blade. (More or less) Remember these are hand made and each one is unique.



CEDAR SPATULA 12 INCH
#2934 $19.95
BUY NOW!




---
FLAT HANDLE CEDAR SPATULA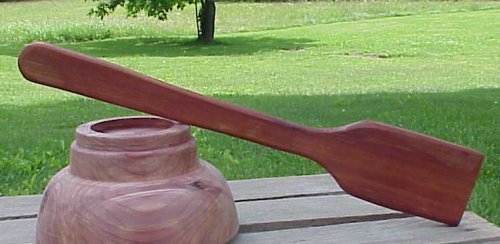 Here's another great item straight from our wood shop. A hand carved flat spatula made from Tennessee cedar, the best cedar in the world. A very useful tool in your kitchen or at your camps cook fire. Remember the term "spatula" refers to any flat utinsel. It would be dificult to flip an egg with one of these. You can flip pan fried meats or any item of that nature. It's very useful in almost any aspect of cooking. From stirring a bean pot to scraping out a large bowl.
They measures approx. 12 inches long. The "head" is 2 inches wide and they are 3/8 of an inch thick. These are hand made one at a time so all measurements are approx.



FLAT HANDLE CEDAR SPATULA
12 INCHES LONG #2937 $14.95
BUY NOW!

16 INCHES LONG #2937-A $19.95
BUY NOW!




---
CEDAR SERVING SPOON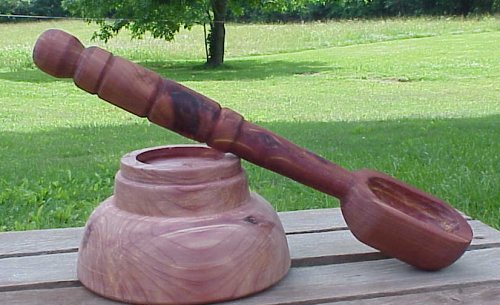 All of our cedar kitchen utensils are designed with the 1 gallon bean pot in mind as this was the most common pot both then and today. Our cedar serving spoons are no exception. They all measures 12 inches long or there abouts. They are designed for heavy use but they have a great eye appeal as well. As with all of our cedar it is made right here in our shop. This would be a common item in any kitchen or refugee camp of the era.



CEDAR SERVING SPOON
ITEM # 2942 $22.95
BUY NOW!




---
CEDAR ROLLING PIN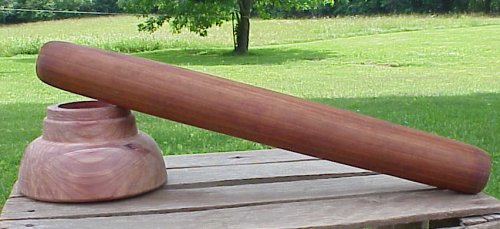 Our cedar rolling pins are made right here in our wood shop. The cedar is harvested right on the property as well. Most of the cedar we use has been aged for at least 30 years as we use the "scraps" from the last time the property was logged some 30+ years ago. The logs are cut to length and hand split with a shingle froe and wooden mallet. Then spun on the lathe and trimmed to size. No two are exactly alike but all will be close to 16 inches long and 1 1/2 inches wide.
This style of rolling pin is now considered a European style but it was quite American in the 18th & 19th century. We have my wife's G.G. Grandmother's cedar rolling pin hanging in our kitchen. It was actually the inspiration for us to offer a reproduction. A common item in any kitchen or refugee camp of the era.



CEDAR ROLLING PIN
ITEM # 2513 $22.95
BUY NOW!




---
DUTCH OVEN W LID, 6 QUART
This is a brand new Dutch Oven, with a 6 qt. capacity. Just right for the camp site or the home hearth. Not too heavy but large enough to supply the family/mess with a good size serving of any single dish meal. Once you have mastered cooking with a dutch oven you will not want to cook in anything else.



DUTCH OVEN W LID, 6 QUART $59.95 BUY NOW!



---
JELLO / CAKE MOLD
This type of mold was very popular during the civil war era. Unflavored gelatin was used to hold a wide variety of dishes together and the mold was used to form an attractive shape. Recipies for these dishes can be found in period cook books by the dozen. I do not think that this mold dates to the era. This style of tin mold was produced up into the 20th century. Sometimes the molds were made exactly the same as their 19th century counter parts. In many cases all we can do is guess at the age based on the patina of the tin. This mold has the hollow center much as a "bunt" pan would have. The bottom of the pan (top of the "dish") has a swirl pattern. This is a very nice, usable piece.



JELLO / CAKE MOLD $29.95 BUY NOW!



---
SMALL POT BELLY STOVE
This small pot belly stove is just like new and ready to be used. No cracks, no dings or broken bolts. Just a super, very hard to find model cast iron stove. You could look for years and never find another in this good of condition. This one stands 30 inches tall and is 16 inches wide at it's "belly". Could be used in a large wall tent, historical home or a caboose.



SMALL POT BELLY STOVE $249.95 BUY NOW!



---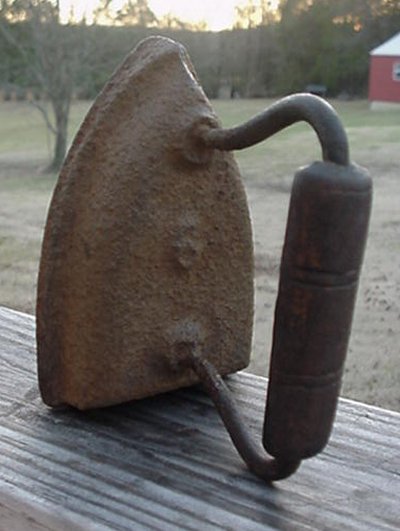 SAD IRON
Here is great example of a very usable sad iron. The handle is sound, well connected (yes that is something you should be concerned about). I've brushed away the loose surface rust so it is ready to be oiled or painted as you desire. I have also cleaned the bottom to the point where it is almost ready to use. I've done the hard part but you will want to clean it a little more before using it on a white shirt.



LARGE SAD IRON "ONE" $16.95 BUY NOW!



---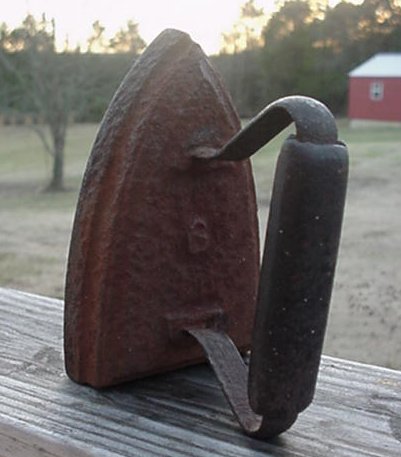 SAD IRON
Here is another great example of a very usable sad iron. The handle is sound, well connected (yes that is something you should be concerned about). I've brushed away the loose surface rust so it is ready to be oiled or painted as you desire. I have also cleaned the bottom to the point where it is almost ready to use. I've done the hard part but you will want to clean it a little more before using it on a white shirt.



LARGE SAD IRON "TWO" $16.95 BUY NOW!



---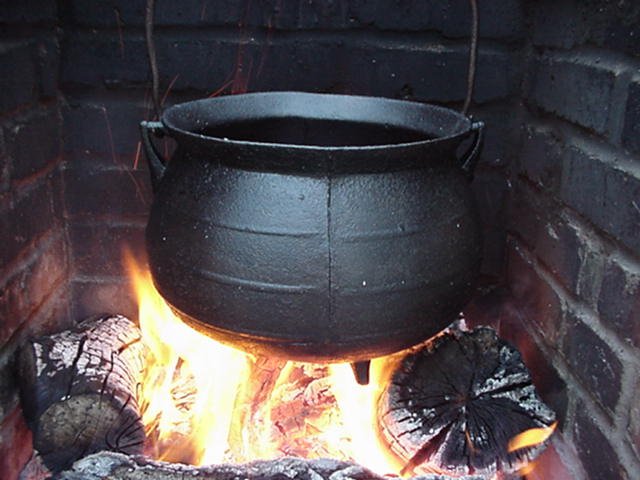 ORIGINAL 2 GALLON GYPSY POT
I can count the number of good useable gypsy pots that I have owned over the last 45 years on one hand. The term "gypsy pot" is just what the old folks used to call these when I was a kid. This style will work for any era in America. From Jamestown to the Civil War. They were antiques during the civil war but broken shards of this style of pot are often dug in the trash pits of larger CW camps. I have actually found shards of smaller versions of these in the local Indian camps. These pots were a very desirable trade item.
Anyway I was very lucky to find this one. I have cleaned it, sand blasted the inside and as you can see from the photos I have been seasoning it as well.
The lip of this vessel shows two cracks, not cracks as if it were broken but what the old metal guys call "cooling cracks". They do not go all the way through and the pot rings like a bell when tapped. You will have to look hard to find them but I thought you should know. They will not affect the pot in any way.



GYPSY POT $139.95 BUY NOW!

ORIGINAL SCISSOR HOOK AS SEEN IN THE PHOTO $39.95
BUY NOW!



---
SAUSAGE GRINDER, CW ERA
This is just about as good as it gets. This CW era sausage grinder is ready to use. This a multi-purpose tool. They were used as food choppers and to cut leaf tobacco into smoking tobacco. I don't think you will find one in better condition that this.



SAUSAGE GRINDER $49.95 BUY NOW!



---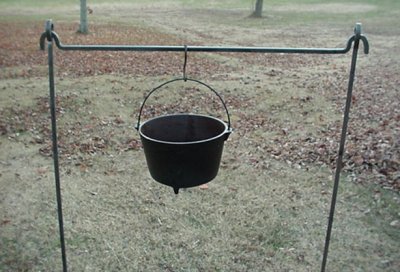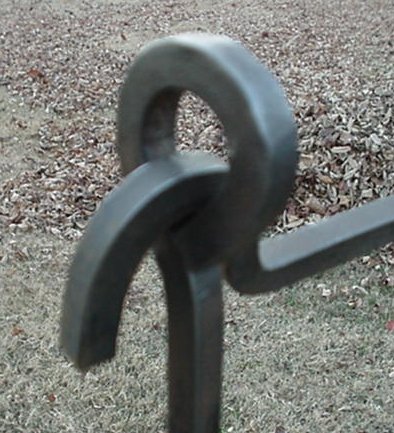 CAMP FIRE SET
In the photo above this cook set appears to be very tall but appearances can be decieving. You see, in the photo the "legs" are only in the ground a few inches and this is a heavy duty set of irons. It is meant to be used with heavy or multible pots so the legs are normally driven into the ground a foot or more. When in use it will look just like a normal cook set but it will be able to hold and do so much more.

This is the heavy duty version of a camp fire set. Made from 1/2 iron rather than the typical 3/8 inch. This set will hold a 2 gallon pot full to the top without any worries. The uprights measure 57 inches tall and the cross bar is 37 inches across. The extra hieght of the uprights allow you to use this set confidently even in soft or wet soil as you can sink them as deep as need be and still have plenty of hieght so that the cross bar is not too close to the fire. There is no ill effect if the ground is hard and you only have to sink the uprights a few inches. Just use a chain and S hooks to lower your pots to the desired height.



CAMP FIRE SET #2528
$69.95 BUY NOW!

TWO S HOOKS AND 18 INCHES OF CHAIN 2528-A
$14.95 BUY NOW!

BEAN POT NOT INCLUDED.




---
COTTON CARDS (COMBS)
This marked set of cotton cards are in very good condition, manufactured in Lowell Mass. They are old but still sound enough for heavy use. They may not be civil war vintage but they are made exactly the same as. Even if you don't actually "use" them just imagine what a great prop these will be sitting next to a basket of wool or cotton at the foot of your spinning wheel.



COTTON CARDS $39.95 BUY NOW!



---
2 GALLON CROCK JUG
This is a very impressive 2 gallon crock. It is made in the bee hive design. There is not a chip or scratch on it anywhere. I seldom see them in this good a condition. They are hard to find to say the least.



ITEM #00 2 GALLON CROCK JUG $49.95
BUY NOW!




---
PEWTER PITCHERS
This set is made in Holland. Most likely in the late 50s or early 60's. They are old but not ancient. They are repro.'s and show some wear. The largest pitcher holds 1 Liter, the next 1/2 Liter, next a 1/4 and of course the smallest an 1/8.
You can buy the set (If your quick) or one at a time.



1 LITER PEWTER PITCHERS $24.95
BUY NOW!

1/2 LITER PEWTER PITCHERS $18.95
BUY NOW!

1/4 LITER PEWTER PITCHERS $14.95
BUY NOW!

1/8 LITER PEWTER PITCHERS $9.95
BUY NOW!




---
PEWTER CUP
What an attractive little cup. Holds almost 6 oz. when filled to the brim. I'm not sure of the age of this one but it is used and shows some wear.



ITEM #00 PEWTER CUP 6 OZ. $9.95
BUY NOW!




---
VERY UNUSUAL DEMI-JOHN
This is one of the oddest little 1/2 gallon crocks I've ever seen. It is of typical body design. There is nothing unusual about the neck or the color or the glaze. But - there is no handle! Now you would think that a trivial thing but just look at how it changes the appearance of the jug so completely. Now if you display your crock collection this would be a wonderful piece to "break up" overall look. Too many of any one design and a display tends to be boring.
Now on the other hand if you decide to use it that would be perfectly fine. It's a real "eye catcher". Regardless of what you decide to fill it with it will be a nice addition to your camp setting. When people walk by and see it they will certainly have to ask about it. Best of all it's not expensive. It does have one small chip at the very bottom. The chip is about the size of a 1/2 dime. It was done so long ago it is dark with age, just not that noticeable.



ITEM #00 DEMI JOHN $24.95
BUY NOW!




---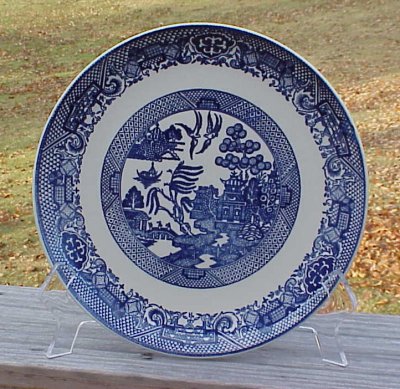 BLUE WILLOW CHINA
I have just a few pieces of unmarked Blue Willow China. The plates measure 9 inches across while the saucers measure 6 inches across.
I do not know the history of the willow pattern china but I do know that when several of the CS trash pits at Wartrace Tn. were "dug", broken pieces of blue willow, pink willow, along with several blue dutch patterns were found by the handfuls. I think Larry Hicklen of Yesteryear was the only one smart enough to keep examples of each of the patterns found there. It's quite a collection.
I do not believe my plates were produced during the C.W. period but the pattern is the same. Both the Blue and Pink Willow Pattern are still being manufactured today.



ITEM #00 9 INCH BLUE WILLOW CHINA PLATE $9.95
BUY NOW!

ITEM #00 6 INCH BLUE WILLOW CHINA $4.95
BUY NOW!




---
MULTI PURPOSE MUSLIN BANDANA

What a terrible name for something that is so useful! This will most likely be the most used item in your kitchen or near the camp fire.
This little piece of shirt weight muslin with it's edges finished measures about 20 X 20 inches square. Now what could you possibly do with such an item?
Well let's see? How about a handkerchief, a bandage, a hand towel, a pudding bag, a napkin, an improvised havlock, tie the corners and you have a bag for gathering what ever is in season. Use it for straining or filtering a broth. A scarf for your head or neck. Use it folded several times to remove that Hot lid from the pot. Are you starting to get the picture?



LARGE MULTI PURPOSE MUSLIN BANDANA
ITEM # 2525 $5.95
BUY NOW!




---
CERAMIC MORTAR & PESTLE

This ceramic mortar & pestle will be a great addition to any apothecary or surgeon's kit. It will be just as "at home" in the kitchen or the campfire of any serious cook.
It's small, only 2 1/4 inches wide and 1 1/4 inch tall. Takes up no room at all and weighs practically nothing but it's big enough for a lot of jobs. Jobs that would be difficult to do without it. How are you going to mix ingredients for pill or poultice Dr.? How about you Mrs. Refugee, how will you add peppercorns or allspice to that dish if can't grind it?
It has 101 uses, it's light and it's inexpensive. What more could you ask?



MORTAR & PESTAL
ITEM # 2516 $6.95
BUY NOW!




---
COFFEE GRINDER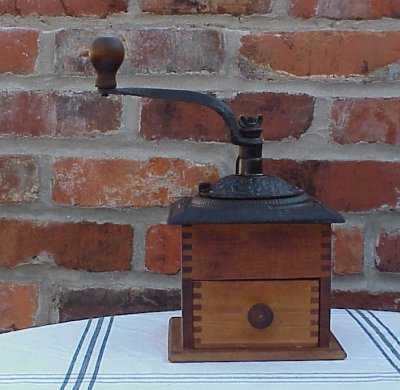 This is a vintage reproduction coffee grinder. One of the better that I have seen. It works very well and should last for years. I have found no defects of any kind and I have inspected it very closely. There is only the one so first come first serve.
It measures 6 by 6 inches square. Constructed of cast iron and I believe the wood is maple.



COFFEE GRINDER
ITEM # 2522 $49.95
BUY NOW!




---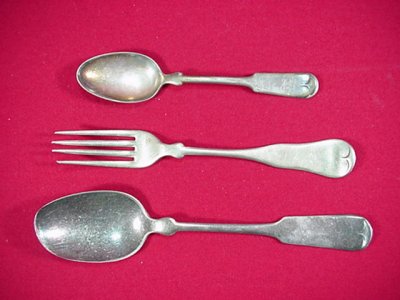 SILVERWARE SET
These are really hard to find these days. Even a single piece much less all three. This is the same pattern silverware as shown with R. E. Lee's personal war time effects.

The soup spoon is marked 1847 Rodgers Bros.
The Tea spoon is marked 1853 R. Wallace.
The Fork is marked Wm. Rogers.

I only have a few of these. They won't last long.



ITEM # SILVERWARE SET $19.95
BUY NOW




---
FIDDLE BACK SPOONS
Should you need a spoon for your mess kit we have several will just fit the bill. These are typically known as fiddle back spoons. We have the large soup spoon and the more common tea spoon. All are marked either Rogers or Wallace.

I only have a few of these. They won't last long.



ITEM # SOUP SPOON $8.95
BUY NOW!

ITEM # TEA SPOON $7.95
BUY NOW!




---
VIDEO
HOW TO "SEASON" CAST IRON.
SEASONING CAST IRON VIDEO

WE OFTEN HAVE ANTIQUE SKILLETS, DUTCH OVENS & SPIDERS FOR SALE. CALL FOR AVAILABILITY.
---
PRE-SEASONED CAST IRON SKILLETS
Pre-seasoned cast iron cookware and 3 sizes to choose from. Pre-seasoned means a thin layer of carbon has already been "laid down" on your cookware by coating it with a thin layer of cooking oil and burning it off several times. The same thing your Grandmother did to her skillets to give them that nonstick surface so food would not stick and burn.

Now for the three sizes. Which size do you need? The small 6 inch skillet for one perhaps. If you enjoy cooking and spend a lot of time around the cookfire the 8 inch might be more to your liking. If you're cooking for more than one you would probably prefer the 10 inch.
Regardless of which skillet you prefer you can count on years of good service from any of these three.



6 INCH CAST IRON SKILLET
Item #673-A....$11.95.... BUY NOW!

8 INCH CAST IRON SKILLET
Item #673-B....$14.95.... BUY NOW!

10 INCH CAST IRON SKILLET
Item #673-C....$18.95.... BUY NOW!




---
ANTIQUE BEAN POT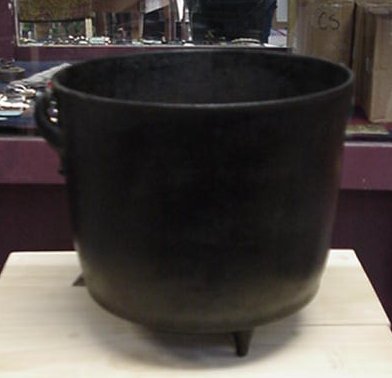 Antique Bean Pot with bale (wire loop handle), clean and ready for the fire. This cast iron pot is commonly referred to as a "bean pot". Remnants of originals are often found in CW camps by relic hunters, reproductions are commonly seen in camps at every reenactment and for good reason. They are the handy-ist size of all the cast iron pots ever produced. They are just the right size for cooking soups, stews and yes beans for your entire mess or family. Just the right size for heating water for washing up too.
Now I don't think that any of the bean pots I'm offering for sale today are from the CW era but they are all very old and of the same style and size. No reproductions in this lot. After the 1930's commercial productions of these pots (with a very few exceptions) vanished. There was no market for them anymore. So you can bet this one is of that era or older. It will make a great addition to your hearth or camp gear. Will hold over a 1 gallon of water (approx.). If you need more than one let me know as I try to keep several on hand.

As with all of the antique castiron cookware offered by Blockade Runner Inc. these pots have been thoroughly cleaned and seasoned. They are ready for use when you unpack them.



BEAN POT $49.95
SOLD! SHOULD HAVE MORE IN SOON.




---
WROUGHT IRON S HOOKS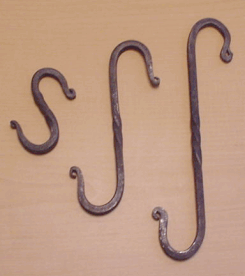 When it comes to cooking on the hearth or the camp fire the iron S hook is an indispensable item. Of course we all know that it's used to suspend a pot over a fire but if you have more than one - or - better yet several different sizes you can lower or raise your pot to "control" the temperature of the dish you're cooking.
They are also handy for lifting the hot lid off of a pot, to grab the hot bale of a pot or hanging a lantern from a small limb. It literally has more uses than space allows me write but don't forget they are simply great for decorating around the cabin, the porch or any 19th century home.
They come in 3 sizes. The smallest is 3 inches, then 6 and the longest of the set is 9 inches.



ITEM # 774 $5.95 FOR THE 3 INCH
BUY NOW!

ITEM # 775 $6.95 FOR THE 6 INCH
BUY NOW!

ITEM # 776 $7.95 FOR THE 9 INCH
BUY NOW!

ITEM # 777 $19.95 FOR THE SET OF 3
BUY NOW!




---


Click here to see
BLANKETS & PONCHOS
on page TWENTY-EIGHT.

Click here to refer back to catalog INDEX page.



www.blockaderunner.com

Phone: 931-389-6294 Fax: 931-389-0486

---
This site designed and created by Blockade Runner Publishing
Copyright © 2018 - No portions of this website may be redistributed in any form without expressed written permission from
Blockade Runner Inc.