CLICK HERE FOR

ORIGINAL GLASSES
---
TEMPLE GLASSES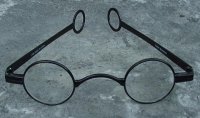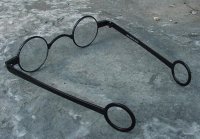 Boy could I make a cheap joke about the name of these glasses, but I'll try to refrain. These glasses were originally known as "Scarllet" glasses. They were patented in England, the year 1727 by Edward Scarlett.
Now they are commonly called Temple Glasses because they do not fit behind or over your ears. Rather the large loops at the end of the stems fit just behind your temples. The light spring action of the glasses frame holds them comfortably in place. These glasses are a spot on reproduction of the originals. This is an older style of eye glasses and I would not expect them to be commonly worn by young folks during the era, but I would expect to see them from time to time, especially among the older crowd. Who wants to be common anyway? The lenses that are in place when you receive the glasses are clear. So if you are only using them for a prop you are good to go. If you need your prescription put in place that is easily done by your optometrist.

TIP; Shop around for the best deal on replacement lenses. I've had common prescriptions installed for as little as $40.00!

Now I don't recommend these glasses if you will be running, jumping or doing any activity that will require a lot of motion. But for walking, reading, knitting or replacing a sear spring on your musket they will work just fine.



TEMPLE GLASSES
ITEM #823-D $39.95 BUY NOW!




---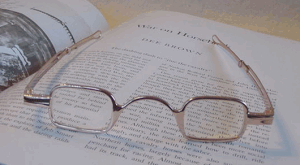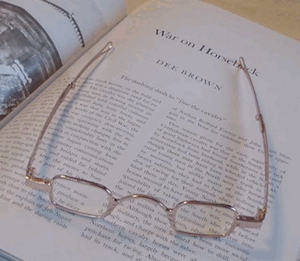 RECTANGULAR LENSES EYE GLASSES
Up until now those of us who require eyeware have been somewhat limited in our choices. Either buy originals if you could find a pair large enough to fit or buy one of the few styles that actually work for the period. I'm very happy to say that we have greatly expanded your choices.
Just take a look at these fantastic glasses! The frames are gold plated. Rectangular lenses, adjustable sliding legs and tear drop shaped pressure points at the end of the legs (the pressure point). Is that cool or what? They will arrive at your door with clear glass installed. Just take them down your optome- optoma- "Eye Doctor" and have him or her install your prescription. The length of the legs extends to just where you want them and the tear drop shaped ends disperses the pressure over a wider area for major comfort.
And here's something I bet you didn't expect. We offer these great glasses in LARGE and SMALL sizes. I know that some of you folks with smaller faces have had great difficulty finding a pair of glasses that is small enough for a proper fit. I think, at least I hope that we have solved that problem for you. The large glasses measure 4.25 inches wide from the outer edge to outer edge of the lenses. The small glasses measures 3.75 inches to the same point.



LARGE EYE GLASSES, ITEM # 823-C $39.95
TEMP. OUT OF STOCK

SMALL EYE GLASSES, ITEM # 823-B $39.95
BUY NOW!




---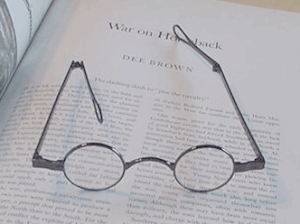 ROUND LENSES GLASSES
Here's another fantastic find. Round Lenses Glasses that are double hinged! This is a super style that you don't see very often. Very distinctive. These glasses have a dark silver finish. They come with clear glass installed and are easily fitted with your prescription. The legs have tear drop ends for comfort of wear. If you measure from the inner most side of the legs these glasses are 4.75 inches across. That is the same as our large Rectangular Lenses glasses listed above. Sorry but we don't have this one in a small.
For comfort I think this pair of glasses wins hands down. But that's my opinion, you may prefer one of the other styles. I also like the way these fit securely and tend to "hold on" a little better.



ITEM # 823-A $39.95
BUY NOW!




---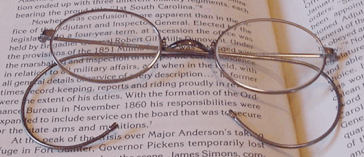 CIVIL WAR ERA EYE GLASSES
It's about time that someone came up with a great looking pair of reproduction eye glasses. They are as tough as nails and comfortable to wear. Wide enough for almost any adult. They come with spring-type ear pieces so that they will not fall off, even when you are at the double quick over rough ground. They come with clear glass for those who just want "the look", but they're ready for your eye doctor to put your prescription in. The frames measure 4 5/8 inches across and the lenses measure 1 1/4 inches high by 1 3/4 wide. Get rid of those old farby looking glasses you've been wearing and get yourself a great pair of these repro's!



ITEM # 823 $39.95
BUY NOW!




---
FOUR DRAW TELESCOPE 3X MAG.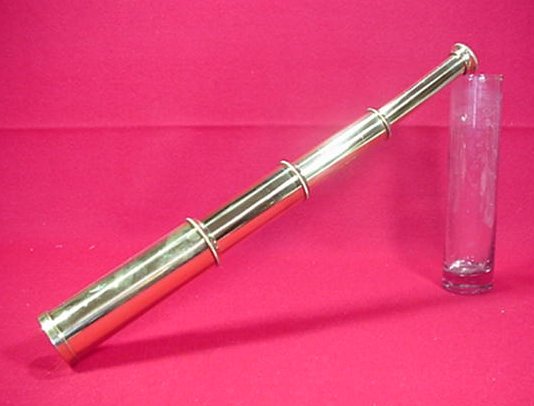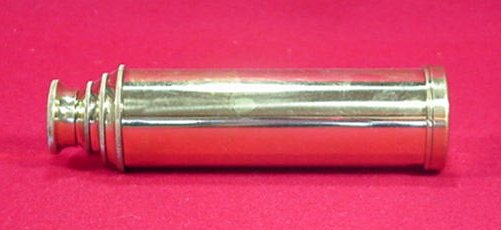 I believe this is the best buy of all our telescopes. It is large without being cumbersome and powerful enough to fulfill almost all field requirements. It is still small enough that when collapsed it will fit in any haversack. It has a protective forward lens cover and of course it's solid brass. Magnification is approaching 3X. It measures 15.5 inches long when fully extended and 6 inches long when collapsed with an 1.5 inch wide forward lens.



FOUR DRAW TELESCOPE 3X MAG
ITEM # 861-A $39.95
BUY NOW!




---
HUGE 4 DRAW TELESCOPE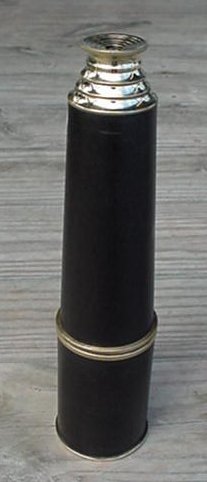 This is the most powerful telescope we have ever offered! This is not a "prop." If you want to see what the enemy is up to then this is the telescope for you. It measures 34 inches long and that's before you extend the sun shade. The tube at the large end measures 2.5 inches and yet it collapes down to just 11 inches. That will fit in any haversack. I can't tell you the exact magnification but it is noticably better than the 4x32 scope I'm using for comparison. Here at the store we've been using one for a spotting scope on our small caliber shooting range. Not only do they work great but they look super. The leather covers are very well done. Just the thing for officers or any artilleryman but just imagine how great this will work for the Signal Corp!



HUGE 4 DRAW TELESCOPE
ITEM # 2503 $79.95
BUY NOW!




---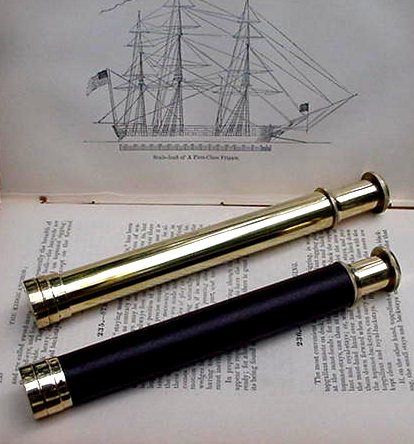 POCKET SIZE TELESCOPES
I have to admit - I do love telescopes and optics in general. So you'll understand that I could not pass these up. These little telescopes measure 6 inches long when closed, 9 inches when fully extended. The fore tube is 3/4 of an inch. I suspect their magnification is about 2X. Both have brass "forward" lens cap covers to help prevent scratching when stowed away. This is one piece of equipment that you will use at every event!



BRASS POCKET SIZE TELESCOPE
# 2433 $9.95 BUY NOW!

LEATHER COVERED BRASS POCKET SIZE TELESCOPE
# 2434 $11.95 BUY NOW!



---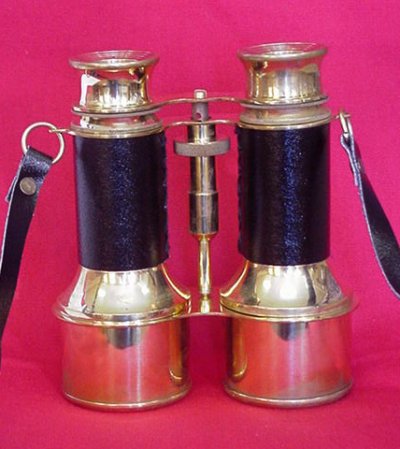 LARGE BINOCULARS
If you have been waiting for a great pair of reproduction binoculars well then wait no more. This is without a doubt the best pair available today. I live on Horse Mountain which was one of the Confederate signal stations here in Bedford Co. As I sit here I can see the Courthouse some 2 miles away and I don't think I would have any problem reading a flagman's signals with this set. The focus adjustment wheel turns freely, the centers are leather covered just as the originals and they come with a leather neck strap to hold them in place should you have to make a hasty "advance to the rear". Great for Cavalry scouts, officers or plain old spies. They are almost 6 inches long and nearly 5 inches wide.
I see other dealers selling this set for $80. with no shortage of takers. You need not be so disadvantaged. We have them at a much better price.



LARGE BINOCULARS
# 2415 $49.95 BUY NOW!



---

BRASS TELESCOPE 2 DRAW
Here's a chance for you to get a great deal on a brand new brass two draw telescope. Fine machine fitting means it draws out as smooth as silk. Crystal clear 2X optics for great viewing. The front lens is 1 1/2 wide for optimum light gathering capability. Fully extended it measures 6 1/4 inches tall. Closed it measures 4 inches so it fits easily into your coat pocket or haversack. This is one of the best pockets telescopes that we have ever been able to find!



ITEM # 765 $19.95 BUY NOW!




---

BRASS TELESCOPE 3 DRAW
Here's a chance for you to get a great deal on a brand new brass 3 draw telescope, this little spy glass works great. Precision machine fitting means that it draws out as smooth as silk. Crystal clear 2X optics for great viewing! Beautiful brass finish looks great anywhere. Fully extended it measures 6 1/4 inches long. Closed it measures 3 inches tall so it fits easily into your coat pocket or haversack.



THIS IS THE BEST POCKET TELESCOPE WE HAVE EVER BEEN ABLE TO FIND!

ITEM # 766 $23.95 BUY NOW!




---
LARGE BRASS BINOCULARS
Here is a very handsome and useful item. A very important piece of equipment to any officer's impression, navy or even civilian. Solid Brass with good clear optics. These are rated at 2X which will greatly improve your view of any situation. They measure five inches in length when fully extended and they are four and a half inches wide. Each of the front lenses are 1.5 inches wide so they have great light gathering capacity which means better vision for you in low light. Extremely well made, durable too, I've been using my pair for over 5 years and they still adjust as smoothly as the first day I took them to the field.



LARGE BRASS BINOCULARS ITEM # 2094 $34.95 BUY NOW!




---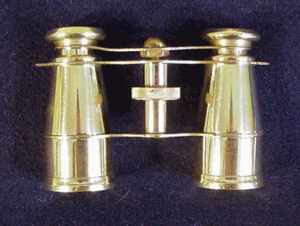 BRASS BINOCULARS
Get a great deal on a brand new pair of Civil War style brass binoculars. Fully adjustable focus. Heavy brass frame construction. Crystal clear 2X optics for great viewing! When the soldiers take the field you will always be able to find your enemy or your dearest with a pair of these. Fully extended they measure 3 1/2 inches tall. Closed they measure 2 1/2 inches so they can fit easily into a coat pocket, haversack, or purse.



ITEM # 767 $24.95 BUY NOW!




---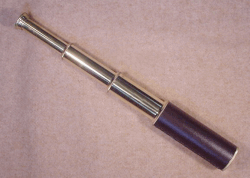 LEATHER COVERED 4 DRAW TELESCOPE
It's about time that someone came out with a really good reproduction of a field telescope. This one is made exclusively for The Blockade Runner. Made to our specifications taken from our original telescope. It's a four draw telescope with machined fittings so that it draws as smooth as silk. The forward lens is 1 inch wide so it has great light gathering capacity and the optics are crystal clear. It has a 3X magnification. 333ft at 1000 ft so you can zoom in on the enemy even on the largest battle fields. There are so many photos of officers and signalmen with telescopes as well as I.D. telescopers from their personal effects. I think that they are very under represented on the field. Don't miss this chance to really improve your impression and at a fraction of the cost of an original.



ITEM # 861 $49.95

BUY NOW!




---


Click here to see
BUTTONS
on page TWENTY-NINE

Click here to refer back to the catalog INDEX page.



www.blockaderunner.com

Phone: 931-389-6294 Fax: 931-389-0486

---
This site designed and created by Blockade Runner Publishing
Copyright © 2017 - No portions of this website may be redistributed in any form without expressed written permission from
Blockade Runner Inc.