BIRMINGHAM ENFIELD BOOKLET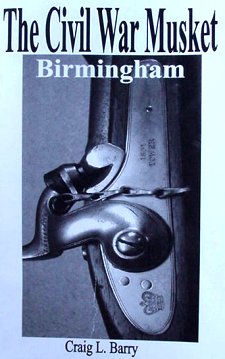 &nbsp Our new booklet, "The Arms Makers of Birmingham", is yet another addition to our continuing research of the Suppliers to the Confederacy. It will be very difficult to describe this booklet and not sound like a "broken record", so I will just say that this easy to read, easy to follow work has a wealth of information that has never before been compiled into such a convenient booklet.
It contains many photos of original weaponry, the factories where they were produced and the men who were the driving force behind them. This book nor any of our others on this subject contains speculation but rather gives the first hand accounts and supplies the source from which they were taken. The novice will enjoy the easily understandable style in which the information is presented while the "old hands" among us will appreciate the detail accumulated within this small volume. Detail which would take even the most seasoned researcher hour upon hour to compile on his own. This booklet will without a doubt quickly become the "standard" on this subject.

Mr. Barry understands the issues which concern us in these regards so seldom is an area of interest not fully explored. His writing style is easily followed by all and those FAQ's are normally answered within the first few paragraphs of each subject. This is a highly recommended book.



BIRMINGHAM ENFIELD BOOKLET
ITEM # 2430 $6.95
BUY NOW!



---
THE BARNETT P-53 ENFIELD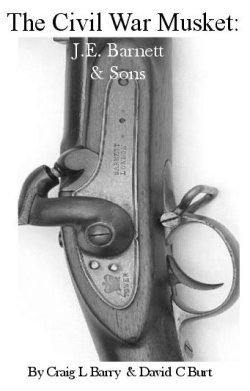 A NEW BOOK! The first of a new series written by Messrs. Craig Barry & David Burt. The Enfield rifled musket and it's various makers are explained in great detail starting with the "J.E. BARNETT & SONS" Company. Records indicate that many of the first Enfields to reach the Confederacy in the critical first days of the war were from Barnett & Sons. This booklet contains information that would otherwise be inaccessible to the average collector. Our two authors working both sides of the pond, Mr. Burt in England & Mr. Barry here in the U.S. have diligently research this weapons manufacture, points of departure and their point of entry into the CS. Many photos of the variations of lockplates, hammers and proof marks are also included. A very helpful yet inexpensive additions to any historian's firearms library.



BARNETT P-53 ENFIELD item # 2421 $6.95 BUY NOW!




---
L.A.C. ENFIELD BOOKLET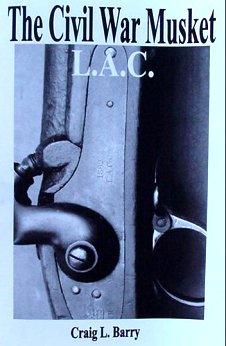 &nbsp Our new London Armoury Company booklet is the most inexpensive and best source of information on that producer of weaponry that has been published to date. For those of you who have enjoyed our previously published Barnett booklet, this is the next chapter in the on going research of the suppliers to the Confederacy, and a very good chapter it is. There are many photos of original weaponry included along with details of their manufacture that you will find no where else. You will also find the history of the company and the men who founded it. Most will be intrigued by small but unique differences of features and markings found from one musket maker to another. For those who wish to further research a particular weapon, our "notes" will give you quick access to volumes of information regarding your favorite. So much information in such a small package and it easily slips into your haversack. Those unsolicited facts and figures given us by our self proclaimed experts (you know who you are) can easily be confirmed or denied before you even leave their company. Won't that be fun! Many of the smaller suppliers based in London, when relevant, are mentioned in this work.

Mr. Barry understands the issues which concern us in these regards so seldom is an area of interest not fully explored. His writing style is easily followed by all and those FAQ's are normally answered within the first few paragraphs of each subject. This is a highly recommended book.



LAC ENFIELD BOOKLET
ITEM # 2431 $6.95
BUY NOW!




---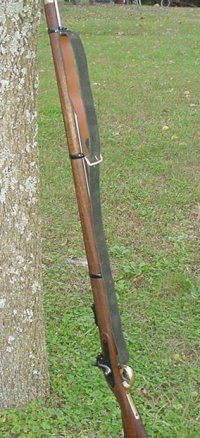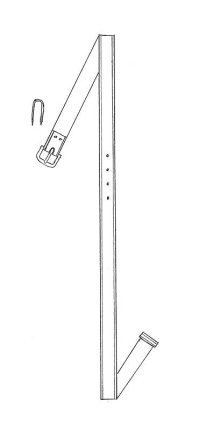 NEW ENGLISH SLINGS
Our new British buckle slings have finally arrived! The waxed leather rifle sling with brass buckle was often found as part of the accoutrements set for the P-1853 Enfield, along with the bayonet frog and scabbard (also available). We are sometimes asked to stamp S. Isaac, Campbell & Co. on our leather Enfield slings but to date no original British rifle slings have been found so-marked. We have seen more than a few fakes--you can tell because those often have the name or the address misspelled! Until a verified original British Enfield rifle sling with US Civil War provenance is found marked S.IC& Co, we will continue to leave ours unmarked. This fine sling is a great addition to any P53 Enfield, but especially for your Todd Watts de-farbed Enfield, both London and Birmingham varients. The sling drawing (right) of an original British rifle sling. Our sling is faithfully reproduced from these drawings right down to the identical brass buckle.
A detailed drawing of how this sling is to be installed is included with the purchase of each sling.



NEW ENGLSIH SLING WITH BUCKLE# 2077-A $24.95 BUY NOW!



---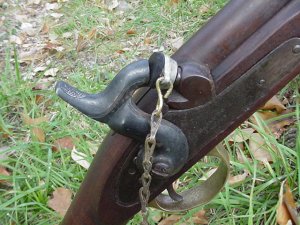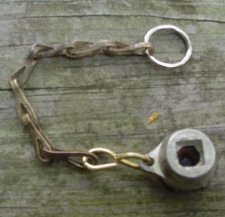 ENGLISH STYLE NIPPLE PROTECTOR
SNAP CAP
For those of you who are wondering that is an 1862 Barnett carbine, that's why there is no sling loop on the trigger guard.



SNAP CAP. The snap cap is not just a nipple protector but is a very important tool when training infantrymen how to "squeeze" a trigger and not to "pull" or "jerk" the trigger. This device allows you to, while training the recruit, to dry fire the musket without causing harm to the nipple. Sorry, the Brits did not call it a cone. The Cone was part of the nipple. In the pre war British manuals the nipple is comprised of the Cone, square, shoulder, touch hole. The US War Dept. did refer to the nipple as a cone. So the use of either term would be correct. We have been working on this one for a looooong time. You may recall that we started offering the correct tear drop style chain and iron split rings several years ago. Well we have finally been able to make all the components. We are now assembling them here in our shop because we can't get anyone else to touch them. They are a pain to make! But your worth it right? Sure you are, why else would we do this? Anyway here it is, hope you like it. It's better than any other reproduction of this item because there is no other reproduction of this item. If your rifle ran the blockade this is the nip. pro. it would have came with. In the past if you wanted to make your own English style nipple protector, you had to buy the original iron rings for $14.00 or more, then buy and assemble all the other parts. Now we can offer you the complete Nipple Protector for only $14.95



ENGLISH STYLE NIPPLE PROTECTOR #2322 $14.95 BUY NOW!




---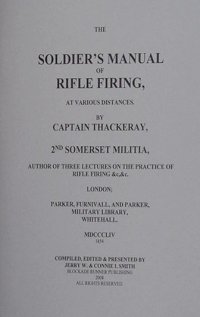 SOLDIER'S MANUEL of RIFLE FIRING 1854
The Soldier's Manuel of Rifle Firing, written in 1854 by Captain Thackeray of the 2nd Somerset Militia. For years this manual was the key to the instruction of the English Army & Cavalry on the subject of rifle firing. It has no equal and anything done on the subject since is only a variation on the theme. I can give it no higher praise than to say that this is the book that CS General Patrick Cleburne used to train his Whitworth Sharpshooters. In fact the CS Manuel written in 1863, published in Richmond for the Army of Tennessee is nothing more than a "Southern-ized" version of this book.
Not only is this a great historical document but the techniques used to train "trigger pullers" still applies today. If you take your shooting seriously you too can benefit from this text regardless of your current ability, beginner or expert.
You will find many diagrams to assist you in your understanding of the science of shooting. There are specific instructions for the officers conducting the training. As are instructions for the Armorer to convey to the troops regarding cleaning and maintenance. Even instruction for making "Leather Blacking", to be used by the troops to preserve their accoutrements. This book has been edited by Jerry & Connie Smith into a clear, concise booklet which fits easily into your haversack.

Todd Watts, Master Gun Smith and historian says this of the Manuel, "I can think of no other manual which includes so much detailed information on the use of the Enfield Rifle. It is a welcome addition to my Library!"



SOLDIER'S MANUAL of RIFLE FIRING $6.95
ITEM #2336 BUY NOW!



---
ENFIELD BAYONET DE-FARB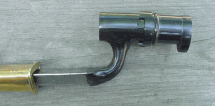 We now have an excellent copy of the original Enfield Bayonet. Each one has been fitted to either an Armisport or a Euroarms 1853 Rifled Musket. The bayonet for the Euroarms will also fit originals as they have the same size barrel. These bayonets fit like they were supposed to. No loose play at all! But not so tight that it prematurely wears the bluing from the end of your barrel. Each bayonet socket is salt blued just as the originals. The Armisport bayonets have the correct English stamps. Now available for the Euroarms.



Armisport Enfield Bayonet #2234 ....$99.95.... BUY NOW!

Euroarms Enfield Bayonet #2234-A ....$99.95.... BUY NOW!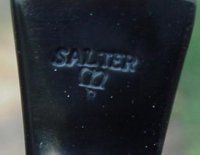 Now available with the "Salter" Company stamp. This bayonet is the same as described above but it has the private company stamp of "Salter". This stamp is thought by many to the most common among Confederate purchased marked bayonets.



Armisport Salter Enfield Bayonet #2234-S
....$99.95.... BUY NOW!

Euroarms Enfield Bayonet #2234-AS
....$99.95.... BUY NOW!




---


Click here to see
Armisport Brand Rifles
on page THREE in the Blockade Runner catalog!!!!

Click here to refer back to catalog INDEX page.



www.blockaderunner.com

Phone: 931-389-6294 Fax: 931-389-0486

---
This site designed and created by Blockade Runner Publishing
Copyright © 2016 - No portions of this website may be redistributed in any form without expressed written permission from
Blockade Runner Inc.