1860 HENRY RIFLE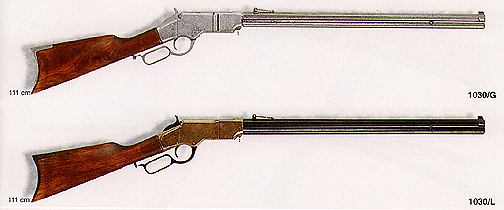 This 1860 "Henry Rifle" was the forerunner to the Winchester. It was a rapid-fire rifle that was used during the Civil War and the days of the "Wild West." The saying went it "loaded on a Sunday and fired all week.

1860 HENRY RIFLE, BRIGHT FINISH # 2049 $129.95 TEMP. OUT OF STOCK

1860 HENRY RIFLE, BLUED FINISH # 2049-A $129.95 TEMP. OUT OF STOCK


---
1853 ENFIELD RIFLED MUSKET


The 1853 Enfield Rifled Musket was the most prized weapon of the Confederate Army. The Union relied on it heavily also for the first 2 years of the way. It was the most imported weapon of the war North or South. Our Enfield is very realistic with a working hammer and trigger action. It is the appropriate length. From a short distance away you could not tell it from the real thing. Great for decoration or for parade.

1853 ENFIELD RIFLED MUSKET # 2207 $229.95 BUY NOW!


---
ENFIELD MUSKETOON


Early Civil War infantrymen on both sides were armed with P53 Enfield rifle-muskets, made from 1855 to 1858 in Britain. Southern forces traded their flintlocks for the Enfield just before the Battle of Shiloh.

ENFIELD MUSKETOON # 2050 $199.95 BUY NOW!


---
1850 COLT REVOLVING RIFLE


This 1850 Colt six-shot gun was used as an infantry rifle. This weapon saw action in the Civil War and the West. Soldiers in the Civil War or fighting in the Indian Wars depended on this weapon for defense.

1850 COLT REVOLVING RIFLE # 2051 $179.95 BUY NOW!


---
1866 WINCHESTER YELLOWBOY



The gun that won the west -- the Winchester 1866 rifle. This lever-action weapon could hold sixteen .44 caliber rimfire cartridges. Known as the "Yellow-boy" because of its brass frame, it was developed from the Henry repeating rifle.

1866 WINCHESTER YELLOWBOY ITEM # 2052 $179.95 BUY NOW!


---
1860 COLT ARMY



During the Civil War, the Union Cavalry used this 1860 Colt percussion pistol. The guns would be issued in pairs and suspended in holsters from the saddle. It was a .44 caliber, six shot, front loading revolver that took linen or paper cartridges.

1860 COLT ARMY 44 ITEM #2053 $99.95 BUY NOW!

ANTIQUE FINISH 1860 COLT ARMY ITEM #2053 $99.95 BUY NOW!


---


Click here to see
PISTOLS
on page FOUR

Click here to refer back to catalog INDEX page.



www.blockaderunner.com

Phone: 931-389-6294 Fax: 931-389-0486

---
This site designed and created by Blockade Runner Publishing
Copyright © 2016 - No portions of this website may be redistributed in any form without expressed written permission from
Blockade Runner Inc.