100 COUNT PAPER TUBES 100 PAPER MUSKET TUBES READY TO LOAD. Well rolled and tight with no powder leakage. Easily holds 60 to 90 grains.

#021-B $9.95 BUY NOW!



---




PISTOL POWER MEASURE & CAPPER


These two little items will make your day at the range with your pistol much more enjoyable. An adjustable powder measure that ranges from 0 to 50 grains and a percussion cap "capper" that will make that job easy as can be.



PISTOL POWDER MEASURE & CAPPER
ITEM # 000 $14.95
BUY NOW!





---

DELUXE CLEANING KIT
Now this cleaning kit may not be something you would want laying around in the publics view at a living history but it is one super little kit. If you know anything about gun accessories you know the "OUTERS" name. They are one of if not the largest maker of top quality gun accessories in the world. I just could not pass these kits up when I found them, everything you need to clean and care for your pistol and at a super price too.

These kits contain a solid brass rod that is 7.25 inches long with a large, comfortable T handle that's easy to grip. The kit also includes a wool swab and a brass bore brush. There are two jags, one is slotted and the other is the old traditional style that looks like the end of your Enfield ram rod. All these attachments screw right into the brass cleaning rod. And if that's not enough this kit comes with 25 micro fiber cleaning patches, a bottle of solvent for removing tuff powder residue and a bottle of "Outers" special formula gun oil. All of which fit neatly into the factory storage container. That's a lot of great gun cleaning gear but what I like best is the price.



ONLY $11.95!

DELUXE CLEANING KIT .36 CAL. ITEM # 2301 $11.95 BUY NOW!
This kit fits modern .38 cal., 380 cal., 9 mil. or .357 cal.

DELUXE CLEANING KIT .44 CAL. ITEM # 2302 $11.95 BUY NOW!
This kit fits modern .45 cal.




---
"MINNIE" BALLS .58 CAL.
PACK OF 10

Exact replica of the originals. Pack of 10, three ring, .58 caliber minnie balls. Good soft lead that is perfect for hunting or target shooting. Fits all modern .58 cal. rifles, Enfield or Springfield.



MINNIE BALL .58 CAL. PACK OF 10
ITEM # 2934 $9.95
BUY NOW!




---
LEE BULLET MOLD .44 CAL.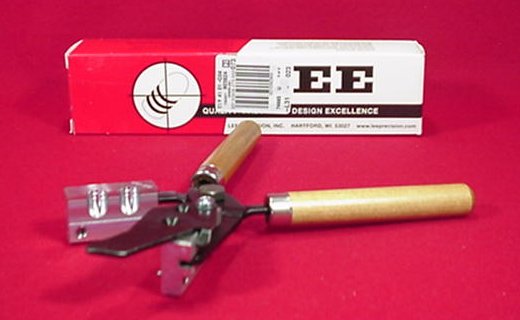 Double cavity Lee bullet mold for your .44 cal. black powder pistol. Still made in the USA, I don't get to say that very often. You know the quality of Lee molds, always first rate. Easy casting with an iron shear and wooden handles to keep your work cool no matter how many bullets you cast. This mold is a .450 and cast a 200 grain bullet. Always consult the manual that came with your pistol before buying a mold. They will give you the exact spec.'s of what your gun should shoot.



LEE BULLET MOLD .44 CAL.
ITEM # 2225-A $39.95
BUY NOW!




---