FORREST'S MURFREESBORO RAID DVD

Ed Bearss, National Park Service Historian Emeritus tells the story of Forrest's Murfreesboro Raid. Speaking at the Rutherford Co. Courthouse in Murfreesboro. The same that Forrest's men charged with axes in hand to batter down the door after the Union Troops had barricaded themselves inside. A lively tale to say the least.



FORREST'S MURFREESBORO RAID DVD
ITEM # 2507A $11.95
BUY NOW!




---
GREAT SPEECHES & DOCUMNETS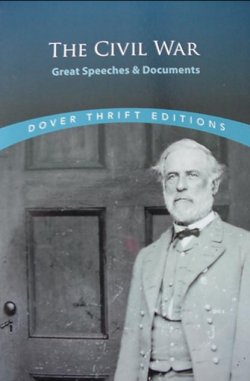 This is a wonderful book full of some of the most inspiring words you will ever read. It included but is not limited to: The Recruitment Proclamation by Virginia Gov. Letcher May of 1861.
A letter regarding the Battle of First Manassas written by Gen. Stonewall Jackson.
A speech given by Gen. J.H. Morgan to his raiders and on and on.
This is a great book for the old lunch box as many of the speeches and addresses are only 1,2 or 3 pages long.



GREAT SPEECHES AND DOCUMENTS
ITEM # 2508 $6.95
BUY NOW!




---
CIVIL WAR GENERALS OF TENN.

I've owned this book for 2 days and I've already turned to it for information 3 times. Now that's a good book! Short but interesting bio.'s on every Tennessee General both US and CS. Hardback 254 pages not including the notes which are extensive. I would recommend this book to to any student of the war. Well worth the price of admission.



CIVIL WAR GENERALS OF TENN.
ITEM # 2506 $27.95
BUY NOW!




---
THE UNFINISHED FIGHT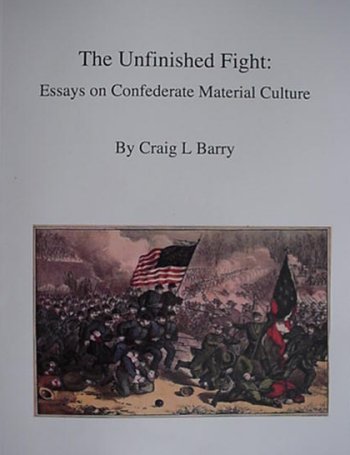 "The Unfinished Fight, Essays on Confederate Material Culture" by Craig Berry is the latest in a series of books by this writer. All of which have been very informative and well written. Once again Mr. Berry has supplied the re-enactor and historian with a well informed and well written veiw of the Southerner, his cause and just what he had to work with. A very good read.



THE UNFINISHED FIGHT
ITEM # 2502 $24.95
BUY NOW!

THE UNFINISHED FIGHT II
ITEM # 2502-A $24.95
BUY NOW!




---
BOOK COVER
I can not believe the response we have had to this item. Everyone who sees it buys one for themselves or for a gift. The outer cover is made of 100% woven cotton tapestry material much like a carpet bag in appearance. The inside is lined with cotton muslin and there is a non-detachable black ribbon to use as a book mark. The cover of your book simply slip in between the two layers of fabric to hold it firmly in place. Now that expensive leather covered bible will never be scuffed up. Should have a more modern book (trashy romance novel) that you can't put down for the weekend, just slip it into the cover and take it along with you to the event, no one will ever know.
The largest book that will fit this cover is 9 X 6 X 2 inches, though smaller books fit in easily and still look nice.



BOOK COVER
#000 $14.95
BUY NOW!




---
CO. AYTCH
It's been a long time since we have had the original version of Sam Watkin's famous book, "Company Aytch" but we are sure glad to have it back. I would venture to guess that this is one of the most quoted books (regarding the AOT) ever written. Sam's adventures during the war encompass so many aspects that you just won't find in any other book. A private soldier who served from start to finish and tramped every mile the Army of Tennessee made. Serving under every commander, Johnson, Bragg, Hood and fighting in every battle. Even after 35 years of studying the war this is still my favorite book.



COMPANY AYTCH
#721-A $18.95
TEMP. OUT OF STOCK




---
COMPANY AYTCH REVISED
I never thought that I would use the phrase, "NEW AND IMPROVED" in the same sentence with Co. Aytch. Boy was I wrong! Live and learn I suppose. Whenever people who are new to the hobby of re-enacting ask my opinion on which books to buy, I have always recommended that Co. Aytch be the first, and, in the past 10 years we have sold over 300 copies of the classic version. I've read the original version at least 5 times and referenced it 1000 times. Now it looks like I will do the same with with this new version. But the best reason to buy this book is because it will never ever-ever be on Oprah's book list.

Here's how the dust jacket reads.

Pages yellowing and growing brittle with age, Sam Watkin's own hand-marked revision of Co. Aytch was known only to his family until his great grand-daughter, Ruth Hill Fulton McAllister, determined to share it with the world. Never before published, here is the Civil War classic as Sam wanted it revised--complete with his edits, new perspectives, authoritative text, and images of his changes.

Co. Aytch has reigned as one of the most memorable and honest depictions of the American Civil War since its original publication in 1882. Sam R. Watkin's first hand account of life as a Confederate soldier eloquently captured the realities of war, the humor and pathos of soldiering, and the tragic, historic events in which he participated.

although there have been dozens of versions of Co. Aytch published, this is the first with new material and revisions by Sam Watkins himself. Intending to republish after his first edition sold out, Watkins edited and revised Co. Aytch, adding perspective that only came with time. He died before accomplishing his goal. Now more than one hundred years later, Watkin's great-granddaughter Ruth Hill Fulton McAllister is fulfilling Watkin's dream. Featuring his yellowed, aged, and pencil-marked copy handed down through different family members, this definitive volume combines the ageless text with Sam Watkin's intended revisions.

this new edition incorporates actual images of Watkin's handwritten additions, all his desired editorial changes, and more than forty images. Desiring to be true to both her ancestor's wishes and the sanctity of his classic memoir, McAllister skillfully includes Watkin's additions and artfully indicates what he would have omitted, leaving the original text intact. The result is a rich, expanded, definitive version of Co. Aytch, sure to fascinate historians, Civil War enthusiasts, and new readers alike.

Samuel R. Watkins was born in 1839 near Columbia, Tennessee. He enlisted into the First Tennessee Infantry, Company H (the "Maury Grays"), at the beginning of he Civil WAr. Upon surrender, Watkins was one out of only seven men remaining from the 120 originally enlisted in his regiment. Encouraged by friends and family, Watkins first published his memories as a newspaper series and then finally in book form in 1882. Co. Aytch was almost immediately hailed as an important Civil War work. Sam Watkins died on July 20, 1901, at the age of sixty two. His great-granddaughter Ruth Hill Fulton McAllister earned a bachelor's degree in history from Vanderbilt University.



CO. AYTCH REVISED #721 $34.95 BUY NOW!




---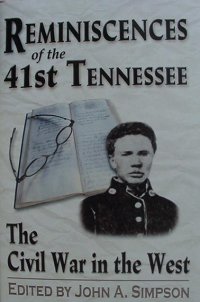 REMINISCENCES of the 41st TENNESSEE
Eighteen year old Sumner A. Cunningham joined his local home guard near Shelbyville Tennessee in late October of 1861 and was immediately assimilated into a new Confederate Regiment, the 41st Tennessee Infantry. Rising to senior noncommissioned officer rank, his experiences were those of the Army of Tennessee through the next three years. He received limited military training, was captured at Fort Donelson, and spent time as a prisoner of war in Camp Morton, Indiana. After his exchange, he marched in the failed Mississippi campaign to free Vicksburg, saw action around Jackson and Raymond, at Port Hudson, Chickamauga, Missionary Ridge, and the Atlanta and Tennessee Campaigns. There, he fought with bravado at Franklin and Nashville before he deserted.

Reminiscences of the 41st Tennessee: The Civil War in the West is based on his wartime diary, which he published in 1872 for his middle Tennessee market. Cunningham's military account is a refreshingly candid examination of his daily life in the Army of Tennessee. From combat and heroism, to fear and cowardice, and disease, his is an unusually honest insight into the Confederacy in the West. John A. Simpson, editor.

Of course this book will appeal to all those who's interest are the daily life of the soldier in the Army of Tennessee. Mr. Cunningham gives us a very candid look at that aspect of the war. I enjoy S.A. Cunningham's style of writing and editing. I must not be the only one as he founded and ran the Confederate Veteran Magazine for years and it is still being published today. This book will also be of great interest to anyone specializing in the fight around Vicksburg. S. A. gives great detail as to where they were marched and counter marched. This should be very helpful to our relic hunting friends in Mississippi. This book is also a fresh view of the Atlanta, Franklin and Nashville campaigns and should help in your overall understanding of that subject.



REMINISCENCES of the 41st TENNESSEE
#2335 $24.95 BUY NOW!




---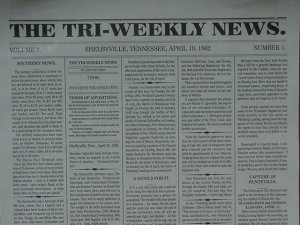 THE TRI-WEEKLY NEWS 4-19-1862
Tired of carrying around that same old lame copy of Harper's Weekly? How about a little Southern News for a change? We have just reprinted the Shelbyville Tennessee Tri-Weekly News dated April 19, 1862. Volume 1, Number 1. The premier issue. Union General Mitchell and his troops had just passed through Shelbyville on their way to Huntsville. Naturally the first thing they did was to close the Shelbyville Expositor, the local paper loyal to the Confederacy. So up jumps the Tri-Weekly to take it's place. Although ran by loyal Unionist they are still very civil, no CS bashing yet. I don't think they are sure of just what they can get away with. The new T-W is no abolitionist paper! They run this small paragraph, "If a few abolitionist were hung just for example, it would do more to restore the Union than a bloody victory." They report news as they receive it from local sources as well as Southern and Northern papers. The Bivens Brothers, makers of the most sought after Southern Cartridge box, the Shelbyville Arsenal box, have their ad in the Tri-Weekly stating that they are still working but temp. out of the saddle making business, but should have saddle trees back in stock soon. Looks like Gen. Mitchell's boys helped there selves to the Southern saddles. Even the Expositor runs an ad stating that they are still in the printing business. Evidently the boys in blue took it easy on them and did not smash their presses. Sketchy reports from Shiloh are trickling in, The T-W reports which Bedford County boys were killed and wounded. Also a great story of capturing a group of women on Island # 10. The capture of Huntsville Ala. The Emancipation of Slaves in the District of Columbia, Price controls mandated in New Orleans, CS Free Trade act, A story of the churches in Huntsville donating their bells to the CS foundry. And much more!



THE TRI-WEEKLY NEWS 4-19-1862
#2333 $2.95 BUY NOW!




---
EYEWITNESSES AT THE BATTLE OF STONES RIVER
Better known to Southerners as The Battle of Murfreesboro. There's no fluff in this one boys. Nothing but direct quotes taken from letters, dairies and reports.
This is the Battle described by 130 men and women who were there. except where Parentheses enclose a word or phrase inserted for clarity, and were ellipses indicate omissions, nothing has been changed in blending passages from these eyewitnesses, letters, diaries and memoirs into this "you are there" chronological account of the battle.
This is the second, expanded edition with 60 more eyewitness accounts than the first printing.



EYEWITNESSES TO THE BATTLE OF STONES RIVER
#2326 $12.95 BUY NOW!




---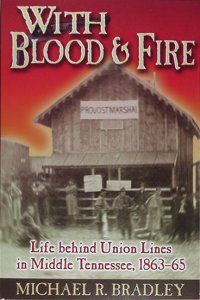 WITH BLOOD & FIRE
Life behind Union Lines in Middle Tennessee, 1863-65. Dr. Michael Bradley has done it again, producing a fantastic book that others are afraid to write. Union Provost Marshall, General Robert H. Milroy keeps very good records, at any other time in history the records he kept would have convicted him of murder, war crimes and possibly genocide. This book does not only give you the point of view of the victims but the written record of the villain who perpetrated these crimes upon an often innocent public.

Ideological cleansing. Ethnic and racial conflict. Military and paramilitary units committing mass murder. Bodies left unburied. Prisoners executed without trial. Civilian dwellings destroyed for political purpose. Mass deportations. Rape. Torture. Looting. Civilian informers touching off military raids.

Is the scene of these crimes East Timor--1999? Kosovo-- 1998? Bosnia---1995? Viet Nam--1973? No, this was Middle Tennessee, 1863-65. The same scenes were being enacted in all those parts of the South that were under Union military occupation during the years of the Civil War.

The popular view of the Civil War is one of armies clashing and flags waving while civilians stand clear of the action. Except for the events such as Major General William T. Sherman's "March through Georgia" or Major Generals David Hunter and Philip Sheridan in the Shenandoah Valley, civilians are usually seen as above the fray.

The records of the provost marshal illustrate a side of the war that varies immensely from the usual battles, campaigns, and marches. For civilians living behind the lines, the war was a story of murder, robbery, and betrayal. it was truly an experience from which they never recovered but that they at best endured.

The Civil War News says, "A well written analysis of this pivotal period in the Civil War.



WITH BLOOD & FIRE ITEM # 2122 $17.95 BUY NOW!




---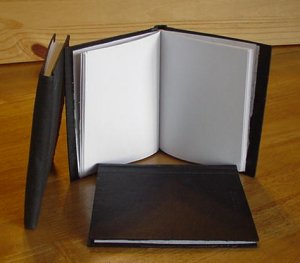 HARD BOUND, HAND MADE JOURNAL
This item has a unique history behind it. We never intended to go into the book binding business but that recently changed. We were lucky enough to find a CS, Nashville made pocket Bible for soldiers dated 1862. Of course we want to reproduce it so I took it to several companies who do that sort of thing. Everyone told us no one would make the type of cover the original used, it was to hard, it had to be done by hand and that I should forget about it. I sort of took that as a challenge. I went straight to the work shop and started to experiment. Three days later I was binding books. These cool little journals are just the spin off of this project. We will have the bible by early 2010, we have to have those printed before we can bind them.
Now for the details, this journal has 94 pages. It measures 5 inches by 6 inches, that's a little large for the pocket but fits nicely into a haversack. The pages were folded and cut after binding just as the originals were. The spine is cloth book binding tape with an inner cotton tape for re-enforcement. The cover is painted press board just as the original book. The pages are hand sewn and then glued into the binding using our Grandmother's recipe for home made glue (looks just like Elmer's). These journals are very labor intensive and will be made on a very limited basis.



HARD BOUND, HAND MADE JOURNAL #2323 $14.95 BUY NOW!




---
G.A.R. SWORDS & BELTS
Actually the title is, "Plates, Belts and Swords of the Grand Army of the Republic and the Sons of Union Veterans of the Civil War" by Douglas w. Roussin. Say that three times fast! Well it's about time someone put together a great book on this area of collectibles. There has been none or at least none to compare to this book. There is example after example in large clear photos, it is produced in the style of the "Mullinax" buckle book. This book will be a great assistant to the novice or the expert. I was quite surprised that by just thumbing through I've seen several styles of G.A.R. buckles that I've never seen before.



G.A.R. SWORDS & BELTS
#2381 $34.95 BUY NOW!




---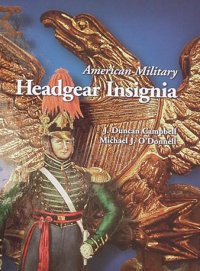 AMERICAN MILITARY HEAD GEAR
From the introduction; If I were to qualify the title of this book within a range of dates, it would have to be 1799-1861. The former marked the introduction of the first "regulation" cockade eagles; while by 1861, all of the important Civil War insignia was in place. This interval encompasses the vigorous early years of the Republic which saw the American Military develop from a primitive militia into a world class power. The grand improvements in head gear insignia reflected contemporary changes in technology as well as the military fashions of the day. Always the fancy militia was just one step behind; sometimes sporting sensible cap emblems modeled after the latest Army patterns, other times adopting outlandish ornamentation copied directly from the European ceremonial dress.

One look at this book and you can see that it was a grand collaboration of many collectors and museums. I've never seen so many detailed photos of so many different styles in one place before.



AMERICAN MILITARY HEAD GEAR
#2382 $39.95 BUY NOW!




---
CIVIL WAR PROJECTILES II
Civil War Projectiles II, Small Arms and Field Artillery with supplement by W. Reid McKee & M. E. Mason Jr. This is the latest printing. Here is another book that took the help of many collectors before it could go to print, over 70 of the top men in the field are listed in the acknowledgements for this book. This book was first published in 1980, over the years there have been several printings and countless improvements made but it has always been and still remains the "end all be all" on the subject. Regardless of whether you are an arm chair historian or a serious bullet / artillery collector you must have this book in your library. If for no other reason than there is no better source for identifying those odd bullets that you dig.



CIVIL WAR PROJECTILES II
#2383 $39.95 BUY NOW!




---
ARTILLERY FUSES OF THE CIVIL WAR
If your a digger or an artillery collector this book is a must. If you've been in this hobby for any length of time you've had a "whoops" moment, you know, the ones where you left an relic in the field or sitting on a flea market table because you didn't know what it was? Yeah one of those days. The best way to prevent those unfortunate "whoops" moments is with a little knowledge and that is where this book can help. It's odd but a lot of fuse components and artillery wrenches or tools don't look like have anything to do with artillery. Hopefully after spending a little time with this book you'll have a clue and not leave a $150. fuse behind! It's full of great photos that are very detailed, lots of info and I doubt that you will ever have to buy another book on this subject.



ARTILLERY FUSES OF THE CIVIL WAR
#2384 $34.95 BUY NOW!




---
CONFEDERATE BELT BUCKLES AND PLATES
EXPANDED EDITION
Confederate Belt Buckles & Plates, expanded edition by Steve Mullinax. For more years than I can remember this book has been the Holy Grail of buckle books. If you own this one you do not need another. It has page after page of every buckle you can imagine. Large photos of both front and rear views with precise detail. Each buckle is rated showing it's rarity by number on a scale from one to ten. Steve Mullinax is the undisputed authority on Confederate buckles, possessing a collection that is second to none and the same can be said of his knowledge of those buckles. My only complaint is that this book should come with a "drool guard" as standard equipment. The finest specimens of Confederate buckles known are shown here. I know that for me this book has been the source of many hours of envy but I couldn't do without it.



CONFEDERATE BELT BUCKLES & PLATES
#2385 $34.95 TEMP. OUT OF STOCK!




---
INDIA-RUBBER & GUTTA-PERCHA
INDIA-RUBBER & GUTTA-PERCHA IN THE CIVIL WAR by Mike Woshner is without a doubt one of my all time favorite collector books. I have spent hours enjoying this fantastic volume. It contains page after page of information that can literally be found no where else, at least not in any one book, better yet not in any ten books. It covers such a wide array you will never be bored. I think the period advertisements may be my favorites. I guarantee you will find products here that you would not think were Civil War era and some you you may not have know even existed. It's not just the military applications either. This book covers it all, from medical to children's toys. Both the details and the information is amazing! The photography is great too.



INDIA-RUBBER & GUTTA-PERCHA IN THE CIVIL WAR
#2386 $39.95 BUY NOW!




---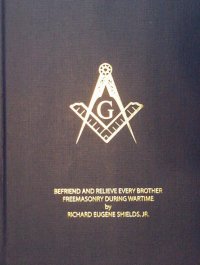 FREEMASONRY DURING WARTIME
The proper title for this book is, "Befriend and Relieve Every Brother, Freemasonry During Wartime." It is a very enjoyable read as all true tales of valor during times of great danger are. You don't have to be a mason to enjoy this book. Anyone who has shared the bond that only occurs through fraternal brotherhood regardless of whether it is "organized" or not, will certainly find this book as an old friend and those who have not will find it thrilling and inspiring.



FREEMASONRY DURING WARTIME
$29.95 # 2377 BUY NOW!



---
FAMOUS DOCUMENTS & SPEECHES
The book, "Famous Documents & Speeches of the Civil War" is not only a very handy reference book but it is also a very, very good read. I did not sit it down, I just fell asleep with it and then picked it right back up the next day. When I read the table of contents, I found to my surprise that I had never read several of these. Sure I have heard quotes here and there but you know how those can be twisted and spun. There's nothing like reading the whole thing for yourself. There are 57 different speeches and documents in this little book. That makes it really easy to find a place to stop if you don't have a lot of time to read and I promise you that you will not get bored. Here's a few of my favorites. Stonewall Jacksons letter to his wife regarding the first battle of Manassas, Regarding Contraband, a query by Union Gen. Ben Butler, Union army's general order 329 regarding the enlisted of colored troops and General Beauregard's proclamation to the people of Loudon, Fairfax and Prince William Co. Va. If you own 10 civil war books or 1000, this is a very handy book to have in your library.



FAMOUS DOCUMENTS AND SPEECHES
$8.95 # 2374 BUY NOW!



---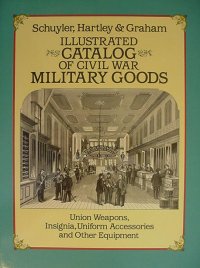 ILLUSTRATED CATALOG OF
CW MILITARY GOODS
The book, "ILLUSTRATED CATALOG OF CW MILITARY GOODS", often referred to simply as "Schuyler, Hartley & Graham". This book has been a staple of serious reenactors for years. There's nothing I enjoy more than taking the wind out of the "they never" crowd. And how better to do that than to provide proof in the form of a period catalog which offered goods directly to the soldier? There's none better, (it's fun being me). Not only are the engravings of the equipment remarkable but so is the information. It is very detailed. This book is sort of a soldiers who wore what, why and how. Here are just a few of the topics covered, Army uniform dress and horse equipment, Flags and Guidons, Army pay roll, Navy Uniforms, Masonic goods, Marine Corp uniforms, etc. A very good book for the money!



ILLUSTRATED CATALOG OF CW MILITARY GOODS
$12.95 # 2375 TEMP. OUT OF STOCK!



---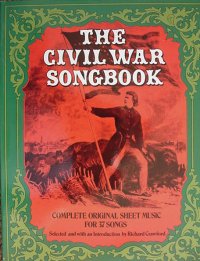 CIVIL WAR SONG BOOK
The Civil War Song Book is one of those books that many of you think you don't need. Believe me, I've heard you around around the campfire, you do need it! We may not be able to improve your singing but at least learn the words. "Mumble mumble mumble mumble little Liza Jane" seems to be all some of you know and it's really starting to get on our nerves. For Gods sake, please buy the book!
Seriously though, it contains the words and music to 37 Civil War Era songs, some are a little obscure but most are old favorites.



CIVIL WAR SONG BOOK $16.95 # 2373 BUY NOW!



---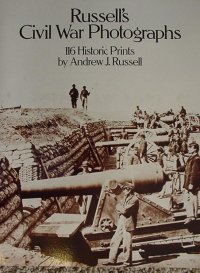 RUSSELL'S CIVIL WAR PHOTOGRAPHS
116 HISTORIC PRINTS
Capt. A. J. Russell did not photograph celebrities, run fashionable photo galleries or publish collections of his "views"; most histories of American photography can barely stretch his biographical data into a paragraph. His peers and superiors recognized the quality of his work, but as with other unassuming photographers of the Civil War, many of his pictures were later attributed to Brady. Yet he is unquestionably a major figure in 19th century American photography, a pioneer in every sense: he was one of only two or three official Civil War photographers, perhaps the only one who was also a soldier; after the war he headed west to become the official photographer of the Union Pacific Railroad as it breaches the frontier.



RUSSELL'S CIVIL WAR PHOTOGRAPHS $16.95 # 2372 BUY NOW!



---
MOSBY'S WAR REMINISCENCES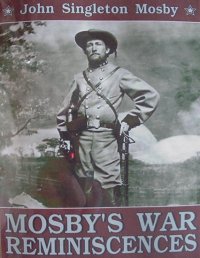 John Singleton Mosby was acknowledged as one of the legendary military geniuses of the War Between the States. Despite having no military training, Mosby excelled in hit and run tactics which constantly frustrated the enemy invaders of his native Virginia and earned him the nickname of the "Grey Ghost". Wreaking havoc among the Federal supply lines and forcing the field commanders to detach large numbers of troops to guard their communications, his forays even took his men within the lines guarding Washington, with Mosby himself often doing the advance scouting in disguise. In his "War Reminiscences, Mosby relates the thrilling exploits which comprised his brief, but illustrious career as a Confederate partisan.



MOSBY'S WAR REMINISCENCES
Item # 2367 $13.95 BUY NOW!




---
THE CAPTURE OF ATLANTA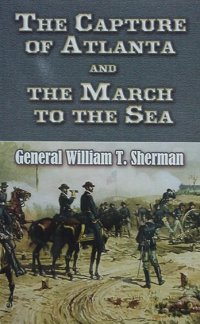 A legend in his own lifetime, William Tecumeseh Sherman conducted one of modern history's most brilliant military campaigns. His scorched earth tactics - crushing the enemy's strategic, economic, and psychological resources - broke the backbone of the Confederacy, hastening the end of the American Civil War and forever changing the nature of warfare. These highlights from Sherman's monumental Memoirs trace his blazing trail across Georgia and the Carolinas, recounting the general's reasoning in his won words, as well as the execution and effects of his maneuvers. (There words, not mine. J.W.S.)

This book is the republication of chapters 15 through 20 of The Memoirs of Gen. W. T. Sherman. Originally published in 1876.



THE CAPTURE OF ATLANTA
Item # B2344 $10.95 BUY NOW!


---
US ARMY & MILITIA CANTEEN 1775-1910
Mike O'Donnell has done our hobby a great service by printing this new canteen book. The overall view is much wider than the previous best (Civil War Canteens by Sylvia & O'Donnell) which concentrates only on the CW era only. This new 300 page hardback has a wealth of new photos and information that will be most helpful to the re-enactor and collector alike. This new book contains many photos of Civil War Era soldiers holding canteens that have never before been published, with each showing great detail. Well worth the money!



US ARMY & MILITIA CANTEENS $38.50 #2364 BUY NOW!


---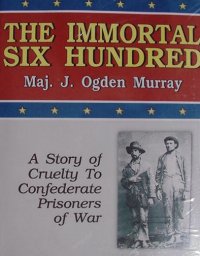 THE IMMORTAL SIX HUNDRED
If you've never heard of the Immortal Six Hundred you are not alone. Even though it was once a very popular and well publicized subject few today know more than the name. The only reason that I am familiar with the subject is because one of our local boys (Bedford Co. Tn.) was among their number. I am very happy to see this book back in publication.

There is no apology to be made for the publication of this history of the six hundred Confederate prisoners of war confined on Morris Island by order of the Federal government. It is put in print for two reasons: First, to preserve the record of this gallant band; second, to give to the world a true history of the wanton cruelty inflicted upon helpless prisoners of war, without the least shadow of excuse. The treatment meted to the prisoners is a blot upon the escutcheon of the United States that can never be blotted out nor removed. It was cowardly, it was inhuman, and cruel. The names of the men responsible for this cruelty must be written - and they will be written - upon history's blacklist of cruel men.



THE IMMORTAL SIX HUNDRED
#2350 $13.95 BUY NOW!




---
DR. MARY E. WALKER
This book provides the reader with a glimpse into the live of Mary E. Walker, a woman doctor who struggled to be accepted and compensated in the same manner as her male counterparts. It is an excellent account of an Army doctor during the Civil War who was captured and held as a prisoner of war herself.
Mary Walker derived the deepest kind of satisfaction from helping wounded soldiers and their weary families. After the war she became involved in countless benevolent activities. Walker gave lectures, attended suffragette meetings, and wrote articles on health and dress reform. It was her belief that "Congress should assign women to duty in the Army with compensation, as well as colored men, averring that patriotism has no sex.



DR. MARY E. WALKER
#2358 $9.95 BUY NOW!




---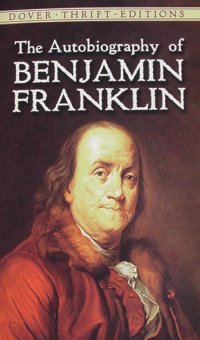 BENJAMIN FRANKLIN
Although this book may not be directly related to the American Civil War it is a very enjoyable one and certainly a book worth owning. If you have read many of the period newspapers or magazines of the day then you are aware that he was often quoted and his wisdom and sage advise was still very much admired during the American Civil War period. I'm somewhat biased as I have always been an admirer of Dr. Franklin. A self made man who was willing to use just as much brawn as he did brain to achieve his goals. An example that is just as relevant today as it was during his lifetime.

Blessed with enormous talents and the energy and ambition to go with them, Franklin was a statesman, author, inventor, printer, and scientist. He helped draft the Declaration of Independence and later was involved in negotiating the peace treaty with Britain that ended the Revolutionary War. He also invented bifocals, a stove that is still manufactured, a water harmonica, and the lighting rod.
This is a highly readable 136 page account which offers a wonderfully intimate glimpse of the Founding Father sometimes called "the wisest American".



DR. BENJAMIN FRANKLIN
#2358 $2.95 BUY NOW!




---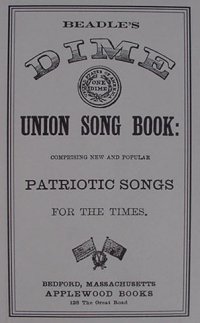 3 NEW DIME SONG BOOKS!
BEADLE'S UNION SONG BOOK
Beadle's Union song book has 78 pages of patriotic songs of the day. Originally published in 1861 this little book was reprinted several times to meet the great public demand. Beadles was a prolific publisher of the dime book which became known as the "dime novel" during the cowboy era. During the 1860's they were mostly instructional booklets. This is a great reprint, very true to the original with all your favorite songs and many that I'll bet you've never heard before. Well worth the price of admission.



BEADLE'S DIME PATRIOTIC SONG BOOK
#2352 $5.95 BUY NOW!

BEADLE'S #2 COMIC & SENTIMENTAL SONG BOOK pub. 1860
#2353 $5.95 BUY NOW!

BEADLE'S #6 COMIC & SENTIMENTAL SONG BOOK pub. 1860
#2354 $5.95 BUY NOW!




---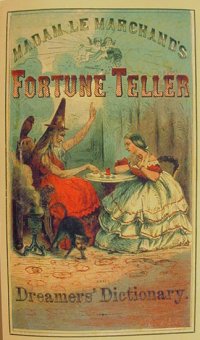 FORTUNE TELLER
Madame Le Marchand's Fortune Teller and Dreamer's Dictionary. Boy oh boy it's about time! Fortune telling was a wildly popular parlor pastime during the 1850's and 60's. I can't believe it took this long for someone to republish a good fortune telling book. It's 134 pages of instructions so with a little study you can be the grand swammy at your next social event. Interpreting dreams and telling fortunes it a great way to get out of dancing for all of us with two left feet too!



FORTUNE TELLER
#2356 $12.95 BUY NOW!




---
EYEWITNESSES AT THE BATTLE OF FORT DONELSON
The First great loss for Tennessee's Confederate troops but the first glimmer of C.S. Gen. N. B. Forrest's skill as a leader as he refused to be surrendered. There's no fluff in this one boys. Nothing but direct quotes taken from letters, dairies and reports.
This is the Battle described by 90 men and women who were there. except where Parentheses enclose a word or phrase inserted for clarity, and were ellipses indicate omissions, nothing has been changed in blending passages from these eyewitnesses, letters, diaries and memoirs into this "you are there" chronological account of the battle



EYEWITNESSES TO THE BATTLE OF FORT DONELSON
#2359 $12.95 BUY NOW!




---
EYEWITNESSES AT THE BATTLE OF SHILOH
Known in the north as the Battle of Pittsburg Landing this battle was the a real "wake up call" for all who thought this was going to a short affair. There's no fluff in this one boys. Nothing but direct quotes taken from letters, dairies and reports.
This is the Battle described by more than 100 men and women who were there. except where Parentheses enclose a word or phrase inserted for clarity, and were ellipses indicate omissions, nothing has been changed in blending passages from these eyewitnesses, letters, diaries and memoirs into this "you are there" chronological account of the battle



EYEWITNESSES TO THE BATTLE OF SHILOH
#2360 $12.95 BUY NOW!




---
EYEWITNESSES AT THE BATTLE OF FRANKLIN
Unimaginable carnage, desperate hand to hand fighting and 15 out of 28 CS generals either killed or wounded. The bloodiest 5 hours of the entire war. There's no fluff in this one boys. Nothing but direct quotes taken from letters, dairies and reports.
This is the Battle described by 90 men and women who were there. except where Parentheses enclose a word or phrase inserted for clarity, and were ellipses indicate omissions, nothing has been changed in blending passages from these eyewitnesses, letters, diaries and memoirs into this "you are there" chronological account of the battle



EYEWITNESSES TO THE BATTLE OF FRANKLIN
#2361 $12.95 BUY NOW!




---
A SKETCHBOOK OF THE
UNION INFANTRYMAN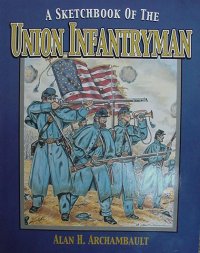 What a great book. At first glance you will notice that this book is written for the younger reader. But I was very pleasantly surprised to find what a wide range of information is contained within these very well illustrated pages. Alan H. Archambault has done a great service for our young future historians. I've watched youngsters who profess to have absolutely no interest in the American Civil War sit down with this book and turn every page. You may as surprised as I was to find just what a useful and convenient reference it is for those (young or old) who are not familiar with the conflict. I keep one handy for a corp badge reference. I never can remember them all. Buy it for your son, daughter, niece or nephew but I'll bet you'll read it yourself before you pass it on.



UNION INFANTRYMAN
Item #B2060 $9.95
BUY NOW!




---
AFRICAN AMERICAN PHOTGRAPHS
1840--1950
IDENTIFICATION, RESEARCH, CARE AND COLLECTING by Ross J. Kelbaugh



This book is of interest to anyone who claims to be a historian of any degree. Although the main purpose of this book is to help collectors of African American photographs it serves a much broader use. Over a third of this book is dedicated to photos that are of pre and or civil war era! It includes soldiers, sailors, craftsmen and of course slave photos but what I find most amazing are the fantastic photos of the wealthy free men and women of color.
Not only were African Americans the subject of these photos but they were sometimes the photographers as well.
So often our modern culture tries to pigeon hole everyone of the 19th century who was not Caucasian as servants, slaves or laborers. How wonderful it is to see a little of the true nature of the era, even when it is just a small glimpse.



AFRICAN AMERICAN PHOTOGRAPHS
Item #B2214 $14.95
BUY NOW!




---
CIVIL WAR IN TENNESSEE
by STEVE COTTRELL



Beginning with Shiloh, Lookout Mountain, Chickamauga, and Stones River and ending with the terrible carnage that was Franklin, this descriptive history revisits the battles that occurred in the Volunteer State during the Civil War.

To compile and describe all the countless Civil War actions in Tennessee would be a monumental task taking the better part of a lifetime. The purpose of this small volume is to provide a broad overview of the regionís conflict, briefly describing the main battles as well as a sampling of the smaller actions. This informal work has been worded in an easy to read style for the average person to learn and enjoy a little history.

Every effort has been made to be historically accurate and non-partisan. The fact that I have ancestors who fought on both sides in the war helps me to be fairly non-biased in my accounts. My fatherís side of the family tended to be Union sympathizers, and my motherís side tended to be Confederate Sympathizers. However, the ancestor I would like to single out for a special tribute here is my great-great grandfather who served in Tennessee during the war. John P. Cottrell was a private in the sixth Indiana Cavalry Regiment. His military record states that he took part in the East Tennessee Campaign and the Siege of Nashville. This book is dedicated to John and brave men like him on both sides whose service in Tennessee should not be forgotten.

Steve Cottrell, the author.



CIVIL WAR IN TENNESSEE
Item #B2215 $9.95
BUY NOW!




---
A GUIDE TO CIVIL WAR ARTILLERY PROJECTILES
During the American Civil War, more varieties of projectile were used than in any other time in military history.
As the nation was torn asunder, the opposing forces of North and South scrambled to find that perfect combination of sabot, shell body, and fuze to destroy the enemy. Predictably, some failed in the field; others worked with devastating precision.

Their innovations provided today's Civil War students and artillery enthusiast with a fascinating look at the shot and shell of 1861-1865.
Now, with Melton and Pawl's guide to Civil War artillery projectiles, every civil war collector and researcher can have the information they want right at their fingertips.



A GUIDE TO CIVIL WAR ARTILLERY PROJECTILES
Item # 2202 $11.95
BUY NOW!




---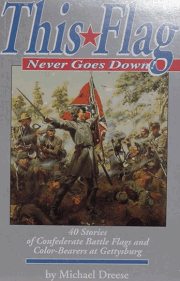 THIS FLAG NEVER GOES DOWN
40 stories of Confederate Battle Flags and color bearers at The Battle of Gettysburg 1863.
Perhaps no symbol in American history has generated as much passionate debate as the Confederate battle flag. Indeed, the familiar, star-studded, blue St. Andrew's cross on a red field divides Americans almost as much today as it did 140 years ago.
The author presents 40 gripping stories of Confederate color bearers and their banners during the epic three day battle of Gettysburg. The terror and carnage of the bloodiest battle of the war exemplified the deep reverence that the Southern soldier held for his regimental flag.
The reader will be enthralled by these stories of sacrifice and devotion while gaining a new appreciation and perhaps an increased tolerance for the symbol that has been both misused and unfairly maligned by some modern day Americans.



THIS FLAG NEVER GOES DOWN
Item # 2201 $12.95
BUY NOW!




---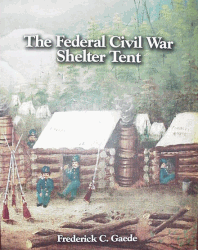 THE FEDERAL CIVIL WAR SHELTER TENT
If you have any interest in the dog tent this is the only book to have. Any question you can ask about the shelter half can be answered in this book. This book is officially endorsed by "The Company of Military Historians", you can't get much better than that. It contains several period photos with very detailed text. It also includes many photos of the surviving shelter halves taken to show great detail. This book was written specifically for re-enactors and historians who want the details. The inspectors stamps, the material, which depot accepted what, the specifications submitted to the contractors as well as who supplied them in what year and how many. This is the last word on shelter halves.



THE FEDERAL CIVIL WAR SHELTER HALF BOOK
Item # 2015 $19.95
BUY NOW!




---
1861 DRUMMER AND FIFER'S INSTRUCTIONAL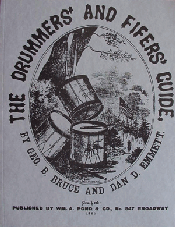 The guide book for drummers and fifer's. Originally published by Pond and Co. in 1861. It was written by two well known military musicians of the day, G.B. Bruce and Dan Emmett. This is a self instructor. Containing a plain and easy introduction of the rudimentary principles for the drum and fife. To which are added, marches , quicksteps, side beats, troops, retreats, signals, calls, and with explanatory remarks, when to be used; also, the duty for garrison or camp, to be performed by both instruments, as used in the U.S. Army. Also the drum majors duty, the fundamental principles of modern drum music, beats for the drum corps.

The authors go on to say that this book should fill in all the gaps left by the other instructional of the day.
Ninety-six big pages of instructions and sheet music.



1861 DRUMMER AND FIFER'S INSTRUCTIONAL
ITEM # 814 $14.95
BUY NOW!




---
THE ART OF TYING A CRAVAT 1829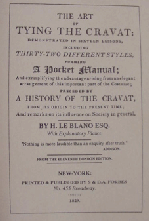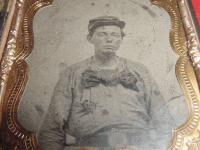 Originally published in 1829, this little book shows all the different knots that were popular right up through the Civil War. I know that I am not the only person that has looked at those early war photos of soldiers both north and south and those big ugly cravats and wondered out loud, "did these people own a mirror?" Oh well now you too can tie those big ugly cravats around your neck with the aid of this handy little book.
Nobody said authenticity was pretty.



THE ART OF TYING A CRAVAT 1829
ITEM # 816 $12.95
BUY NOW!




---
MEMORANDA DURING THE WAR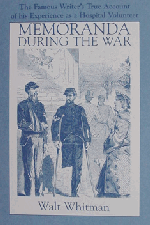 Written by Walt Whitman. This is the true account of the famous authors experiences as a hospital volunteer during the war between the states. His visits to hospitals in the field and in Washington itself are a rare glimpse into a seldom spoken subject. The poor pitiful death of so many before their time. Whitman sits with them and talks with those well enough to speak, comforts them as best he can, and records their thoughts as well as his for our benefit today. Sometimes recording dates, names, and battles. No glory and parades down main street, just the cold hard brutal truth of war.



MEMORANDA DURING THE WAR
ITEM # 817 $9.95
BUY NOW!




---
THE CITIZEN SOLDIER
The memoirs of Civil War volunteer, John Beatty. This is the story of a plain spoken, common sense man who just happened to become one of the army of the Cumberland's best brigade commanders. While watching the battle of Missionary Ridge from a reserve position Beatty commented on the Generalship of his new commander, Ulysses S. Grant. " I thought I detected in the management what I had never discovered before on the battlefield. A little common sense". John Beatty started his military career when he raised a company and marched off to camp where they became part of the 3rd Ohio inf. and he was shortly there after elected to the rank of Lt. Col. and that's where the story gets interesting.



This is not your average memoirs!!

It's very good reading and covers many aspects of every day military life.

THE CITIZEN SOLDIER
ITEM # 805 $15.95
BUY NOW!




---
THE BOYS WHO WENT TO WAR FROM THE CUMBERLAND UNIVERSITY
1861-65 BY WILLIAM C. FLOYD AND PAUL GIBSON.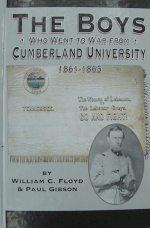 There is much to be learned here for both the military and the civilian re-enactor. Anyone seeking information on early war Middle Tennessee units in general would find this book helpful as well a very enjoyable read. The photos, both civilian and military are worth the price of the book not to mention the letters. One of the things I find most interesting is the civilian dress of the young, military age men who would have to be considered "middle class". I think that's a fair assumption, they were in college. Seldom do we see such a comparison which is dated and the subjects identified. You know the location (Mid. Tn) and the economic status. I would be very interested to know of any other similar examples. Most of these young men are similar in dress but many small differences can also be seen. In that respect I think the civilian re-enactor will find this book very useful.

This book is a combination of 2 original autograph books, with photographs, compiled by a student at Cumberland University in Lebanon, Tennessee, just south of Nashville. This collection of albumen images of Civil War participants represents one of the largest of its kind. it is not often that pictures of two specific militia units (Lebanon Greys and Wilson Blues) of a town and county, have been preserved and readily identified. These two militia groups eventually became elements of Companies H and K of the 7th Tennessee Infantry. Capsule Biographies relating the fascinating stories of these students and faculty members have been gathered from files maintained at the national Archives and Records Administration. This information revealed that not all of "The Boys" fought for the Confederate cause, but a few were Unionists and Neutrals and some only Sympathizers. Here is a unique chapter of Tennessee history!

A note of interest; The Lebanon City Museum has an canteen from one of the members of the 7th Tn. Inf. It is the simple Mex. War style of tin drum canteen. An exact match for the one we sell.



THE BOYS WHO WENT TO WAR
Item # 2137 $24.95
BUY NOW!




---
THE GALVANIZED YANKEES
This is an accurate, interesting and sometimes thrilling account of an unusual group of men who rendered a valuable service to the nation in a time of great need. It is also a fresh and informative study of the old west in the transition from frontier to stable society. (Bell Wiley. New York Times book review).

Here is the fascinating and little known story of the galvanized yankees, who stood watch over a nation that they had once sought to destroy. They were confederate soldiers who were recruited from Union prison camp in the north to serve in the west. On the condition they would not be sent south to fight their former comrades, they exchanged the gray for blue uniforms.



THE GALVANIZED YANKEES
ITEM # 806 $12.95
BUY NOW!




---
HARD TACK AND COFFEE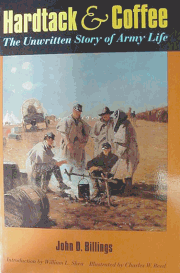 Written by John D. Billings.
The unwritten story of army life. Most histories of civil war focus on battles and top brass. Hardtack and Coffee is one of the few to give a vivid detailed picture of what ordinary soldiers endured every day in camps, on the march, and at the edge of a booming smoking hell. John D. Billings of Massachusetts enlisted in the army of the Potomac and survived the conditions he recorded. The authenticity of his book is heightened by the many drawings that a comrade, Charles W. Reed, made in the field.

Here is the story of how the civil war soldier was recruited, provisioned and disciplined. Described here are the types of men found in any outfit; their not very uniform uniforms; crowded tents and makeshift shelters; difficulties in keeping clean, warm, and dry; their pleasure in a cup of coffee; food rations, dominated by salt pork and the versatile cracker of hardtack; their brave pastimes in the face of death; punishments for various offenses; treatment in sick bay; firearms and signals and modes of transportation. Comprehensive and anecdotal, Hardtack and Coffee is striking for the pulse of life that runs through it.



HARD TACK AND COFFEE
ITEM # 807 $19.95
BUY NOW!




---
FLAGS OF THE CONFEDERACY
The brand new book, "Flags Of The Confederacy" is a neat little book. It is a handy reference any time you have a question about a Confederate flag. It has all the history with the dates and diagrams as well as a glossary for those little known terms. All the state flags are listed here too with color diagrams as well.



FLAGS OF THE CONFEDERACY
ITEM # 736 $5.95
TEMP. OUT OF STOCK!




---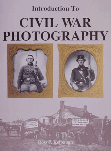 INTRODUCTION TO CIVIL WAR PHOTOGRAPHY
This is a very good overview of the subject. Especially for the beginner. This book covers the photographers and their studios. The differences between ambrotypes, carte de visita, tin types and much more. It has some great period photos too.



INTRODUCTION TO CIVIL WAR PHOTOGRAPHY
ITEM #738 $6.95
BUY NOW!




---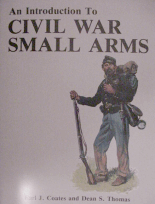 INTRODUCTION TO CIVIL WAR SMALL ARMS
This is a very handy reference book of almost any of the small arms used in the war. Muskets and pistols are listed here giving a short summary, one or two photos and the factory specs on the gun. Very handy for settling arguments! My favorite feature of this book is the overview of which regiments were carrying which weapons 1863/64. It is by no means a complete overview but enough information can be gleaned from the records to give you a general idea.



INTRODUCTION TO CIVIL WAR SMALL ARMS
ITEM #2058 $7.95
BUY NOW!




---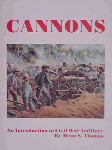 INTRODUCTION TO
CIVIL WAR CANNONS
This is a very good book for anyone interested in Civil War era artillery. It has the specs on a wide variety of guns including the breech loading Whitworths that ran the Union blockade for use by the Confederacy. Lots of photos from the period and of original artifacts. All types of projectiles, fuses with drill instructions and lots more.



CIVIL WAR CANNONS
ITEM #739 $7.95
BUY NOW!




---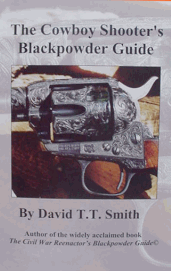 THE COWBOY SHOOTER'S BLACKPOWDER GUIDE
If you're a cowboy action shooter this is one book you can't do without. It's a great guide to everything you need to know about care, maintenance and fine tuning of your six shooter. If your familiar with David T. T. Smith's other book "Civil War Reenactors Black Powder Guide" then you already know what a great step by step guide this book is. Everything you need to know about your 1873 Colt, Schofield, Remington, Henry, Trap Door Springfield Or 1897 Winchester. This book covers almost any other common gun of the era. I guarantee sooner or later you will be glad you have this book in your library.



THE COWBOY SHOOTER'S BLACKPOWDER GUIDE
ITEM #946 $19.95
BUY NOW!




---
IT HAPPENED IN THE CIVIL WAR
Historian, lecturer, and professor Michael R. Bradley, brings you, "It Happened In The Civil War". The latest in his series of books. As always Dr. Bradley brings the past alive with his expertise for great story telling. This book is a collection of 30 short stories of actual events from the Civil War. there is something here for everyone. Riding a raid, the angel of the battlefield, servants and spies, it's all here. Even though you may know of the events themselves, Dr. Bradley always finds those little known facts to give you a completely different look at what you thought you already knew.



IT HAPPENED IN THE CIVIL WAR
ITEM #950 $14.95
BUY NOW!




---


Click here to see
BOOKS, BOOKS, BOOKS
on page EIGHT B of the Blockade Runner catalog!!!!

Click here to refer back to catalog INDEX page.



www.blockaderunner.com

Phone: 931-389-6294 Fax: 931-389-0486

---
This site designed and created by Blockade Runner Publishing
Copyright © 2018 - No portions of this website may be redistributed in any form without expressed written permission from
Blockade Runner Inc.