SECOND PRINTING, LOWER PRICE!
L. VIRGINIA FRENCH'S
WAR JOURNAL 1862-1865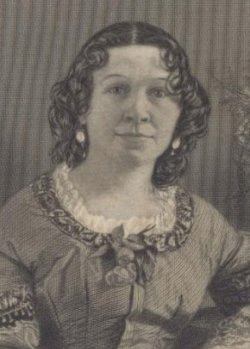 The second printing is here! Much of our initial printing cost and overhead was covered by the sale of our first printing of this fantastic book. Now we can offer it to you at an even lower price than before. Hopefully this will give even more people access to this book which many are calling the "Civilian Company Aytch".

L. Virginia French's journal gives the best insight into the everyday life of a Middle Tennessean that was ever put to pen. During the first part of the journal her thoughts are somewhat philosophical but as time goes on and the war comes to her home in McMinnville Tennessee it all becomes very personal. Accounts of Yankee raids on the town, factories burned without warning while the female workers are still on the top floor and Cavalry battles literally in her front yard. She entertains General John Hunt Morgan and his new bride Mattie Ready Morgan days after their wedding. Fans of General Morgan will be amazed at the stories Mrs. French records in her journal as told by the General himself. Written down the very day of the telling. General Wheeler visits so often that a member of his staff becomes engaged to Virginia's niece!
Women will be astounded by the details of of the local ladies dress, right down to the fabric, buttons and even their jewelry.
Details of how Terry's Texas Rangers were re-equipped by the local tradesmen, from their horse tac, shoes, boots and even how the local ladies pitched in to help with the clothing.
Every General officer, Colonel or Major that passes through the area calls on Mrs. French and she relates their tales to you through her journal. So many of the nagging questions about everyday life during the period, that I never thought I would know the answer to unfolded before me in crystal clarity as I read this journal.
It is probably best that we let her speak for herself.

A very small portion of this journal has been edited for clarity. In a few cases so has the spelling. But for the most part is appears here just as it does in the journal.



L. VIRGINIA FRENCH'S WAR JOURNAL
#2320 $19.95 BUY NOW!



---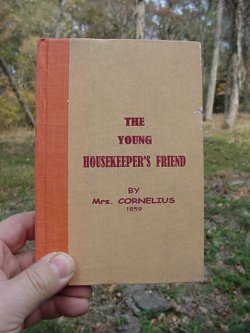 THE YOUNG HOUSEKEEPER'S FRIEND
This is one of my favorite period advice & cook books. Originally printed in 1859, written by Mrs. Cornelius. It was and is very popular. It's been 30 years since anyone reproduced this one. Every now and then I find a copy to resell and they always go quickly. So after some consideration I drug out one of my old original copies and had 500 hard back copies of them printed. I think you will be very happy with the results.



THE YOUNG HOUSEKEEPER'S FRIEND
#2452 $19.95
BUY NOW!




---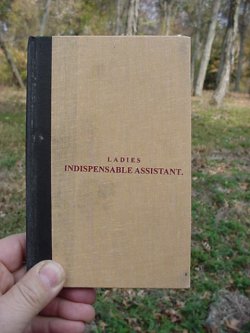 THE LADIES INDISPENSABLE ASSISTANT
This book has more remedies than recipes (original spelling) but there are plenty of both along with a helping of general advice. Many of you may find the listing of plants and their healing properties the most useful or at least enjoyable. Contained within these pages you will find everything from advice for visiting to potions to keep your hair from turning gray and much more.

This book is a little more obscure than many of the others you may have heard me mention in the past. I've always enjoyed it but I have never seen it reproduced. I think it much to valuable a book to let disappear into the book graveyard without even a proper stone. So once again I took the task upon myself. I hope you think it worthy.



THE LADIES INDISPENSABLE ASSISTANT
#2453 $14.95
BUY NOW!




---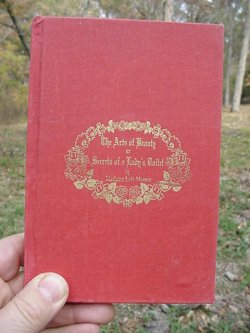 LOLA MONTEZ, THE ART OF BEAUTY
What a great book! I don't see how this book ever goes out of print. I was lucky enough to buy several of the 1982 copies, printed in Australia from the estate of an old book dealer. You had better get them while they last because they never last long. If your not familiar with Lola your missing out, she was a real hell cat (my kind of gal). Originally printed in 1858 this faithful reproduction covers all the things a lady needs to know regarding beauty, health and worldly matters. She even throws in some advice for the guys, although I think much of that is "tongue in cheek".



LOLA MONTEZ, THE ART OF BEAUTY
#2454 $19.95
BUY NOW!




---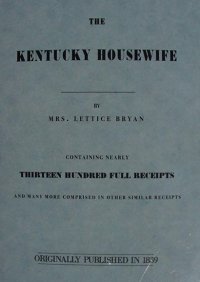 1839 THE KENTUCKY HOUSEWIFE
If you've read my ranting's before you are probably aware of my love of cookbooks. If not then let me explain. Cookbooks are a great source of knowledge, not just for cooking but for the life and times in which they were written. Often times containing tips on economy such as which cut of beef is just a appropriate as another more expensive cut or when to get the best price on a particular fruit, etc. etc. There are often many recipes for home remedies as doctors were considered the last resort by most rural folk. They often contain all types of drinks, teas, weights, measures and which ingredients were readily available which is often very surprising. Best of all, much of this information is still relevant today.

The Kentucky Housewife has been one of my favorites for years. I have an fragile original but thankfully it was reproduced way back in the 1980's. I use that copy for research but it's been out of print for years and is sometimes hard to find. Luckily for you it has now be reprinted in soft cover which makes them available and inexpensive!

Here's what the publisher has to say.
Originally published in 1839 this classic of Southern cooking includes more than 1300 recipes, all cooked and seasoned for a hot climate. Soups, meat, game, fish, catchup's, fruit sauces, flavored vinegars, pickles, vegetables, puddings, pastries, cakes, breads, sweetmeats, liquors and household remedies were all included in this important regional cookbook. It was aimed at those who were interested in home economy, whit easy to follow recipes for those with little or no experience in the kitchen. The foods and recipes are derived from American Indian, European and African sources and reflect a merging of he three distinct cultures in the American South.



THE KENTUCKY HOUSEWIFE
#2355 $19.95 BUY NOW!




---
WOMEN OF THE SOUTH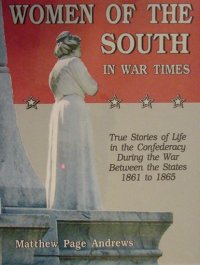 True stories of life in the Confederacy during the War Between the States by Matthew Page Andrews.
Southern women have, inn their own land, suffered from a well-intended but somewhat doubt-provoking abundance of per fervid eloquence heaped upon them by a certain type of orator much given to flowery speech. Nevertheless, it may truly be said of the Southern women of 1861-1865 that the simple narrative of their life and work unfolds a record of achievemnent, endurance, and self-sacrificing devotion that should be revealed and recognize as a splendid inspiration to men and women everywhere. The stories contained in this volume depict the life of the Southern people, particularly the women, with the lines of the Confederacy during the four years of its turbulent existence.



WOMEN OF THE SOUTH
Item # B2351 $19.95 BUY NOW!


---
A GIRLS LIFE IN VIRGINIA
BEFORE THE WAR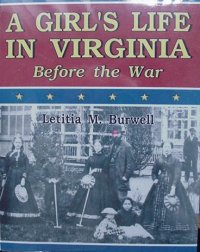 Mrs. Letitia M. Burwell's book was first published/printed in 1895 by the Stokes Co. of New York. Below she recalls what it meant to grow up as she did, on a Virginia plantation, knowing not the outside world but with the plantation being her world.

Brought up amid antiquities, the Virginia girl disturbed herself not about modern fashions, appearing happy in her mother's old silks and satins made over. She rejoiced in her grandmother's laces and in her brooch of untold dimensions, with a weeping willow and tombstone on it - a constant reminder of the past - which had descended from some remote ancestor. She slept in a high bedstead - the bed of her ancestors; washed her face on an old fashioned, spindle-legged washstand; mounted a high chair to arrange her hair before the old fashioned mirror on the high bureau; climbed to the top of a high mantel piece to take down the old fashioned high candle sticks; climbed a pair of steps to get into the high swung, old fashioned carriage; perched her feet upon the top of a high brass fender if she wanted to get them warm; and, in short, had to perform so many gymnastics that she felt convinced her ancestors must have been a race of giants, or they could not have required such tall and inaccessible furniture.

A very enlightening and often humorous look at plantation life and the "well to do" Southern planter.



A GIRLS LIFE IN VIRGINIA BEFORE THE WAR
Item # B2347 $11.95 BUY NOW!


---
A VIRGINIA GIRL IN THE CIVIL WAR
This history was told over tea cups. One winter, in the South, I had for my neighbor a gentle, little brown haired lady, who spent many evenings at my fireside, as I at her's, where with bits of needlework in our hands we gossiped away as women will. I discovered in her an unconscious heroine, and her Civil War experiences made ever an interesting topic. Wishing to share with others the reminiscences she gave me, I seek to present them in her own words. Just as they stand, they are unique, possessing at once the charm of romance and the veracity of history.

Don't judge a book by it's cover! This is a fun read that you can finish in just a few evenings or on a rainy day. It is written as a first hand account with Mrs. Avary acting only as secretary. Speaking as someone who has read many diaries and journals this book has all the hallmarks of a good story teller recalling personal experiances. Very enjoyable!



A VIRGINIA GIRL IN THE CIVIL WAR
Item # B2348 $17.95 BUY NOW!


---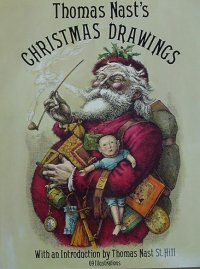 THOMAS NAST'S CHRISTMAS DRAWINGS
The great illustrator, Thomas Nast, is generally credited with giving us the modern image of Santa Claus. Mr. Nast is well known to those of us who consider ourselves somewhat knowledgeable in regard to CW history. The wonderful images of Santa in camp and the Soldier thinking of home while on picket are staples of the CW Christmas season. Many of them were originally published in Harper's Weekly but not all. This book is actually a reprint of a the book, "Thomas Nast's Christmas Drawings for the Human Race". First published in 1890. A wonderful look at Christmas from the time of the American Civil War through the Victorian era. Mr. Nast sometimes incorporates the latest inventions of the day into his work, such as Santa taking a telephone call from a concerned patron. Mr. Nast was certainly the premier illustrator of his day, a name known by all, much like Norman Rockwell's name to us.



THOMAS NAST CHRISTMAS DRAWINGS
ITEM # 2343 $9.95 BUY NOW!



---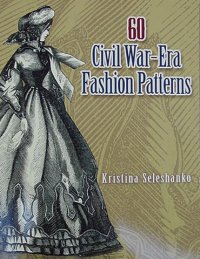 CIVIL WAR ERA PATTERNS & FASHION PLATES
What a great idea! I wish I would have thought of this one. Kristina Seleshanko has taken 60 patterns along with the fashion plates (black & white) straight from the pages of Peterson's Ladies Magazine and reprinted them here for you. All manner of garments too. Underpinnings, dresses, jackets, shoes, waist, and so on. This may be the handiest ladies reference book that has produced to date. She has even included a few post civil war era garments so that you can see how slowly fashions change from year to year.
If your busy life does not allow for a lot of "research time", but you would prefer the original source over second hand (and often faulty) information. This may be just the book you've been looking for. If you are handy with a pattern, enlarging and so forth, there is no reason that you can not take the patterns straight from this book to the cutting table. Enlarging patterns is somewhat of an art form, my opinion. If you've never done it you will probably need a little advice from someone who has.



CIVIL WAR ERA FASHION PATTERNS
ITEM # 2341 $14.95 BUY NOW!



---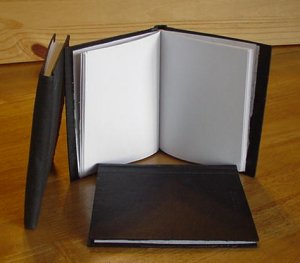 HARD BOUND, HAND MADE JOURNAL
This item has a unique history behind it. We never intended to go into the book binding business but that recently changed. We were lucky enough to find a CS, Nashville made pocket Bible for soldiers dated 1862. Of course we want to reproduce it so I took it to several companies who do that sort of thing. Everyone told us no one would make the type of cover the original used, it was to hard, it had to be done by hand and that I should forget about it. I sort of took that as a challenge. I went straight to the work shop and started to experiment. Three days later I was binding books. These cool little journals are just the spin off of this project. We will have the bible by early 2008, we have to have those printed before we can bind them.
Now for the details, this journal has 48 pages. It measures 5 inches by 6 inches, that's a little large for the pocket but fits nicely into a haversack. The pages were folded and cut after binding just as the originals were. The spine is cloth book binding tape with an inner cotton tape for re-enforcement. The cover is painted press board just as the original book. The pages are hand sewn and then glued into the binding using our Grandmother's recipe for home made glue (looks just like Elmer's). These journals are very labor intensive and will be made on a very limited basis.



HARD BOUND, HAND MADE JOURNAL #2323 $19.95 BUY NOW!




---
AMERICA'S PRINTED FABRICS
1770 to 1890
Many of you are already familiar with Barbara Brackman, a very prolific writer who's expertise is in historic textiles. If you own any reference books on how to date quilts there is a good chance it's one of her's.

She may have out done herself with this latest edition, "America's Printed Fabrics" is fantastic. Even if you have only a passing interest in textiles and how to date them this book simply is a must for your library. Don't think for a moment that this is some dull statistical journal intended only for the scholar. Quite the contrary, it is full of useful information but the format is pleasing to the eye as well as easy and enjoyable to read. It contains many never before published photos, many of them dated as well as dated quilts and other textile samples. And yes she manages to slip in a few quilt patterns (her passion) for you too.

But - - (there's always a but) here is the one thing her publisher does wrong. They never print enough copies! And to my knowledge they have never reprinted any of her books. So if you want a copy of this book don't hesitate or you will not get one.



AMERICA'S PRINTED FABRICS,1770 TO 1890
#2304 $29.95 CHOOSE NOW!




---
THE JENNIE WADE STORY
A true and complete account of the only civilian killed during the Battle of Gettysburg. by Cindy L. Small
The heavy stench of death and gunpowder swirled thickly around a which sat forlornly between the village and a hill crowned by a now dilapidated cemetery. Ghostly figures in brown and grey darted silently in and out of shot scarred buildings only yards away, up a deserted, bullet swept street. Occasionally a rifle spat, shattering the once still July morning with it's sharp, sinister reverberation.
Such was the morning when the stray host of death found poor Jennie Wade.



THE JENNY WADE STORY, ITEM # 2284 $6.95
BUY NOW!




---
MINISTERING ANGEL
Harriet A. Dada was one of a number of former army nurses who wrote down their Civil war experience. For over four years Dada had cared for the sick and wounded soldiers at a number of military hospitals in both the Eastern and Western theaters of the war. Although she did not keep a daily journal, she saved her letters from the field. In 1884 her letters provided the basis for her ten part series of articles reproduced here and original published in the National Tribune newspaper under the heading "Ministering Angels".



MINISTERING ANGEL, ITEM # 2281 $7.95
BUY NOW!




---
CLARA BARTON, A WOMAN OF VALOR
Woman of valor, Clara Barton And The Civil War. When the Civil War broke out, Clara Barton wanted more than anything to be a Union soldier, an impossible dream for a thirty-nine-year-old woman, who stood a slender five feet tall. Determined to serve, she became a veritable soldier, a nurse, and a one-woman relief agency operating in the heart of the conflict. Now award-winning author Stephen B. Oates, drawing on archival materials not used by her previous biographer, has written the first complete account of Clara Barton's active engagement in the Civil War. The story of a truly remarkable women.



CLARA BARTON
ITEM #845 $19.95
BUY NOW!




---
CONFEDERATE WOMEN
HEROINES OF DIXIE


Here are 10 wonderful stories of courage, self sacrifice, suffering and valor as seen through the eyes of those who lived it. For years the writings of those left to care for the home front were oh so often overlooked by the main stream historians. Overlooked but thankfully not forgotten by all, these stories have been compiled through the letters and diaries they once held so dear.
These courageous women suffered through one of the, if not the most turbulent times in our nations history. But to our good fortune they committed their suffering to paper so that we may learn from such trying times.
The stories conveyed here are often much more detailed than those of their male counterparts. Many of the facts and details of everyday life that living historians have long strived for are found between these pages.
There is not enough praise to credit their courage. Not enough tears to mourn their loss.

Each chapter focuses on a different woman and the part she played in the conflict, from Charlotte S. Branch whose three sons went off to fight; to Loreta Janeta Velazquez, who was a soldier herself; to Ella K. Newsom Trader, who served as a nurse.



CONFEDERATE WOMEN
Item #B2213 $14.95
BUY NOW!


---
THE LANGUAGE AND SENTIMENT OF FLOWERS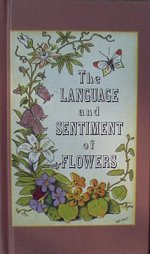 I think you'll find the book "The Language and Sentiment of Flowers" very interesting. It is yet another look into the life of the young lady during the mid-19th century. That is not to say that giving meaning to flowers started only then. It can be traced back to ancient times. In ancient Rome the Rose meant beauty and the gift of a rose to someone stated that you thought them beautiful. All these years many of us have been giving roses and did not really know why. But held within the verses of this book you will decipher the secret meanings of all the flowers and how to use them to convey your deepest sentiments. Of course you may have to include a copy of the book along with them. This is not a copy of an original book but it appears to be a summarization done in a very easy to read style. My original copy by another title was published in 1847 and is quite large and can be difficult to reference. I find this book very easy to use and will not require any more study than you care to spend. All in all I think you will find a great deal entertainment for you and your friends held here.



THE LANGUAGE & SENTIMENT OF FLOWERS
ITEM #2182 $12.95 BUY NOW!




---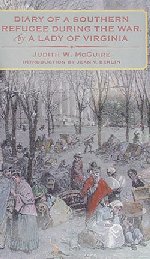 DIARY OF A SOUTHERN REFUGEE
"War seems inevitable," wrote Judith W. McGuire in her diary on 10, May 1861, shortly after the firing on Fort Sumter. Fervently loyal to the South, she was packing up valuables at her home in Alexandria, Virginia, where the Confederate flag already waved. With here family she fled the city, and for the next four years she would be a refugee in her own land.

Literate and newsy, shrewdly detailed, and extremely moving, "Diary of a Southern Refugee" during the war is one of the best civilian records of the Civil War.



DIARY OF A SOUTHERN REFUGEE
ITEM # 2061 $17.95
BUY NOW!




---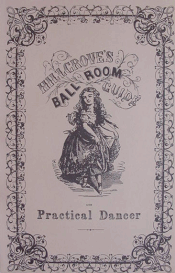 HILLGROVE'S BALL ROOM GUIDE AND PRACTICAL DANCER
First published in 1863 by Dick and Fitzgerald in New York. It is 237 pages long and is very informative. To quote the book, this is a "complete practical guide to the art of dancing". It contains descriptions of all fashionable and approved dances. It has full directions for calling the figures, the amount of music required; hints on etiquette, the toilet. etc.
There are many illustrations and the instructions are very easy to read and understand. Regardless of whether you are an accomplished dancer or a beginner you will find this a very helpful book. There is also a very good section on etiquette. I think anyone who likes Civil War era dances will enjoy this book.



HILLGROVE'S BALL ROOM GUIDE
ITEM # 815 $17.95
BUY NOW!




---
THE JOURNAL OF WOMEN'S CIVIL WAR HISTORY
The book "Journal of Women's Civil War History, From the Home Front to the Front Lines" is an account of the sacrifice, achievement and service of American women from 1861 to 1865. Ten chapters, each on a different subject or event during the war as told by the women who lived them. First hand accounts of the day to day suffering and hardships that those who did not carry a musket had to endure. Details you won't find in the men's writing. From the story of a military laundress to letters from Point Lookout Prison. Each story is just as touching as the one before.



THE JOURNAL OF WOMEN'S CIVIL WAR HISTORY VOL. I,
ITEM #951 $11.95
BUY NOW!

THE JOURNAL OF WOMEN'S CIVIL WAR HISTORY VOL. II,
ITEM #951-A $11.95
BUY NOW!




---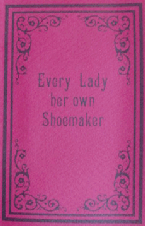 EVERY LADY HER OWN SHOE MAKER
Originally published in 1855. This is a very interesting little book. It is a great instructional manual if you would like to try your hand at being a cobbler. The ladies shoes that are in this book are made of light material and require no heavy equipment to make. There is page after page of instructions and pull out pages of patterns so you can cut your shoes out with a minimum of trouble. It also has designs for ladies gaiters.
The book strongly suggests that you should use rubbers (1851 Goodyear's patent) to protect your shoes in damp weather and to use a sewing machine to speed the work along. I paid over $100 for my original copy of this book but you can get a great deal on this reprint.



EVERY LADY HER OWN SHOE MAKER
ITEM #818 $12.95
BUY NOW!




---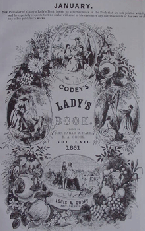 1861 GODEY'S LADIES MAGAZINE
A brand new copy of the magazine "Godey's , 1861 Reprint".

In the world of civil war civilian reenacting there is probably no other source that is referred to as much as Godey's. Without a doubt the most popular magazine of the day each issue is packed with stories, news, patterns and sewing tips. But, it is most famous for its usefulness in keeping the ladies informed on the latest hair styles, jewelry and fashion.



If you're looking for accuracy, why not go to the source? Godey's!

1861 GODEY'S LADIES MAGAZINE
ITEM #819 $14.95
BUY NOW!




---
LADIES' BOOK OF ETIQUETTE 1860
I think you will find this to be the most sensibly written book of etiquette of the period. At least in my opinion. It seems to address the middle class much more so than any other that I have read. Most of the instruction is very useful without being overbearing. Very easy and pleasant to read. It's actually enjoyable. Forgive the ugly photo. The cover of the book is black and red, very attractive but it does not photograph well. I had to use the inside cover page.

Here's your brand new copy of the book "Ladies Book of Etiquette, Fashion and Manual of Politeness" reprint from 1860. A complete hand book for the use of the lady in polite society. Containing, full directions for correct manners, dress, deportment, and conversation; rules for the duties of both hostess and guest in morning receptions, dinner companies, visiting, evening parties and balls; a complete guide for letter writing and cards of compliment; hints on managing servants, on the preservation of health, and on accomplishments. And also useful recipes for the complexion, hair and the hints and directions for the care of the wardrobe. By Florence Hartley. First published in Boston by Locke And Co.
All in all a very useful and informative book.



LADIES' BOOK OF ETIQUETTE 1860
ITEM #824 $18.95
BUY NOW!




---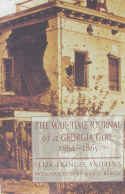 THE WAR TIME JOURNAL OF A GEORGIA GIRL
The story of a young girl, Eliza Frances Andrews, caught in the middle of a raging Civil War with no where to run. Noted historian Douglas Southall Freeman says of this book, "A most important book that should have been included in my book The Confederate Bookshelf." A spirited account of the war and the first months of reconstruction. There is seldom a study done on women in the Civil War where this book is not quoted. One of the best references a southern girl can have!



THE WAR TIME JOURNAL OF A GEORGIA GIRL
ITEM #808 $19.95
BUY NOW!




---
WOMEN IN THE CIVIL WAR
The book "Women in the Civil War" by Mary Elizabeth Massey, with introduction by Jean V. Berlin.

Had every woman and girl of the 1860's described the ways in which she was affected by the Civil War, no two accounts would have been alike. Some might have said they were scarcely aware that a conflict raged, most would have noted varying degrees of stress, and many would have reported direct involvement in the horrors of war. Rich and poor, young and old, white and colored, slave and free, Confederate and Unionist were all caught in the turbulence, but, included also were the middle classes and those with no deep seated political convictions or loyalties. To be found in all areas were selfless, dedicated, energetic, courageous, virtuous women as well as the self centered, selfish, indifferent, cowardly, lazy, and immoral. In Union and Confederacy alike the very finest and the very worst traits of American womanhood came to the surface during the war years.



Here are their stories.

WOMEN IN THE CIVIL WAR
ITEM #809 $19.95
BUY NOW!




---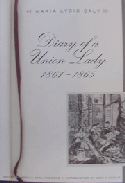 DIARY OF A UNION LADY
The book "Diary of a Union Lady" by Maria Lydig Daly. Rumor, gossip, and innuendo are the weapons of the home front, and no one wielded them with quite the aplomb of Maria Lydig Daly. Her richly detailed comments on everything from inept Union generals to Dorothea Dix's appearance provide the liveliest memoir to emerge from a northern noncombatant. Daly, the wife of prominent New York City judge whose connections allowed her to meet many major figures involved in northern military and diplomatic strategy. Despite catty comments about Mrs. Lincoln and less than flattering appraisals of Union generalship, Daly could be sympathetic toward the suffering of the soldiers. She noted the fear with which many viewed the draft, seeing it as a terrible incursion on liberty, but she understood that the times called for severe measures.



DIARY OF A UNION LADY
ITEM #810 $24.95
BUY NOW!




---
THE ART OF DANCING 1859
Union general Edward Ferrero's book, "The Art of Dancing" historically illustrated, to which is added a few hints on etiquette.

This is the first time this book has been in print since 1859

Before the war Edward Ferrero was a very accomplished dance instructor in New York City with his own studio. He was quite the socialite and traveled in only the best circles.

Gen. Ferrero's book is without a doubt the most interesting book on modern dance (1859) that I have ever read. It contains mountains of information and instruction but it is so much more. In his book, Gen. Ferrero says that to his knowledge there has never before been book written on the historical origins of dancing. (I believe him to be correct.) It's a fascinating view of dancing throughout the ages, from ancient Greece to the native Americans, its supporters and detractors including the Puritans of New England and even Socrates opinion of dance.

The chapters on the history alone would make a wonderful book!

Next, the General covers etiquette and politeness for young dancers and non dancers alike. Gen. Ferrero has a very matter of fact way of writing that is oft times punctuated by a very keen wit that makes this book very enjoyable reading. On etiquette the Gen. says "The author has intentionally avoided the introduction of those ridiculous rules, so prevalent in works on etiquette, in which it is assumed that the reader is devoid of intelligence, ordinary breeding and common politeness, preferring to offer a few general hints, the propriety of which must be left to the judgment of the reader."
Now its time to dance!! We start with a short section on the rudiments of dancing which will be very helpful to the novice and pro alike. After you have practiced your basic steps it time to put them to work with 61 more pages of different dances, instruction for every dance I have ever heard of and then some is list here. Step by step detailed instruction.
but wait there's more, sheet music to 23 popular tunes of the day for your dancing pleasure.

General Ferrero may or may not have been a great general but he was one heck of a dancer!!.



THE ART OF DANCING ITEM
# 720 $14.95
BUY NOW!




---

SALLY WISTER'S JOURNAL 1777-1778
A young Quaker maiden moves to the country to try to avoid the revolutionary war and ends up in the middle of it. Day to day accounts of her interaction with the continental officers, troop movements of both colonist and British. Many officers board and take their meals in the same house as she. Sally is a constant guest at the officer's table. A super little book! Very interesting and fun to read.



SALLY WISTER'S JOURNAL
ITEM #722 $8.95
BUY NOW!




---

BLUE AND GRAY ROSES OF INTRIGUE
A thrilling look into the role played by the female spy during one of the most desperate times in our Nation's history. True to life adventures of such daring women as Belle Boyd, Pauline Cushman, Rose Greenhow, Nancy Hart and many others you may have never heard of!
With lots of great photos it's an exciting look into the lives of women who dared risk their all for the country they loved.



BLUE AND GRAY ROSES OF INTRIGUE
ITEM # 709 6.95
BUY NOW!




---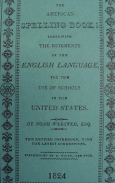 THE BLUE BACK SPELLER
Webster's Blue Back Speller 1824. The only book that outsold the Blue Book Speller during its publication in America was the Bible. Not only was it used as the main spelling book for tutoring children, but, anyone of any importance whose job required correspondence carried one of these, be he doctor, lawyer or Indian chief. This book would have been a fixture on any Army or Navy officers (or at the very least their clerk's) desk as well as haversack. This book was in publication for almost 90 years and originals are quite a prize for collectors.



THE BLUE BACK SPELLER
ITEM # 684 14.95
BUY NOW!




---
THE MOTHER'S BOOK
Another wonderful book by Mrs. Child.
Author of "The American Frugal Housewife" and the "The Girls Own Book" as well as several more, the most published female author of her time. First published in 1831 this book is a wealth of information for the mother or nurse. Every step of child rearing is covered from infancy to teenage years and beyond. Mrs. child's lively form of writing is as entertaining as it is informative. Good advice for any generation and a very good insight to the times in which she lived.



THE MOTHER'S BOOK
ITEM # 685 $12.95
BUY NOW!




---

THE FAMILY NURSE
The Family Nurse by Mrs. Child, the most published female author of her day. This book was first published in 1837 and is full of home remedies for just about everything you could possibly come down with. As well as Mrs. Child's advice for staying healthy and good living in general. As with all Mrs. Child's books "The Family Nurse" is as enjoyable to read as it is informative. This is a great insight into the period and is a wealth of information for anyone who is interested in herbal remedies and natural healing.



THE FAMILY NURSE
ITEM # 686 $12.95
BUY NOW!




---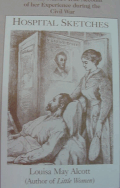 HOSPITAL SKETCHES
"Hospital Sketches" by Louisa May Alcott who is also the author of "Little Women". First published in 1863, this book details the true stories of an Army Nurse during the Civil War. A wonderful look inside the army hospitals as could only be told by one who was there. This book details the day to day trials of an army nurse.



HOSPITAL SKETCHES
ITEM # 687 $9.95
BUY NOW!




---
A BLOCKADED FAMILY
"A Blockaded Family" the trials and tribulations of a family in Southern Alabama during the war and there struggle to maintain under an ever tightening Federal blockade and the dwindling resources on the home front. Written by Parthenia Hague, a school teacher on a plantation near Eufaula Al. how they dyed cloth, made thread and hats, bonnets and home spun dresses are all discussed. A great look into the everyday life of a southern family during the war. I was particularly surprised to find out just how quickly the Union Blockade affected the interior of the Southern states.



A BLOCKADED FAMILY
ITEM # 688 $14.95
BUY NOW!




---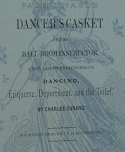 A FASHIONABLE DANCER'S CASKET
The dance instruction book "The Fashionable Dancer's Casket or Ball Room Instructor." First printed in 1856. A new and splendid work on dancing, etiquette, deportment, and the toilet by Charles Durang, with fourteen beautiful illustrations. This is a super book for the Civil War reenactor, male or female not only on the dances but how you should look, act and speak while there.



A FASHIONABLE DANCER'S CASKET
ITEM # 689 $12.95
BUY NOW!




---
SOCIAL LIFE IN OLD VIRGINIA
The book "Social Life In Old Virginia" by Thomas Nelson page. Mr. Page states that his purpose for writing this book is to dismiss some of the half truths and lies perpetrated on the public by the likes of Harriet Beecher Stowe and other reconstruction era authors concerning life in the south.
The result is a charming essay of plantation life before the war.



SOCIAL LIFE IN OLD VIRGINIA
ITEM # 691 $9.95
BUY NOW!




---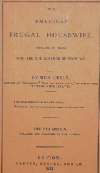 THE AMERICAN FRUGAL HOUSE WIFE
Mrs. Child was not the first woman to be published in the states but she certainly was the most published of her day. In an age where women were supposed to keep their opinion to themselves Mrs. Child shares hers with the country and to good effect! Her advice is as sound today as it was 167 years ago. This book should be taught in grade school. It covers almost everything related to managing a household. How to choose the best for the least and make it last the longest. Full of home remedies for aches and pains fever and flu. Hundreds of recipes for jams, jellies, cakes, all types of meat and bread and just plain good advice.



THE AMERICAN FRUGAL HOUSE WIFE
ITEM #358 $9.95
BUY NOW!




---
THE GIRL'S OWN BOOK
The Girl's Own Book, 268 pages first printed in 1834. This book is a primer for young ladies. It covers a wide range of topics. It's filled with games, stories, poems and instructions on making everything that a young lady might find useful. If you are a Civil War lady reenactor there is no other book I have ever seen that would give you more background on the upbringing of the ladies (that at the time of the war would be) from age 20 to 60 than this book.



THE GIRL'S OWN BOOK
ITEM # 660 $12.95
BUY NOW!





---
THE BOY'S OWN BOOK
The Boy's Own Book, 307 pages first published in 1829. It is a primer for boys and young men. Page after page of games, puzzles, stories, fishing tips as well as instruction in sword play. Anyone interested in the civil war or reenacting should have a copy of this book. It will give you a great insight as to the upbringing of the young men who would later become soldiers.



THE BOY'S OWN BOOK
ITEM #661 $12.95
BUY NOW!




---
AMERICAN SLAVE SONGS
The song book "Slave Songs of the United States" compiled by W. Allen, C. Ware, and Lucy Garrison in 1867. In an effort to record the songs of the recently freed slaves in the United States before they were lost to time the above mentioned authors compiled what may well be the most complete book of songs written here exactly as the slaves sung them while still in the yoke of slavery. Written in the dialect and terminology of the day, many spirituals and field songs as well as a narrative 37 page intro detailing the collecting of these songs by the authors.



AMERICAN SLAVE SONGS
ITEM # 692 $12.95
BUY NOW!




---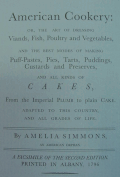 AMERICAN COOKERY 1796
American Cookery by Amelia Simmons. The first cook book printed in the United States. First printed in 1796. The art of dressing viands, fish, poultry and vegetables. The best mode of making puff-pastes, pies, tarts, puddings, custards and preserves, and all kinds of cakes, from the imperial plumb to the plain cake. By Amelia Simmons, an American orphan. Short title don't you think? This book was reprinted until 1815. This is a super little cook book with a great intro by Karen Hess.



AMERICAN COOKERY 1796
ITEM # 693 $9.95
BUY NOW!




---
ART OF COOKERY 1776
The most popular selling cook book in 1776. The Art Of Cookery Made Easy by Mrs. Glasse. This is probably the most complete cook book of its day. It first appeared in London in 1747 and according to Karen Hess (who by the way gives the introduction to this book) it ruled supreme in England and in the colonies through countless reprints for more than half a century. George Washington owned a copy as did Thomas Jefferson. Benjamin Franklin even had several of the recipes translated into French so he could have his favorite dishes prepared for him while on his diplomatic mission to France.
I think this is the best, easiest to understand cook book of the day.



ART OF COOKERY 1776
ITEM # 694 $12.95
BUY NOW!




---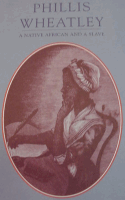 POEMS OF PHILLIS WHEATLEY
The book "Poems Of Phillis Wheatley". The first African American woman to ever be published in the new world. She was brought to the Americas in 1761 from Africa, she had a complete grasp of the English language in less than 2 years and received no other schooling than what she was taught by the her master's family. I can not give sufficient praise to Ms. Wheatley's work so I will let Gen. George Washington do it for me. Here is an excerpt from a letter written by Gen. Washington to Ms. Wheatley in regard to a poem she wrote for him, about him. Dated Feb. 28, 1776. "I thank you most sincerely for your polite notice of me in the elegant encomium and panegyric. The style and manner exhibit a striking proof of your poetical talents, in honor of which, and as a tribute justly due to you, if you ever come to Cambridge, or near my headquarters, I shall be happy to see you in person." signed, Geo. Washington.
Her poetry is wonderful and since many of her poems are written about the day to day happenings around her you can actually get a feel for Old Boston and it's inhabitants in the era just before and during the American Revolution.



POEMS OF PHILLIS WHEATLEY
ITEM # 695 $9.95
BUY NOW!




---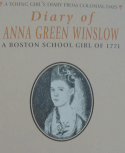 THE DIARY OF ANNA WINSLOW 1771
Anna Green Winslow was a school girl in Boston just before the American Revolution in 1771. This diary is a wealth of information for anyone interested in the period leading up to the revolution. All aspects of a young lady's life are given in great detail in this book. The role of the church, her schooling and what industries she is encouraged to endeavor in as well as her relations with friends and family.

A must for the rev. war reenactor.



THE DIARY OF ANNA WINSLOW 1771
ITEM # 696 $9.95
BUY NOW!




---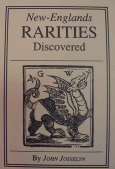 NEW ENGLAND RARITIES 1672
By John Josselyn. First published in 1672. This 116 page little book is a very enjoyable look into how the old world saw the new. It's pages are filled with the new names of plants and animals with their descriptions as well as what the natives and New Englanders used them for. There are several wood cut illustrations too.
But my favorite is, if I may quote Mr. Josselyn "A perfect description of an Indian "Squa" in all her bravery, with a poem not improperly conferr'd upon her."



NEW ENGLAND RARITIES 1672
ITEM # 697 $9.95
BUY NOW!




---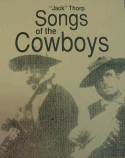 SONGS OF THE COWBOYS 1908
The first cowboy songbook printed in America in 1908 written by "Jack" Thorp. "To the younger generation who know not of the trip from Texas to Dodge and the north it (this book) will tend to keep alive the memories of an industry now past. I have gathered these songs from the cow camps of different states and territories. They embrace most of the songs as sung by the old time cow punchers. I plead ignorant of the authorship of them but presume that most of the composers have ere now gone up the dim narrow trail." Howard "Jack" Thorp, author.



SONGS OF THE COWBOYS 1908
ITEM # 698 $7.95
BUY NOW!




---


Click here to see on page 9B

Click here to refer back to catalog INDEX page.



www.blockaderunner.com

Phone: 931-389-6294 Fax: 931-389-0486

---
This site designed and created by Blockade Runner Publishing
Copyright © 2017 - No portions of this website may be redistributed in any form without expressed written permission from
Blockade Runner Inc.