SEA BAG
Just in time for Hurricane season! Blockade Runner's large heavy duty sea bags are ready to go. This bag (when laid flat) measures 22 inches wide and 32 inches tall. Man that holds a lot of dirty clothes. The weave of this canvas is so tight that if you used this bag for a sea anchor it will stop you dead. It has 8 brass grommets with a heavy hemp cord laced through. The only thing this bag needs is your art work, stencils or needle point.



SEA BAG
# 2438 $49.95 BUY NOW!



---
CIVILIAN STYLE HAVERSACK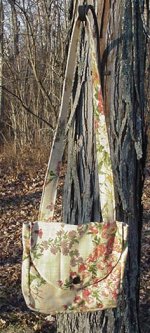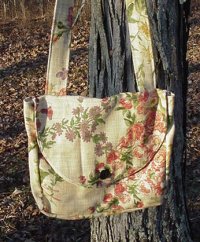 We are very happy to have this item back in stock. A civilian style haversack made from heavy cotton carpet type material. A very handy bag for the male or female civilian when out and about, day tripping, to the store or useful even for overnight stays. If this one is a little too "bright" for you don't worry, they come in a variety of colors including more muted tones.

Just be sure to let us know if you want a particular color or style of material. We will match it as closely as possible. All colors not available at all times.



CIVILIAN STYLE HAVERSACK
$29.95 BUY NOW!



---
CARPET BAG
Here is an item that I am very glad to have back in stock and made by a new manufacturer (us) who has taken great pains to make this bag as authentic as possible. It's 100% heavy cotton exterior is very similar to the original in our collection. The bag is lined with 100% cotton lining. It measures 18 inches tall and 23 inches wide. The width is 6 inches at the bottom. Easily large enough for two changes of clothes with room to spare. This is without a doubt the best reproduction of a carpet bag I have ever seen offered for such a reasonable price! There will be some variation in material designs from bag to bag.



CARPET BAG
$49.95 # 2379 BUY NOW!



---
TARRED HAVERSACK MID/LATE WAR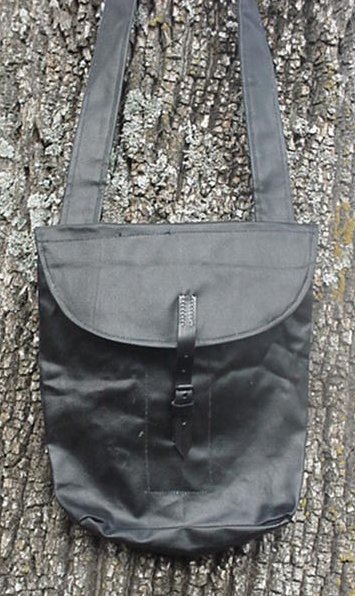 This new tarred haversack is made in the mid to late war style. There is no particular make or model as at that point there were so many suppliers. Very little difference between this and the late war style as they were both some what elongated. The late war versions often have a copper rivet attaching the leather closer tab to the flap of the haversack, that is just about the only difference between the two.
It is very well made and the 100% cotton material is first class, just the right weight to last for years and years and the tarred coating can't be beat. It is a very well made bag. The shoulder strap is cut for a modern person so the bag does not ride up under your arm. No liner but the buttons are sewn in if you want to add one. I think you'll be very pleased with this purchase.



TARRED HAVERSACK
ITEM # 283-A $39.95
BUY NOW!




---
HAVERSACK REPLACEMENT LINER

Here's a replacement liner "bag" for your old haversack. Let's face it, sometimes those things just get to nasty to wash. This will fit any old standard haversack. It fastens in by 3 button holes. The buttons should already be sewn into your haversack. 11 by 15 inches.
There's no photo because it's really hard to photograph a white cotton bag. I think you all know what they look like.



HAVERSACK REPLACEMENT LINER
ITEM # 283L $4.95
BUY NOW!




---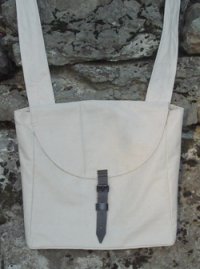 1862 MEECHUM PATTERN
This 1862 Meechum pattern haversack is made from high quality heavy white canvas. It has a black iron roller buckle with a heavey leather tab for years of dependable service in the field. Expertly stitched and correct to the last detail. It also has a removable cotton liner that buttons in for easy removal when it needs to be washed. This haversack is carried by thousands of re-enactors today portraying both Union and CS troops.



Here's a veiw of the Tarred Meechum Haversack.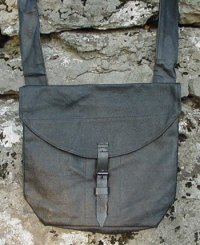 MEECHUM PATTERN, WHITE
ITEM #282 $22.95
BUY NOW!

1862 MEECHUM PATTERN, TARRED
ITEM # 283 $27.95
BUY NOW!
---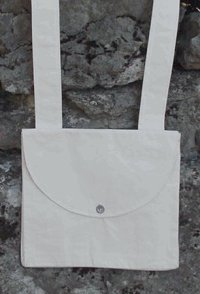 CONFEDERATE HAVERSACK
This Confederate style haversack made from tightly woven canvas with a single button closer is top of the line! The weave of the fabric is so tight it's water resistant.
Each one measures 12 inches tall x 12 inches wide. They are made using a 2 inch wide center gusset so this haversack will hold twice as much as the regular flat style without "bulging". This means it will lay flat against your side and not bounce and roll with every step you take. That's more comfort for you! There is no liner with this style as per the original examples. The shoulder strap is 2 inches wide so it does not cut into your shoulder no matter how you over pack it. The strap is long enough for even the tallest Sech.



CONFEDERATE HAVERSACK
ITEM # 2268 $17.95
BUY NOW!




---
WHITE COTTON HAVERSACK
Here is a great looking US issue, heavy cotton 3 button haversack. It works as well for early civil war Union, Confederate or Mexican war. It measures 11 1/2 inches wide and 13 inches deep and has 3 pewter buttons to fasten the flap down.
And how's this for a great price? only $16.95



3 BUTTON HAVERSACK
ITEM # 790 $19.95
BUY NOW!




---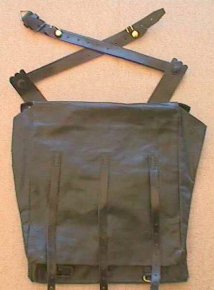 DOUBLE BAG KNAPSACK
Our double bag knapsack is made from heavy tarred canvas and top grade leather. It is an exact copy of the double bag in our collection. It is seen in original photo after photo and mentioned in many diaries and letters home. Lots of room for everything you'll need for the march and the bivouac afterwards. They will hold a complete change of uniform (very handy when you don't know if your gray or blue this weekend!) your blanket, shelter 1/2 and poncho roll up and fit right on top.

If you did not see the issue of Military Images A few months ago (May/June 2002, page 36) that showed how to keep your knap sack from riding down your back, I'll tell you how it was done. Just take a small stick, about 3/8 of an inch around. You will have to judge the length for yourself. Fit the stick through the blanket roll straps with some excess hanging out each end. Then fit your shoulder straps between the stick and the blanket. Works like a charm!



DOUBLE BAG KNAPSACK
ITEM # 285 $89.95
BUY NOW!




---


Click here to see
LEATHER GOODS
on page TEN
Click here to refer back to catalog INDEX page.



www.blockaderunner.com

Phone: 931-389-6294 Fax: 931-389-0486

---
This site designed and created by Blockade Runner Publishing
Copyright © 2017 - No portions of this website may be redistributed in any form without expressed written permission from
Blockade Runner Inc.