TOUR THE BLOCKADE RUNNER'S STORE AND WORK SHOPS
---

WE THOUGHT THAT YOU MIGHT ENJOY A LOOK AROUND THE PLACE. WE HAVE POSTED SEVERAL PHOTOS HERE AS WELL AS A FEW BRIEF DESCRIPTIONS OF WHAT GOES ON AROUND HERE FROM DAY TO DAY. WE HOPE YOU ENJOY YOUR VISIT.


---
THE RETAIL STORE



SOME OF YOU THAT HAVE KNOWN US FOR LONG WHILE MAY REMEMBER OUR HUMBLE BEGINNINGS. FROM OUR FIRST LITTLE SHOP IN BELL BUCKLE IN 1983 WHERE WE MOSTLY MADE REPRODUCTION IRON WARE. FIRE GRATES, LANTERN HANGERS, TRIPODS AND THE LIKE.
THEN OVER THE YEARS HOW WE PROGRESSIVELY OUT GREW ONE BUILDING AND THEN ANOTHER, ADDING MORE AND MORE GOODS UNTIL WE HAD TO BUILD OUR PRESENT LOCATION.


---
INSIDE THE STORE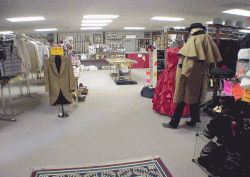 AS OF THIS WRITING (WINTER 2002) WE HAVE BEEN IN OUR NEW STORE FOR 3 YEARS. I DON'T KNOW HOW MUCH LONGER I CAN USE THE TERM "NEW". CONNIE, MYSELF AND PHILLIP BUILT IT FROM SCRATCH AND MOVED IN LESS THAN 4 MONTHS.
AT 5000 SQUARE FEET OF RETAIL FLOOR SPACE I THINK IT IS SAFE TO SAY THAT WE HAVE THE LARGEST STORE OF IT'S KIND IN THE COUNTRY. AND IT'S ALL THANKS TO OUR GREAT FRIENDS AND CUSTOMERS. JUST TO CLEAR UP ANY CONFUSION A CUSTOMER IS SOMEONE WHO HAS ONLY BEEN HERE ONCE. THE SECOND TIME YOU COME AROUND HERE YOU FALL INTO THE FRIEND CATEGORY. THE THIRD YOU TIME YOU STOP BY WE EXPECT PRESENTS!


---
INSIDE THE MUSEUM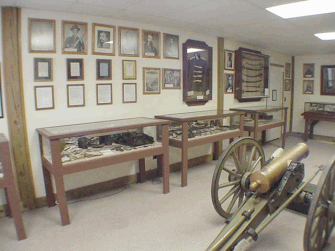 THE MUSEUM CONTINUALLY GROWS WITH MORE AND BETTER CIVIL WAR RELATED RELICS. IT IS STARTING TO LOOK LIKE WE ARE GOING TO HAVE BUILD A SEPARATE BUILDING JUST HOUSE THEM. EVEN THOUGH SOME OF THE RELICS HAVE BEEN A LITTLE COSTLY THERE WORTH FOR RESEARCH AND EDUCATION PURPOSES HAS BEEN UNMEASURABLE. IT'S ONE THING TO LOOK AT A RELIC IN A BOOK BUT IS QUITE ANOTHER TO HOLD IT IN YOUR HAND.


---
A TOUR GROUP BEING BRIEFED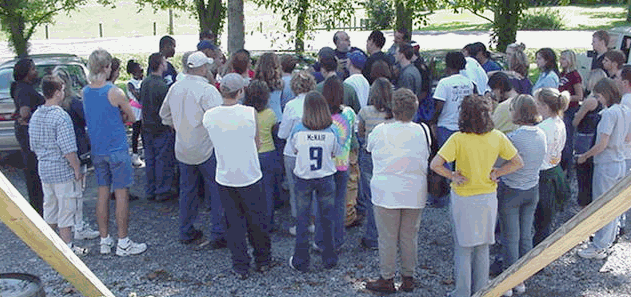 THE BATTLEFIELD TOURS HAVE BEEN A GREAT SUCCESS. BUT WITH A GREAT SPEAKER/AUTHOR/PROFESSOR LIKE DR. BRADLEY HOW COULD THEY MISS? THAT'S PROF. BRADLEY IN THE CENTER FACING THE CAMERA. FOR THOSE OF YOU WHO DON'T KNOW, DURING THE SUMMER MONTHS WE HAVE TOURS OF THE LOCAL BATTLEFIELDS (HOOVER'S GAP & LIBERTY GAP) THAT LEAVE FROM THE STORE AROUND 9:30 ON SATURDAY MORNING. GENERALLY THE LAST SATURDAY OF THE MONTH. CHECK OUT THE [BATTLEFIELD TOURS] LINK FOR ALL THE DETAILS. BATTLEFIELD TOURS


---
THE WAREHOUSE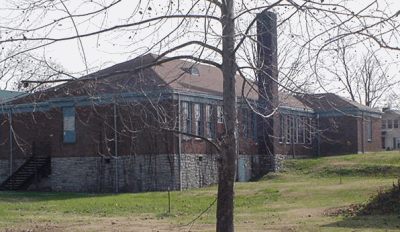 IN JUNE OF 2002 WE BOUGHT ANOTHER BUILDING THAT CONTAINS 8000 SQUARE FEET TO USE AS A WAREHOUSE AND SEWING FACTORY. IT'S ALREADY FULL!


---
INSIDE THE BLACKSMITH SHOP


WE REMODELED THE OLD BARN JUST BEHIND THE RETAIL STORE AND WE NOW USE IT AS A COMBINATION BLACK SMITH AND WOOD WORKING SHOP.


---
INSIDE THE LEATHER SHOP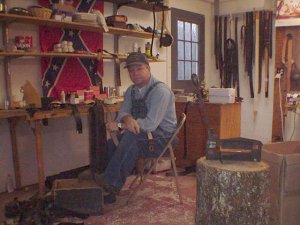 THE BUILDING WE USE AS OUR LEATHER SHOP STARTED LIFE AS A TWO CAR GARAGE. THE CARS CAN STAND THE COLD WEATHER A LOT BETTER THAN I CAN SO I CLOSED IN THE DOORS AND "PRESTO-CHANGE-O!" NO MORE CUTTING COW HIDES ON THE KITCHEN TABLE. TO TELL YOU THE TRUTH I THINK CONNIE WAS GETTING A LITTLE TIRED OF ME DOING THAT.


---

NOW THAT YOU HAVE TAKEN THE VIRTUAL TOUR OF THE PLACE WE HOPE THAT YOU WILL DROP BY IN PERSON. PLAN ON MAKING A DAY OF IT. THERE IS A LOT TO SEE AND DO AROUND HERE, PLENTY OF BATTLEFIELDS AND MUSEUMS. SEVERAL BED & BREAKFAST AND HOTELS ALSO. THERE IS LOTS OF GOOD FOOD AND TONS OF ANTIQUE SHOPS TOO. ALL ARE JUST A FEW MINUTES DRIVE OF THE BLOCKADE RUNNER STORE.


---
PHOTO'S OF THE GANG
---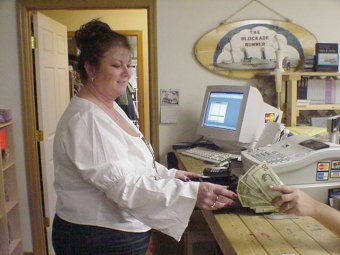 HERE'S A PHOTO OF CONNIE DOING WHAT SHE DOES BEST!.


---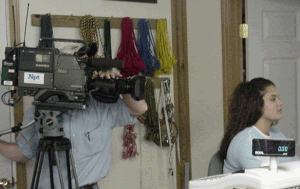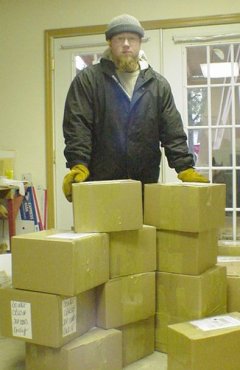 THAT'S LAQUITTA ON THE LEFT BEING FILMED BY OUR LOCAL NPT STATION FOR A SEGMENT THEY DID ON THE BLOCKADE RUNNER.
THAT'S PHIL ON THE RIGHT, "KNEE DEEP IN PACKAGES" FOR TODAY'S SHIPPING.


---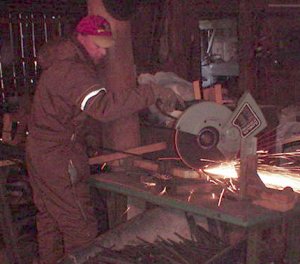 THAT'S RICK SAWING IRON TO MAKE TENT STAKES.


---
PHOTO'S OF FRIENDS WHO STOPPED BY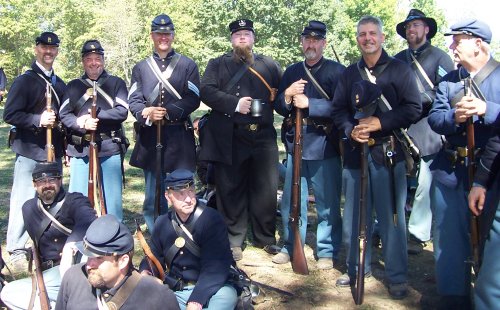 HERE'S A PHOTO OF THE DANISH INVASION OF MILL SPRINGS 2007. WE FORGOT TO GET A PHOTO WHILE THEY WERE HERE AT THE SHOP SO WE JUST TAGGED ALONG TO THE EVENT WITH THEM. OK, EVERYONE IN THE PHOTO IS NOT FROM DENMARK, A FEW ARE THE 9TH KY. U.S. THEY THOUGHT WE WERE LINING UP FOR SUPPER.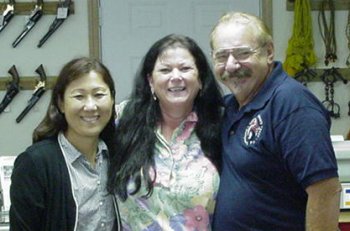 THIS IS REV. RICK WATKINS AND HIS WIFE KATHY. THEY STOPPED IN ALL THE WAY FROM HONOLULU, HAWAII. MUST HAVE BEEN ONE ROUGH DRIVE.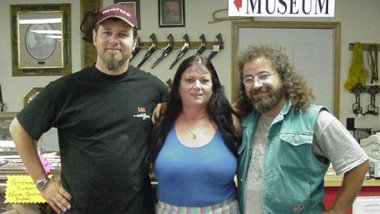 OUR OLD AND DEAR FRIEND DUSTY (FAR RIGHT) AND HIS FRIEND MICHEAL, (FAR LEFT) BOTH FROM BARVARIA STOPPED BY TO SEE US THE OTHER DAY. THEY WERE OUT SIGHT SEEING SINCE GETTYSBURG HAD BEEN CANCELED.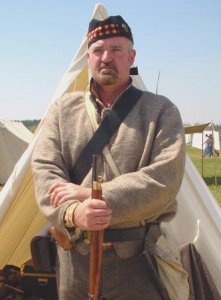 HERE IS OUR GOOD FRIEND BILL BROWN FROM BONNY SCOTLAND. BILL STOPPED BY TO SEE US AND PICK UP A NEW JEAN CLOTH JACKET ON HIS WAY TO SHILOH 2002. BILL HAS THE BEST TATOO OF GEN. FORREST I HAVE EVER SEEN!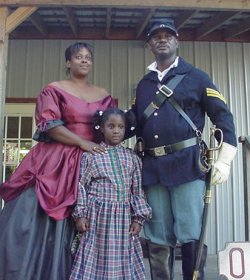 HERE IS OUR GOOD FRIEND WILLIE GUNN FROM FORT BENNING GA. WITH HIS LOVELY WIFE AND DAUGHTER. ALL ARE WEARING BLOCKADE RUNNER UNIFORMS AND DRESSES RIGHT OFF THE RACK. THEY CAME DOWN AND SPENT THE AFTERNOON WITH US AND LEFT COMPLETELY OUTFITTED. SGT. GUNN DOES A 10th US CAV. IMPRESSION.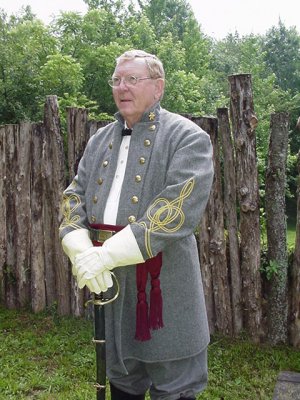 HERE IS OUR GOOD FRIEND AND FORMER NATIONAL COMMANDER OF THE SONS OF CONFEDERATE VETERANS ED DEASON IN HIS CUSTOM MADE BLOCKADE RUNNER UNIFORM.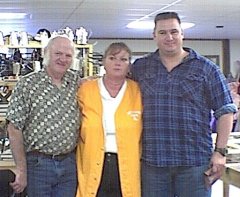 HERE ARE OUR GOOD FRIENDS OSCAR WILDE ON THE LEFT, AND TIM WHITFORD ON THE RIGHT WITH CONNIE CENTER. TIM AND OSCAR ARE FROM AUSTRALIA. THEY STOPPED BY ON THERE WAY TO ANTETAM.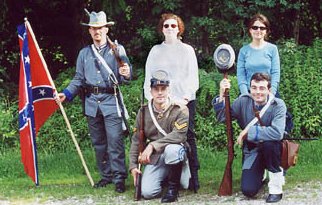 HERE IS OUR GOOD FRIEND AND "PEN PAL" PAOLO MANGANO AND FRIENDS. A BRAND NEW GROUP FROM ITALY. THEY HAVE MADE ALL THERE OWN UNIFORMS. THEY ARE PROTRAYING THE 4th GEORGIA. THEY HAVE NOT BEEN ABLE TO STOP BY AS OF YET BUT THEY ARE PLANNING A TRIP TO THE STATES AS SOON AS POSSIBLE. WE HAVE E MAILED EACH OTHER SO MUCH WE THOUGHT WE SHOULD INCLUDE THERE PHOTO HERE.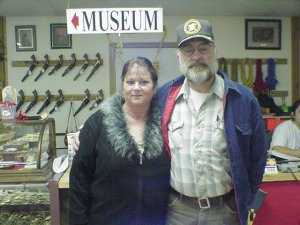 HERE IS OUR GOOD FRIEND PAT McKEEN FROM DELTS JUNCTION ALASKA WITH CONNIE. PAT STOPPED BY TO PICK UP A FEW THINGS WHILE ON A CROSS COUNTRY TRIP TO VIRGINIA.



---

CLICK HERE TO RETURN TO www.blockaderunner.com HOME PAGE

Click here to refer back to catalog INDEX page.



Phone: 931-389-6294 Fax: 931-389-0486
Send e-mail to: bri@blockaderunner.com

This site designed and maintained by
Blockade Runner Publishing