ACCESSORIES
---


CLICK THE PHOTO FOR A MORE DETAILED VIEW.
The photo above is actual size

LION'S HEAD W SWAN BELT BUCKLE
In my humble opinion the ladies of the hobby have just too few options when it comes to belts. That's why we have been hard at work to offer you a little more variety. Our latest acquisition is this beautiful LION'S HEAD W SWAN BUCKLE. What a super accessory! You can purchase the buckle from us just as it is or we will be happy to add the cloth belt. The belts can be of any material or color. Let's say that you have some excess material left over from the last outfit you made. Would you like to have the belt made from the same material? Just place it in the post addressed to us and we will see to it poste haste!



LION'S HEAD BUCKLE
ITEM # 2274 $18.95
BUY NOW!

LION'S HEAD BUCKLE WITH CLOTH BELT
ITEM # 2266 $29.95
BUY NOW!




---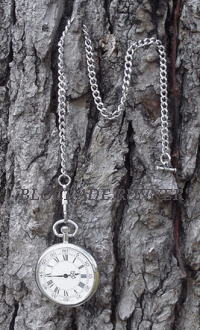 LADY'S WATCH
We offer for your inspection a lovely lady's watch. We have found non better short of an original. The size is perfect. Slightly smaller than that of a Gentlemen's watch. Measuring 1 and ½ inches in diameter. The numerals are not only correct but the predominant style for the period. The chain itself is 12 inches long, a little longer if you include the length of the clip and T bar. The watch case itself is nickel plate over brass so it will never tarnish.
The reverse of the watch is adorned with engravings of a very delicate design depicting flowers on the vine. Most lovely.
It has a Quartz movement, which means no winding, battery powered.
I know of no one else who offers a T bar for your watch chain. The T bar is the period correct way to attach your chain your garment. The T bar itself is pushed through a convenient button hole and then pulled back against the garment. The T prevents it from slipping back through.
Click this link for a view of a period CDV of a lady wearing a watch & chain tucked in her belt.

I have a little information here for you regarding lady's watches. I must first apologize as my so called filing system has failed me once again and I can't find my notes. My information will be vague but I can tell you where to check it for yourself.
The local Museum in Wilmington North Carolina (Blockade Runner capital of the Confederacy) has a wonderful display which, as War torn Wilmington did, centers around the Blockade Runners. So the local merchants and jobbers were the first to have access to the goods coming in.
Now for the point of this long winded explanation. In 1862 a Wilmington paper ran a local merchant's list the goods he has for sale. These goods had just ran the blockade on the Steamer Kate, if memory serves. Among the goods offered for sale is Men's and Lady's watches, in gold and silver. He goes on to list the exact number of each available. The only reason I mention this is to show that the merchant made a distinction between watches for men and watches for women.

LADY'S WATCH & CHAIN WITH STANDARD HOOK ITEM #2131 $29.95 BUY NOW!

LADY'S WATCH & CHAIN WITH T BAR ITEM #2131-A $32.95 BUY NOW!

T BAR ONLY FOR A LADY'S WATCH CHAIN ITEM #2131-B $2.95 BUY NOW!


---
WATCH POCKET IN CROCHET
Was Crochet Popular?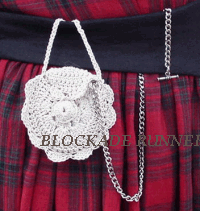 This watch pocket is made right here in Middle Tennessee, it is pined to the back of the belt or you can easily attach a button to the back of the belt for the loop to fasten over.
Godey's and Peterson's magazines of the period list several styles of watch pockets. It was also common for a lady just to tuck her watch into her belt.
As with all of Blockade Runner's crochet goods every detail is attended to. Our Library of crochet goods and instructions is second to none. It includes not only such readily available sources as the fashion magazines of the day but also extremely rare and hard to find references such as the 1859 published "LADIES HANDBOOK OF FANCY AND ORNAMENTAL WORK".
We are always happy to supply you with references for any item that may interest you. It is our goal to provide you with the very best in Affordable Authenticity . And the goods listed here are just another example of that goal being met.

Click here for a LARGER VIEW.

These watch pockets are available in a plethora of colors. As always we try to keep the most popular ones in stock, black, white, and off white or cream is just about a sure bet to be here in our show cases waiting for you. Some of the other colors may be considered a custom order. Call or e mail if you have any question. We are always eager to help.



CHOOSE YOUR COLOR BELOW WATCH POCKET IN CROCHET ITEM #726

ITEM # 726 $14.95 CREAM BUY NOW! ITEM # 726 $14.95 BLACK BUY NOW!

ITEM # 726$ 14.95 WHITE BUY NOW!




---
PARASOLS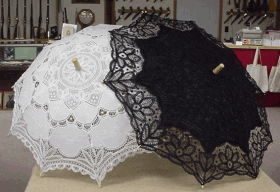 Battenburg Lace Parasols, These beautiful parasols truly recall a bygone era. When opened they measure 36 inches across. They have a metal frame and a natural finished wooden handle. They're sure to keep the sun from ruining you milky white complexion. You wouldn't want to look like a farm hand now would you?
They are a great accessory even when not open, they work wonders for prodding husbands in the right direction!

WHITE PARASOL ITEM # 718 $34.95 BUY NOW!

BLACK PARASOL ITEM # 718A $34.95 BUY NOW!


---
LANGUAGE OF THE FAN
Normally I do not add links to other sites on the pages of the catalog. But I thought you would find this one very interesting. It's a link to the Royal Collection's website. They offer us a detailed look at the language of the fan including video demonstrations. Young ladies would use their fans to communicate feelings and intentions without speaking a word, and all under the watchful but oblivious eye of their chaperon. Devilish little creatures aren't you.



Click here for the LANGUAGE OF THE FAN.




---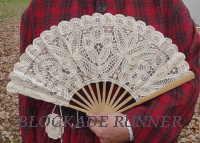 LACE & WOOD FANS WITH TASSEL
The elegance of lace. Nothing encompasses so many emotions with a single glance as does this timeless material. It seems quite strange to place human qualities upon inanimate objects but if I were to do so, I would have to say lace has imparted upon it the quality of femininity. That is the first thought to enter my mind every time I see it. I can't walk past a piece, even when it's still on the bolt without running my hand over it.
Now add to that the scenes of a the shy belle hiding behind her fan, disguising her glances until she is ready to make them known. The fortunate beau who may or may not know he will soon be the object of her affection has no defense that is up to this challenge. Submission is eminent.
He need not be familiar with the language of the fan to interpret those flashing eyes shown just above the lace. There are but few things that go together with such harmony, a belle and her beau, a fan and lace.

These beautiful fans come in 3 colors, White Lace with natural finished wood. Cream Lace with natural color wood and Black Lace with black wood.
The fan itself measures 10 inches long when closed. It measures 19 inches wide when opened.
Each fan has a lovely colored tassel attached as seen in the photo above.



BLACK LACE FAN #2080 $16.95 BUY NOW!

WHITE LACE FAN #2080 $16.95 BUY NOW!

CREAM LACE FAN #2080 $16.95 TEMP. OUT OF STOCK.



---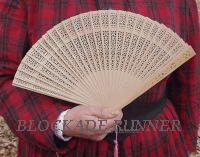 SANDLE WOOD FANS WITH TASSEL
The sweet perfume of sandlewood will fill the air every time you fan. I have always been amazed at how long these beautiful fans with their filagree design will keep their fragrance. It may be partially due to the pretty ornamental storage box, made of papier-mache and a glass viewing window that comes with each fan. But I have yet to pick one of these fans up, regardless of how long it may have been stored away, yet when fanned that lovely aroma is still present.
Some consider this fan a means of self defense. The longer your male admirer has been without the benefit of soap and water the closer you hold your fan to your nose.

The fan itself measures 9 inches long when closed. It measures 16 inches wide when opened.
Each fan has a lovely colored tassel attached as seen in the photo above.



SANDLEWOOD FAN #LA120 $4.95 BUY NOW!




---
HAND CROCHETED POCKET FOR EYE GLASSES OR FAN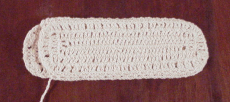 Was Crochet Popular? This handy little crocheted pocket will pin right to your waist belt and provides you with the perfect place to put your fan or your period straight ear piece eye glasses. It's super for protecting the lenses of your glasses as well.
It comes in a variety of colors. It measures 2 1/4 inches wide by 7 inches long. This is really a handy little item.

ITEM # 726 $14.95 CREAM BUY NOW! ITEM # 726C $14.95 BLACK BUY NOW!

ITEM # 726D $14.95 WHITE BUY NOW! ITEM # 726E $14.95 ECRU BUY NOW!

ITEM # 726F $14.95 PEACH BUY NOW! ITEM # 726G $14.95 PURPLE BUY NOW!

ITEM # 726H $14.95 MAUVE BUY NOW! ITEM # 726I $14.95 RED BUY NOW!

ITEM # 726J $14.95 HUNTER GREEN BUY NOW!


---
CIVIL WAR ERA EYE GLASSES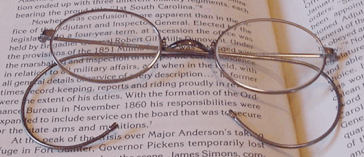 It's about time someone came up with a great looking pair of reproduction eye glasses. They are strong and dependable yet surprisingly comfortable to wear. They are wide enough to fit almost any adult. They come with spring type ear pieces so they won't fall off as your others always do, at the most inopportune moments. Need I remind you of the soup pot incident? They're ready for your eye doctor to put your prescription in. Which by the way is surprisingly affordable. Many of our friends have had there prescriptions filled for between $40. to $60.! So now there is absolutely no excuse for you not to have a pair now is there?
The frames measure 4 5/8 inches across and the lenses measure 1 1/4 inches height by 1 3/4 wide. Get rid of those old farby looking glasses you've been wearing and get yourself a pair of these great looking repro's!

You'll like the price too!



ITEM # 823 $34.95
TEMP. OUT OF STOCK!

FOR MORE STYLES OF EYE GLASSES CLICK HERE




---
HAND CROCHET CHATELAINES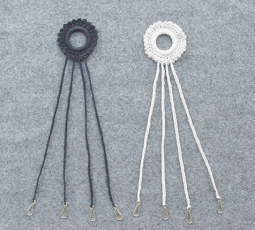 Click Photo for a larger view.
Was Crochet Popular? When your ability to sew was considered a large part of "who you are and a young ladies needle work was even considered when perspective suitors were looking for a bride, why it's no wonder that sewing accessories became fashion accessories!
Our beautifully hand crochet chatelaines are made right here in Middle Tennessee. They are 12 inches long and they pin to your belt or directly to your dress. They have 4 hooks so you can display all of your finest sewing accessories. Like your stork scissors (a personal favorite of mine) thimble, needle holder and any of those other "Got to Have It" little things we love so well.
The craftsmanship is exquisite. As with all of our crochet goods we offer the Chatelaines in a wide variety of colors. There very fashionable for the period. Period Godey's Lady's Books and Peterson's Magazines list many, many crochet projects from month to month. Variety is the spice of life, or so they say. So with just a few accessories like a new chatelaine you can give a dress a completely new look!

WHITE HAND CROCHET CHATELAINE ITEM # 2040 $14.95 BUY NOW!

BLACK HAND CROCHET CHATELAINE ITEM # 2040 $14.95 BUY NOW!

ECRU HAND CROCHET CHATELAINE ITEM # 2040 $14.95 BUY NOW!

RED HAND CROCHET CHATELAINE ITEM # 2040 $14.95 BUY NOW!

MAUVE HAND CROCHET CHATELAINE ITEM # 2040 $14.95 BUY NOW!

HUNTER GREEN HAND CROCHET CHATELAINE ITEM # 2040 $14.95 BUY NOW!


---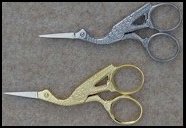 STORK SCISSORS
Here's a chance for you to get a great deal on a brand new pair of Victorian / Civil War Era Stork Scissors. In the era when Sewing was such a huge part of almost every women's life, Sewing accessories had to be stylish as well as functional. These beautiful reproduction stork scissors recall that bygone era. Sure to bring a smile to everyone that uses them.

STORK SCISSORS - GOLD ITEM # 799 $4.95 BUY NOW!

STORK SCISSORS - SILVER ITEM # 799-A $4.95 BUY NOW!


---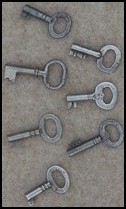 ORIGINAL SPICE CHEST KEYS
This is the exact style of key used for furniture locks during the civil war era. Used for spice chest and other types of furniture that for whatever reason needed to be secured.
Although during the 1860's prices had improved regarding spices, during the 1820's a cone of sugar (approx. 1 pound) in Middle Tennessee, sold for $5.00. The same price as an acre of land in many areas! So you can imagine why the lady of the house kept the sugar and her other spices under lock and key and the key on her person. Children and servants both were known to "pinch" a bit of sugar from time to time. This makes a super addition to your chatelaine!

ORIGINAL SPICE CHEST KEY ITEM # 2133 $4.95 BUY NOW!


---
Click here for WHAT-NOTS on page 19

Return to HATS & SNOODS on Page 17

Return to LADIES FASHIONS home page

E-mail us

Call us from 9 A.M till 7 P.M. at 931-389-6294 or use our 24 hour fax line 931-389-6294

This site designed and created by Blockade Runner Publishing
Copyright © 2018 - No portions of this website may be redistributed in any form without expressed written permission from Blockade Runner Inc.