SECOND PRINTING, LOWER PRICE!
L. VIRGINIA FRENCH'S
WAR JOURNAL 1862-1865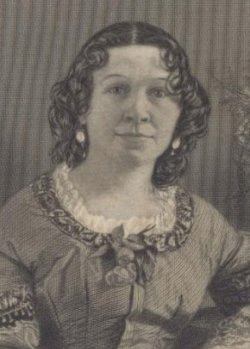 The second printing is here! Much of our initial printing cost and overhead was covered by the sale of our first printing of this fantastic book. Now we can offer it to you at an even lower price than before. Hopefully this will give even more people access to this book which many are calling the "Civilian Company Aytch".

L. Virginia French's journal gives the best insight into the everyday life of a Middle Tennessean that was ever put to pen. During the first part of the journal her thoughts are somewhat philosophical but as time goes on and the war comes to her home in McMinnville Tennessee it all becomes very personal. Accounts of Yankee raids on the town, factories burned without warning while the female workers are still on the top floor and Cavalry battles literally in her front yard. She entertains General John Hunt Morgan and his new bride Mattie Ready Morgan days after their wedding. Fans of General Morgan will be amazed at the stories Mrs. French records in her journal as told by the General himself. Written down the very day of the telling. General Wheeler visits so often that a member of his staff becomes engaged to Virginia's niece!
Women will be astounded by the details of of the local ladies dress, right down to the fabric, buttons and even their jewelry.
Details of how Terry's Texas Rangers were re-equipped by the local tradesmen, from their horse tac, shoes, boots and even how the local ladies pitched in to help with the clothing.
Every General officer, Colonel or Major that passes through the area calls on Mrs. French and she relates their tales to you through her journal. So many of the nagging questions about everyday life during the period, that I never thought I would know the answer to unfolded before me in crystal clarity as I read this journal.
It is probably best that we let her speak for herself.

A very small portion of this journal has been edited for clarity. In a few cases so has the spelling. But for the most part is appears here just as it does in the journal.



L. VIRGINIA FRENCH'S WAR JOURNAL
#2320 $19.95 BUY NOW!



---
WHERE'S WAR JOURNAL AVAILABLE?
If you can't get by Blockade Runner to pick up a copy of War Journal, here's a few other places you can get one.

FALCON REST in McMinnville Tn.
OAKLANDS MANSION, (Forrest's H.Q.) in Murfreesboro Tn.
LIVERY STABLE ANTIQUES, in Bell Buckle Tn.
THE CARTER HOUSE, in Franklin Tn.
HUNT MORGAN HOUSE, in Lexington Ky.
STONES RIVER NATIONAL BATTLEFIELD in Murfreesboro Tn.


---
REVIEWS
Thomas Cartwright of the Carter House Museum in Franklin Tennessee, often seen on the History Chanel had to this to say;
L. Virginia French's War Journal is one of the most informative books I've read in ten years. It is certainly the most enjoyable. Virginia has a lively style of writing found in few other authors of the day.


---

Dr. Michael R. Bradley, History Professor, Lecturer and Author says, "One of the great diaries from the period of the War Between the States was kept by Virginia French of McMinnville. Although often cited by researchers who had read its pages in the state archives the diary has never before been published. Jerry Smith has done a service to scholars as well as to those with a general interest in the Civil War by making this treasure readily available."


---

Sadie Fowler of the Shelbyville Times Gazette says, "Anyone who's interested in Civil War history, reading or simply Middle Tennessee heritage will find something enteraining in L. Virginia French's War Journal. It won't take long to get through this page turner, which takes the reader through an exciting and detailed account of civilian life during the American Civil War."


---

This is one of the best books on the Civil War I have ever read! Virginia French's writings really make you feel a part of her world: a gentle world now bombared by war and all its consequenses. Jerry W.Smith has painstakingly edited Mrs. French's journal and included an appendix that provides details and historical perspective about friends and family as well as a glossary of period terminology. Virginia draws you in as you see the Civil War from a whole new perspective. I highly recommend this book to historians, re-enacters, teachers and everyone interested in the era. You will learn things you never knew without having to time travel.

Victoria Pintenich, Historian, DAR, DOC Brentwood Tennessee


---

Here's the reveiw as it ran in the "Watchdog"

L. VIRGINIA FRENCH'S CIVIL WAR JOURNAL
By Craig L Barry
There are hundreds of Civil War journals kept by civilian women, by names almost from A to Z, beginning with "The Diary of Ada Bacot" to "Amanda Worthington's Diary". What is it that makes one account of the time period more compelling than another? In a nutshell, it is the ability of the writer to both interpret and record events in a way that makes the material interesting and offers insight into the time period. If I never read of another missed tea party or church service in one of these civilian diaries, it will be too soon. The nuggets of wisdom are generally too few and far between. And in fairness there is a fair amount of personal information early in the journal concerning the daily routine of French family life at "Forest Home" and her adorable, precocious children that was found less than compelling. What sets this journal apart is both the insight the writer brings and the skill with which the more important and significant events were recorded later on. There is a bite to her words that seems lacking in other period accounts which display fewer candors.

French was born (Lucy) Virginia Smith, and after the pre-mature death of her mother giving birth, her father re-married putting some distance between himself and his daughters from the first marriage, who were sent to be raised by grandparents in Virginia. She was fortunate to get an excellent education, supporting herself from a young age through her poetry, an example of which follows: When Nashville surrendered I'll always remember Was the first day I thought we were lost I shouted to show Southern powder and steel Now I shudder to think of the cost The Yankee invaders are worse than the plague Eating all that's in sight till it's gone All we have left to live on is rumors and fear And the difficult times to go on (1) Her ability as a wordsmith and a poet is what separates the Virginia French journals from some other famous works such as The Civil War Diary of Mary Chesnut. In fact, the Virginia French Journals squash the Chesnut Diary like a grape. In 1860, Virginia French began writing while living with her husband on a plantation estate ("Forest Home") outside of McMinnville in Middle Tennessee. The journal, once available for viewing only at the Tennessee State Archives has been published and edited by Jerry Smith. Jerry is better known as the proprietor of "The Blockade Runner" Civil War sutlery, which is not a canvas tent found at events but a five thousand square foot retail facility in nearby Wartrace, Tennessee. The narrative begins in 1862 and ends a few months after the assassination of Abraham Lincoln.

Virginia French begins her journal with the rumblings of a war she hopes to avoid. Starting with mundane passages about missing church with a headache, as time progresses she goes on to describes in detail the difficulties encountered during the Federal occupation of Middle Tennessee. Tennessee was the site of a disproportionately large share of the battles fought west of the Appalachian Mountains, and as result the state experienced more of the disruption caused by both armies passing through. She evolves quickly from a staunch Unionist ("secession would be madness") to advocate of secession. Her perception of Union troops is recorded as "miserable wretches...brutal looking...and so impertinent...insufferable in every way...how I do hate them , and how I want to let them know it to the full."

She records her conversations with both common foot soldiers and several famous Generals on both sides, including Rosecrans, John Hunt Morgan and Nathan Bedford Forrest, affording insights that would otherwise have been lost to history. Virginia French maintained a strong degree of skepticism toward military leaders in general. At a social event for J.H. Morgan, who married a local girl, and was attended by some overly self-important Confederate officers she noted, "I wished the bore would stop and the ball commence." French then added in reference to their coarseness, heavy drinking and lack of manners she was, "sick with the fumes from their breath, disgusted with their conversation and indignant at their ingratitude." It is clear that she expected the elegance of manners found in the gentlemen of plantation society to be mirrored by Southern officers from less cultured backgrounds. As might be expected, French held an even dimmer view of Union officers, who they invited into their home in hopes of fending off "foragers" and the ensuing losses from vandalism. Part of her disdain seems to be due to the class consciousness of the times, referring to the Union officers as "plebeians", which ironically she misspells.

These and other passages suggest an undercurrent of latent feminism which is not limited to animosity toward Union and Confederate officers. She records her overall dissatisfaction with the ways of men, including her own husband "Colonel" John French. The Colonel did not fight in the war, and apparently did little else during those years but passively watch their fortunes decline. She refers to him as a "knock-around, more intent on going to town to learn the latest news of the war than providing for his own family." She concludes the passage with the question, "I often wonder what men are made for", before slyly answering, "To keep up the species I suppose, which is the only thing (for which) they are 'always ready' and never slow about doing." Perhaps these sentiments are the result of being abandoned by her father early in life and left in the care of relatives? This flash of marital discord may also have been fueled by correspondence received from her sister (Lide) in Memphis whose husband was doing very well in the illegal, speculative cotton trade with the North. In fact, they ended the war quite wealthy. Such examples of ill gotten gains led Virginia French to have thoughts which were "very bitter", noting that "those who had been mean and inconsistent, nay wrong, were (more) successful in life." Regardless, in the end she makes it clear that the blame for their family's setbacks rested securely with the actions taken by the North in response to Southern secession.

The Journal also gains momentum with reminisces of the Battle of Stones River in late 1862, beginning with some vague general concerns over the impact such a large battle so close to them ("McMinnville will become a hospital"), before the harder realities came home to roost in the form of the death of a neighbor, also a close family friend. She sadly offers condolences to the family weeping at the side of a coffin which contained "their second son", a young man they called "Cap". Cap Spurlock fell the first day of the battle shortly after they rode to Murfreesboro to visit him for the holidays. In fact, they brought his body back home in the same buckboard which had so recently carried his Christmas presents. She recalled that neighbor as having once said, "Let the war come, we are ready" but added, "Were any of us ready to part with Cap?" Their first son had been killed at Perryville. (2)

The Journal is at its best here, where it stands as more than a war record, and serves practically as a validation to the sacrifice of the Confederate cause. Perhaps as much if not more so than anything else that has been written on the subject. The South was a different community after the war; one that had to rebuild not out of joyful re-unification with the North, but with a new social order that as Virginia French put it, "emerged out of the bitterness of the heart."


---
SUGGESTED READING
Here are a few related books you might enjoy reading.



WITH BLOOD & FIRE


Virginia's niece, Mollie, has to go before the Provost Marshall at Tullahoma after being accused of being a rebel sympathizer. This is the story of that corrupt office which sentenced hundreds to death often based on nothing more than rumor.



WITH BLOOD & FIRE ITEM # 2122 $17.95 BUY NOW!



---



THE LIFE OF JOHN SAVAGE


THE LIFE OF JOHN H. SAVAGE, Col. Savage of McMinnville, Congressman, Lawyer and influential citizen of McMinnville is mentioned, along with other members of the 16th Tennessee Infantry, throughout Virginia's Journal.



McMINNVILLE AT A MILE STONE


This book is out of print but an occasional copy can be found using "advance book search" on the web. This book provides some very good information on Virginia's neighbors along with a few photos of the people and place she mentions.


---
VIRGINIA'S POETRY
Here's a link to one of Virginia's Poems which was published in Graham's Magazine in 1851. This may be the first time she was published nationally. Just click on the link below, when through, click the back button to return here.



OLD POETRY SITE



---
CLICK HERE TO RETURN TO www.blockaderunner.com HOME PAGE