CANDLE LANTERN




Our new candle lantern is based on an original design from the period. Variations of this design can be found dating back to antiquity. I suppose when something works this well you just don't change it.
Every piece of this hand crafted candle lantern is meticulously made, in our workshop. We use only the best materials and we pay special attention to every detail to make sure you get the best lantern at the best price.
Our lantern measures almost 6 inches square and stands 11 inches tall, 16 inches to the top of the handle.



NEW CANDLE LANTERN
#2936 $29.95
TEMP. OUT OF STOCK.




---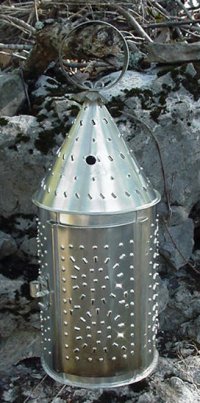 PIERCED TIN LANTERN
For years many of you have been asking for a Pierced Tin Lantern. I've been pretending you were my wife and ignoring you. But no more. I finally stumbled upon a tin smith who actually makes a good Lantern. I was sorta holding out for that.
Our Tin lantern stands almost 14 inches tall to the top of the ring. It measures 5 inches across. It will accept a candle up to 6 inches tall. The door opens wide to make replacing candles easy or for a little direct light right where you need it. When lit and the door closed it gives off a very soft glow. Great for when a little light is all you need. They are also very safe, if you forget to blow out your candle it's no big deal. The candle just burns out. They are great for warming your hands as the heat is evenly distributed all around. This lantern would be considered more of a Rev. War, 1812 item. Possibly later but I'll leave that research to you.



PIERCED TIN LANTERN ITEM # 2309 29.95 BUY NOW!






---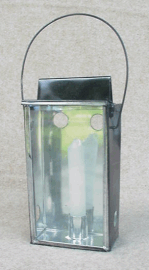 CAMPAIGNER TIN CANDLE LANTERN
Every now and then a piece of equipment comes along that is sooooo cool you've got to own one whether you need it or not. Well that's the way I am about this piece. The Campaigner Tin Candle Lantern not only looks great but is very functional and convenient to boot!
How often can you buy something that is not only better than what you were using but more efficient and cheaper. This little baby puts out just as much one directional light as any of those large candle lanterns. It's easier to pack in and since it only has one pane of glass it is less likely to get broken and to beat it all it is even cheaper. HOT DAMN that's my kinda bargain!
The Campaigner measures 3 ˝ inches wide by 2 inches deep. It stands 7 ˝ inches tall to the top of its chimney. The hinged cover raises and allows you to raise the glass pane to replace your standard 3/4 inch candle up to 5 inches tall (just like your other candle lanterns use.)
The shinny tin back acts as a reflector to double the light right where you need it.



CAMPAIGNER TIN CANDLE LANTERN
BLACK FINISH # 2160 $16.95 BUY NOW!

ALSO AVAILABLE IN BRIGHT FINISH!
BRIGHT FINISH # 2160-B $16.95 BUY NOW!




---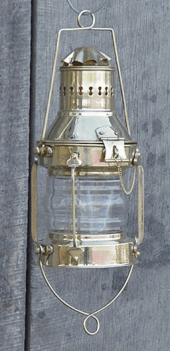 SOLID BRASS ANCHOR LANTERN
NEW BRASS ANCHOR LANTERN. Ok, let's get this out of the way right now, This is not a lantern that you tie to your anchor so that you can find it in the dark. Lanterns like this were raised into the rigging at night to show that the ship was "at anchor". Preventing other ships that were under way from ramming you. The hanger at the bottom of the lamp is there so that you can "anchor it", tying it off with a rope so that it will not swing in the breeze. Shipboard this feature was especially helpful when raising a lantern into the rigging. This type of lantern design goes back to the 1700's and was used right up through the late 19th century so you can use it for almost any period that you are going to reenact.

It stands over 10 inches tall, not counting the handle, and it is about 6 inches wide. It has 4 brass upright guards around the globe so you would really have to hit it hard to break it. The candle socket in the lantern will accept a one inch candle, that just happens to be the size of our bee's wax candles or you can buy one of our pewter adapters that will let your anchor lantern accept 5/8 inch candles. That's the size of our paraffin candles that run 3 for one dollar. They'll look just as good on your deck this summer as they will in your den. If you've visited your local specialty shop at the mall then you have probably seen this lantern running for about $70. But we are offering this lantern for just half of that!



ANCHOR LANTERN ITEM # 852 $39.95
TEMP. OUT OF STOCK!

PEWTER CANDLE ADAPTER ITEM # 945 $2.95
BUY NOW!




---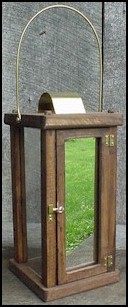 WOODEN CANDLE LANTERN WITH REVERSABLE MIRROR
NOW YOU ALREADY KNOW THE ADVANTAGES OF HAVING A MIRROR INSIDE YOUR CANDLE LANTERN. IT DIRECTS THE LIGHT TO WHERE YOU WANT IT WITHOUT BLINDING YOU IF YOU ARE HOLDING IT UP IN AN EFFORT TO GET A BETTER LOOK AT SOMETHING.



SO WHAT'S SO DIFFERENT ABOUT THIS LANTERN?




I thought you would never ask. The mirror is in the door of the lantern with an open slot at the top. So when you need a mirror to shave by, all you have to do is open the door, slide the mirror out the top, turn it so it faces outward and slide it back in. Now you have a mirror that measures about three inches by 8 inches that has it's own sturdy base. You don't have to worry about the wind blowing it over. Pretty neat huh? Then when night falls and you need your lantern just flip the mirror back over and you are ready to go. The lantern itself measures about 6 inches square by 11 inches tall with a brass heat deflector on top and a brass wire bale to carry it by.



CANDLE LANTERN WITH REVERSABLE MIRROR
ITEM # 2114 $ 39.95 TEMP. OUT OF STOCK.




---
MORE WOODEN LANTERNS
Wooden candle lanterns are the main stay of the Civil War reenacting community. Our lanterns have been on the market since 1985 and we feel that they are the best around. Regardless of who you buy your wooden lantern from it will probably be manufactured by the same supplier that we use. The lanterns come in three sizes, Small, Medium, and Large. All have a brass wire handle (bale) and a copper strap over the vent to protect your hand from the heat when carrying your lantern while lit. There are glass panels on all four sides. All sizes are available with a mirror on one side for more directional light.



SMALL, 12 INCHES TALL 4 INCHES SQUARE. #325 $24.95 BUY NOW!

WITH MIRROR . #326 $27.95 TEMP. OUT OF STOCK.

MEDIUM, 12 INCHES TALL, 5 INCHES SQUARE #327 $29.95 BUY NOW!

WITH MIRROR. #328 $32.95 TEMP. OUT OF STOCK.

LARGE, 12 INCHES TALL, 6 INCHES SQUARE. #329 $34.95 BUY NOW!

WITH MIRROR. #330 $38.95 TEMP. OUT OF STOCK.





TIN CANDLE BOX
Our folding tin candle box is 6 inches tall and 4 inches wide. It opens to expose the candle holder which swings out for easy candle replacement. It snaps closed tightly to keep your candle and matches or any other small items (like a little sack of dry tender for starting fires) dry as a powder house. You will be amazed at the amount of light one small candle box puts out. I know that I was. You see, when the box is opened and the candle is lit both sides of the box reflect the light outward so that you can direct the light right where you need it.


TIP:


When on the march you can take this candle box, wrap your extra pair of socks around it and the whole thing fits neatly into one of our stainless steel muckets. That frees up a lot of space in your kit for other items.



#307 $17.50 BUY NOW!




---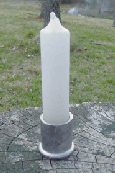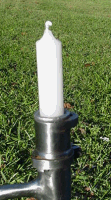 PEWTER CANTEEN SPOUT / CANDLE HOLDER.
This is a great little item. The pewter spout from a canteen makes a super candle holder. It's just heavy enough to be stable and it is so small that you'll never know that it's in your kit. Now some might say that they didn't use this item in the Civil War, I cannot prove that they did use them but I don't think that you can prove that they didn't. Here is what I did find out... In the book "Rebel Cornbread and Yankee Coffee", (available on our webpage, page 8a) there is a letter from J.H. Puckett from Texas, a private in the Army of Tennessee, to his wife dated Oct. 1863."A captured metal canteen can be split in half by exploding a little gun powder inside it, and the halves fashioned into skillets and plates." Ok, so now you've got a canteen that you just dismantled leaving you with two bowls and a pewter spout, so what would you do with the spout?



Here is another trick. Turn the spout lip side up and it fits perfectly into the socket of a .69 cal. bayonet, or with just a little whittling it will do the same in a .58 cal.
(WHITTLING NOT INCLUDED.)

PEWTER CANTEEN SPOUT #945 $4.95 BUY NOW!




---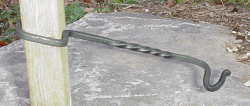 LANTERN HANGER
Our lantern hanger or "gravity hook" as some like to call it, is 9.5 inches long overall. The "arm" is 7 inches long. That will hold your average lantern far enough away from the wall that over heating will not be a concern. The square end of the hanger fits around the narrow edge of a 2x4 or any 2x2 that you may be using for your upright tent poles. The weight of your lantern pulls down the hook end which in turn will bind the square end in place. Your lantern is held in place by it's own weight. Pretty nifty.

LANTERN HANGER #337 $9.95 BUY NOW!


---

CANDLES, BEES WAX, 5 INCHES TALL. 1 INCH IN DIAMETER.
#336 $2.95 BUY NOW!

CANDLES, WHITE PARAFFIN. 6 INCHES TALL. 5/8 INCH IN DIAMETER.
THESE ARE BEST FOR OUR CANTEEN SPOUT CANDLE HOLDER.
#335 $0.50 EACH BUY NOW!

REPLACEMENT GLASS FOR ANY OF THE ABOVE LANTERNS. USE THE COMMENTS SECTION OF THE ORDER FORM TO TELL US WHICH ONE YOU NEED.
#338 $4.95 BUY NOW!

---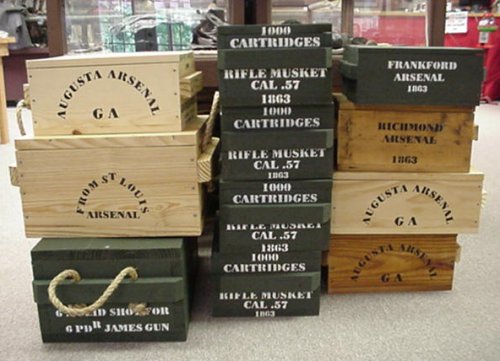 AMMO CRATES
Finally! A decent ammo crate. The great and powerful Shane Miles, "archaeologist to the stars", is the father of this project. He's doing a great job if I do say so myself. Features of these include; square nails, straight slotted screws and dove tailed ends when appropriate. Working from originals crates, documents and photos, Shane has hand crafted several styles of Ammo crates that are just top notch. If you can find a better one buy it. Yes the artillery crate does come with the dividers in place which are easily removed should you desire.



CALL FOR AVAILABILITY, WE HAVE A LARGE SELECTION IN STOCK BUT IF YOURS HAS TO BE MADE IT WILL TAKE 8 WEEKS TO DELIVER.
USE THE MEMO ON THE ORDER FORM TO LET US KNOW WHICH YOU WOULD LIKE.

PISTOL AMMO CRATES, YOUR CHOICE $29.95
# 2448 $29.95 BUY NOW!

69 CAL. AMMO CRATES, YOUR CHOICE $49.95
# 2449 $49.95 BUY NOW!

58 CAL. AMMO CRATES, YOUR CHOICE $49.95
# 2450 $49.95 BUY NOW!

ARTILLERY AMMO CRATES, YOUR CHOICE $159.95
# 2451 $154.95 BUY NOW!



---
CAMP STOOL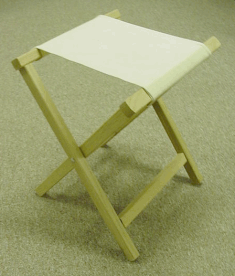 FOLDING CANVAS & WOOD CAMP STOOL
Here's your chance to get a great deal on a brand new canvas & wood folding camp stool. When you're not on campaign, you know, when the wife and kids come along. Few things come in as handy as a good camp stool. You can only sit on the ground or a piece of firewood for so long! and then there's rain. That's when you are really glad that you have a good camp stool. Our camp stool is made right here in Wartrace Tn. from locally cut Oak with boatshrunk canvas for the seat. They stand 18 inches tall by 14 inches wide. It's strong, very comfortable and light so it will not drag you down when camp is a long way from parking. It's not a lazy boy but it beats a stump any day!

Camp stools in a military camp? I can give you a list as long as your arm but I'll just put one here. Bing or Google "9th Miss. Co. B, Kinlock Falconer. The guy reading the newspaper, what's he sitting on?



ITEM # 867 24.95

BUY NOW!




---
FOLDING CAMP CHAIR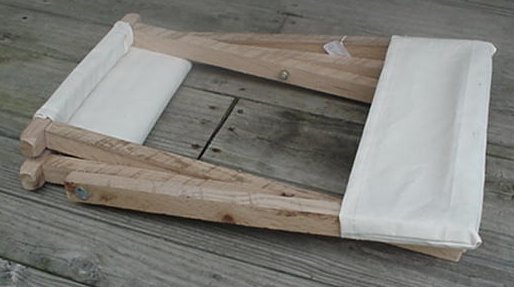 FOLDING CANVAS & WOOD CAMP CHAIR
We have just added a brand new canvas & wood folding camp chair to our line of camp goods. It's the same hieght and width as our folding stool with a very comfortable back. The whole thing folds down to near nothing. Strong? yeah it's strong. The average person will use this chair for years with no problems. Sure your fat drunk friends can still break it but don't let them set on it. They could break an anvil with a ball of cotton.



FOLDING CAMP CHAIR
ITEM # 867-C 32.95

TEMP. OUT OF STOCK.




---
TAPESTRY CAMP CHAIR

Here's our most sought after piece of camp furniture, the tapestry camp chair! This type of chair is often seen in original period photos where camp furniture is depicted.
Tapestry colors and patterns may vary.



ITEM # 867-B 39.95

TEMP. OUT OF STOCK.




---
TAPESTRY CAMP STOOL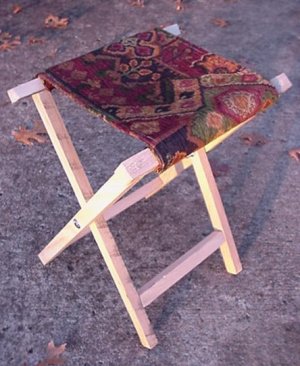 Here's the same great camp stool but with a colorful tapestry seat!
Tapestry colors and patterns may vary.



ITEM # 867-T 29.95

BUY NOW!




---
FOLDING CAMP TABLE

The photo left shows what it looks like when in use, the photo right shows just how small it will fold up to transport. The table top is 28 inches long and 23 inches wide. It stands 32 inches from the ground to the table top. It's made from Tennessee Poplar so it's super light, strong and resist rot. It's even termite resistant. This is by far my favorite piece of camp furniture. Well made and rugged for years of hard use in the field. Now available for shipping!
This table will ship to Dallas or Atlanta for $30.00 New York for $38.00, Grand Rapids for $34.00, L.A. for $54.00 and Seattle for $64.00.



FOLDING CAMP TABLE
ITEM # 2505 $89.95
BUY NOW!




---
FOLDING CAMP STOOL

This is a great companion piece for our folding table. This stool stands 20 inches tall, the seat is 13 x 14 inches so it's very comfortable. It's made of the same high quality kiln dried Tennessee poplar as our tables and folds into a very small package for easy transport. It's so well made it comfortably hold even our fluffiest generals! A great addition to any officer's baggage and a must for civilian camps.



FOLDING CAMP STOOL
ITEM # 2505-A $39.95
BUY NOW!




---


Click here to see
KITCHEN HEARTH & CAMPFIRE
on page TWENTY-SEVEN B.

Click here to refer back to catalog INDEX page.



www.blockaderunner.com

Phone: 931-389-6294 Fax: 931-389-0486

---
This site designed and created by Blockade Runner Publishing
Copyright © 2018 - No portions of this website may be redistributed in any form without expressed written permission from
Blockade Runner Inc.