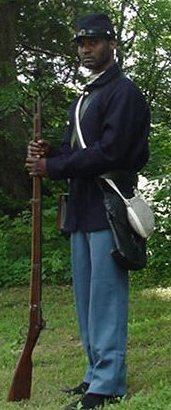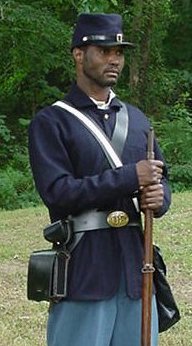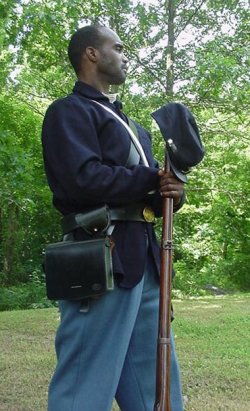 During the American Civil War 178,975 men of color served as United States Colored Troops. Their uniforms and accouterments were the same basic uniform as their white counterparts.
The enlisted men were issued white cotton shirts, white cotton drawers, cotton or wool socks, sky blue wool pants, a navy blue 4 button wool sack coat or in some cases a 9 button navy blue wool frock coat with sky blue piping. Foot wear was the leather brogan. Head gear consisted of a navy blue kepi or forage cap also known as a bummer. On rare occasion the tall black Hardee hat may have been issued.
Black tarred haversacks along with a canteen, canteen covers varied in color.
The Non Commissioned officer would also be dressed the same as his white counterpart.
USCT regiments were commanded by white officers. There was nothing about their dress to distinguish them from officers of any other regiment.

Weapons and accouterments would also be the same as any other regiment. Springfield rifles with 1855 style leather gear until late war when the 1864 style leather would be seen, but not exclusively in the field.


BLACK CONFEDERATES
The Black Confederate soldier generally went to the field in early war as his masters servant with some taking up arms as the war progressed. Civilian work clothes and cast off Confederate uniforms would be the order of the day as it was with many white CS soldiers.
Some Black regiments were raised late in the war and would be equipped (we surmise) similarly to their white counter part with the time and the area dictating the type of uniform.
With so many variables many re-enacters use a very generic confederate uniform. Early war eastern theater uses grey wool with a Richmond style jacket with Army of Tennessee using jean wool and depot style jackets.
Enfield rifles and leather gear of every description. For re-enacting purposes standard union leather gear works just fine.


---

"Blockade Runner has always provided our unit with the best gear at the best prices."
Corp. (Doctor) George Smith, M.D., 13th Reg. USCT. Murfreesboro Tenn.


---
AFRICAN AMERICAN PHOTGRAPHS
1840--1950
IDENTIFICATION, RESEARCH, CARE AND COLLECTING by Ross J. Kelbaugh



This book is of interest to anyone who claims to be a historian of any degree. Although the main purpose of this book is to help collectors of African American photographs it serves a much broader use. Over a third of this book is dedicated to photos that are of pre and or civil war era! It includes soldiers, sailors, craftsmen and of course slave photos but what I find most amazing are the fantastic photos of the wealthy free men and women of color.
Not only were African Americans the subject of these photos but they were sometimes the photographers as well.
So often our modern culture tries to pigeon hole everyone of the 19th century who was not Caucasian as servants, slaves or laborers. How wonderful it is to see a little of the true nature of the era, even when it is just a small glimpse.



AFRICAN AMERICAN PHOTOGRAPHS
Item #B2214 $14.95
BUY NOW!




---
MIGHTY ROUGH TIMES FIRST HAND ACCOUNT OF
LIFE AS A SLAVE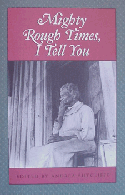 First printed in 1929, the social sciences department at Fisk University in Nashville, Tennessee, began recording the oral histories of former slaves. In this volume, thirty-six former slaves living in Tennessee recount first hand what it was like to live under the yoke. The voices in the volume thus recall the extreme condition of slavery in the border country as if grandma was telling you the stories herself. This is one aspect of the times that is seldom spoken of much less studied in any detail. Prepare yourself for a fascinating yet tragic glimpse into the life of a slave.



MIGHTY ROUGH TIMES FIRST HAND ACCOUNT OF LIFE AS A SLAVE
ITEM #826 $13.95
BUY NOW!




---
AMERICAN SLAVE SONGS
The song book "Slave Songs of the United States" compiled by W. Allen, C. Ware, and Lucy Garrison in 1867. In an effort to record the songs of the recently freed slaves in the United States before they were lost to time the above mentioned authors compiled what may well be the most complete book of songs written here exactly as the slaves sung them while still in the yoke of slavery. Written in the dialect and terminology of the day, many spirituals and field songs as well as a narrative 37 page intro detailing the collecting of these songs by the authors.



AMERICAN SLAVE SONGS
ITEM # 692 $12.95
BUY NOW!




---
SUGGESTED READING
"CAPTAIN OF THE PLANTER" by Dorothy Sterling.


The story of Robert Smalls. Printed in 1958 by Doubleday & Co.

Born into slavery Robert Smalls hijacked the CS ship "Planter" and surrendered to the Union troops making him an instant Union hero. After the war he was a State Representative then a State Senator for S.C. He was appointed Brigadier General of the State Militia. He was elected to Congress in 1875.


---
U.S.C.T. LINKS
In the Pennsylvania area; 3rd U.S.C.T.

---


Click here to see
PANTS & VEST
on page 14

Click here to refer back to catalog INDEX page.



www.blockaderunner.com

Phone: 931-389-6294 Fax: 931-389-0486

---
This site designed and created by Blockade Runner Publishing
Copyright © 2014 - No portions of this website may be redistributed in any form without expressed written permission from
Blockade Runner Inc.