HATS & SNOODS
---
SLAT BONNET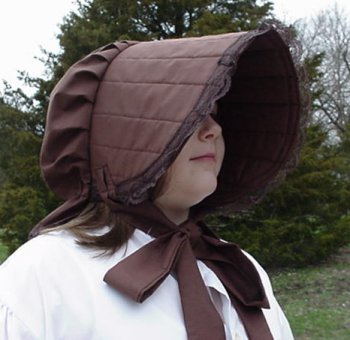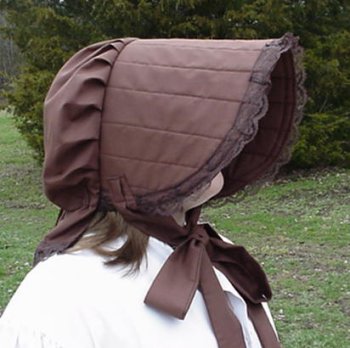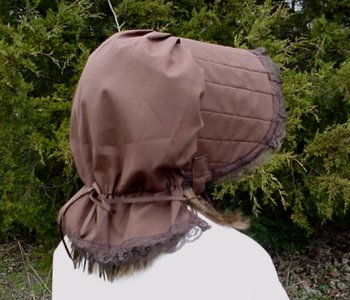 Slat Bonnets, for some time now you have been asking for a more appropriate "working class" bonnet. We offer for your approval this typical everyday bonnet. Exactly what you would expect to find on the homestead or farm. Of course you would see these in town if you lived on the frontier or were of the lower classes. With few exceptions these bonnets were homemade. You will not find these in any fashion magazine. They are designed to be utilitarian. They provide excellent protection from the sun, they keep the dirt, dust and hay out of your hair and provide some small measure of protection against the weather. Just what the farmers wife needs, remember - Regardless of your class or standing no women wants to look like a field hand.
We offer these bonnets in both brown and black. Being "work clothes" I don't think you would find them in any other color. There is a very famous photo of a Southern refugee standing beside her wagon wearing one of these. The photo shows very good detail of the bonnet. I believe it is in the Library of Congress's collection.



BROWN SLAT BONNET
#2936-BR $49.95
BUY NOW!

BLACK SLAT BONNET
#2936-BL $49.95
BUY NOW!




---
YOUNG LADIES STRAW HATS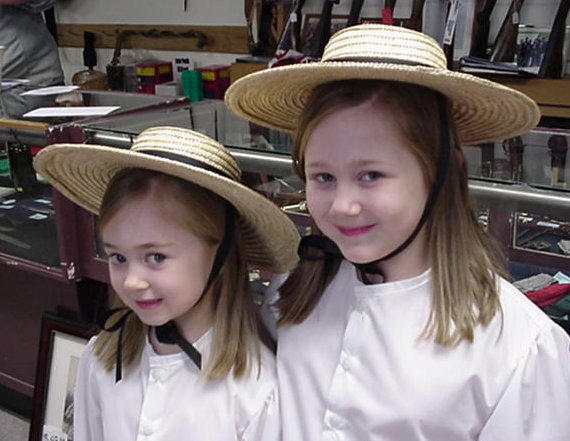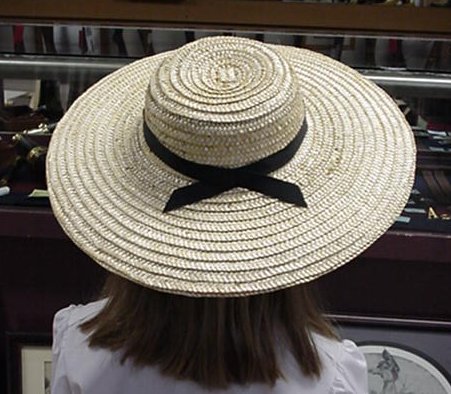 These straw sun hats are made especially for young ladies and are one size fits all. They sit on the back of the head and are held in place by black ribbon. They are very fashionable and exactly the same style as for ladies just a little smaller. Hand woven right here in Tennessee and sewn on a treadle sewing machine.



GIRLS STRAW HAT
ITEM # 2381-A $11.95
BUY NOW!




---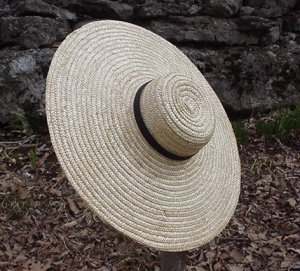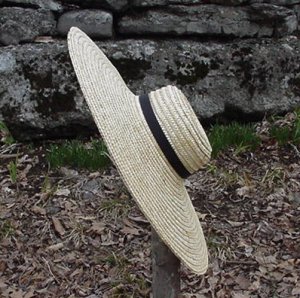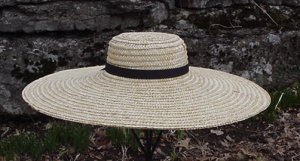 HAND MADE LADIES STRAW SUN HAT
I'm very happy to be able to offer this item and especially so to offer it at such a wonderful price. I'm sure you're already familiar with our Sun Hat as we have had such an overwhelming response to them and for that we thank you. So what could the great difference between that and this? This Sun hat is made from hand woven straw which was grown here, harvested using horse drawn equipment and sewn on a treadle sewing machine! It's all done right here in Middle Tennessee, a very home grown product indeed. You can see by the photos that the dimension of the straw itself is a bit wider than that of our other Sun Hat. The circumference is also a bit smaller. This one measures 17 inches across. A very charming hat that will lend a very "home spun" aire to your impression. We recommend this hat highly for all who's impression is that of a more self sufficient lady who is not afraid to work in her own garden. The smaller size has been greatly appreciated by some of our younger friends as well.

We have had only a small amount of confusion regarding the correct way to wear this hat but we feel it best to reiterate our instructions. This hat is to be worn on the crown of the head. It does not fit like a bonnet, it is meant to "sit back" when worn. It is affixed to the head by means of a ribbon that ties under the chin.

We have also listed here this hat without the tying ribbon. We did this as some of our friends may wish to affix a ribbon around the outside crown of the hat themselves. This will allow you wear this hat for the American Revolutionary War period right up through 1830 as this is the way it worn during that period, with the brim pulled down on both sides of the head by a ribbon which was then tied under the chin.



HAND MADE LADIES STRAW SUN HAT WITH RIBBON
#2387 $39.95 BUY NOW!

HAND MADE LADIES STRAW SUN HAT WITH OUT RIBBON
#2387A $39.95 BUY NOW!




---
WINTER BONNET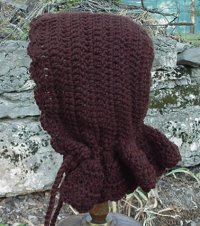 Unless you are very new to the hobby/life style/obsession of re-enacting, I'm sure you remember what it's like to be caught off guard, you know, when the weather unexpectedly turns cold on you. How often has a beautiful sunny October morning turned into a cold wet windy October afternoon. Nothing ruins a re-enactment like being cold and uncomfortable. I'm sure you are aware that most of your body's heat is lost through your head. So why don't you make one of these beautiful crochet bonnets a permanent part of your kit? They are very handsome and take up no room at all in your "must have" take along bag. Warm, comfortable and pretty. That's a great combination! Wouldn't one of these be great on a winter wagon or sleigh ride!
We offer these Crochet bonnets in Black or Brown and both are at a very affordable price. Only $39.95. What's your comfort worth?



BROWN CROCHET BONNET # 2305-BR $39.95 CHOOSE NOW!

BLACK CROCHET BONNET # 2305-BL $39.95 CHOOSE NOW!




---
NEW BONNETS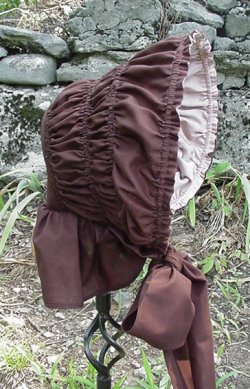 Many of you know that even though we have never offered bonnets on our web site, they have been available by special order. The demand for our bonnets has become a little overwhelming so for the upcoming season we have decided to re-double our efforts and offer them as a stock item. We hope you approve.

A new hat or bonnet can make last year's outfit look brand new. Our bonnets are made here in our shop and come in a variety of colors and variations on the theme. I wish I could describe them all to you but I'm afraid it would just take too long and become boring. Instead I'll just show you a few and give you the price range. I will increase the number of photos over the next few weeks so you can more easily pick the bonnet that is just right for you. We add only the smallest amounts of ribbons and lace as we have found that many of you prefer to "personalize" your own bonnet. We do offer them from the very basic style to moderately trimmed.



HERE IS ANOTHER BONNET FOR YOUR APPROVAL.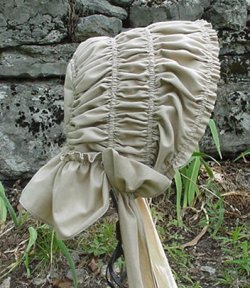 Now the cream colored bonnet is what we refer to as our basic bonnet. The ribbons are 36 inches long so if you wish you may tie a beautiful bow, if not simply let them drape either front or back. This bonnet does not extend past the brow so as not to hide your face. It does offer adequate cover from the sun or from blustery winds. The sun skirt on the back of the bonnet is of moderate length so as to accomplish the same goal.

As you can see the brown bonnet (top photo) does extend a little further, the sun skirt is a little longer and the inside is trimmed with a different color cotton fabric. This lets you match the bonnet to your outfit yet still allows you the freedom to complement your complexion with the appropriate color.



BASIC BONNET IN BLACK ITEM #2233-BL $129.95 CHOOSE NOW!

BASIC BONNET IN BROWN ITEM #2233-BR $129.95 CHOOSE NOW!

BASIC BONNET IN CREAM ITEM #2233-CR $129.95 CHOOSE NOW!



Other more extravagant bonnets increase in price exponentially. Up to $189.95 for the most elaborate. I'm sure that you know that the only way to make a bonnet is by hand. The amount of time and work that go into hand-stitching a bonnet is very extensive. With that in mind please understand that should you desire a custom bonnet there is an estimated delivery time of 8 weeks.
Currently we have a large variety in stock. Please enquire.

Do you recall in Virginia French's Journal when Gen. J.H. Morgan was describing his capture of a Union train headed for Nashville that was full of women? Gen. Morgan tells Mrs. French the ladies of the train were more concerned for their trunks than for their husbands. Speaking of the trunks he tells Mrs. French, "I'm sure they were full of those 3 story bonnets with which they intended to impress all of Nashville".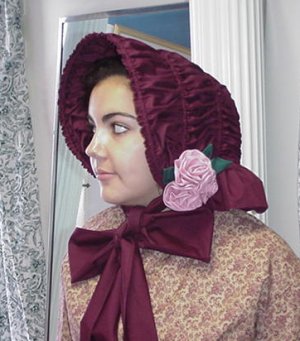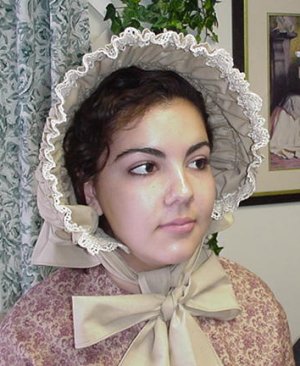 ---
---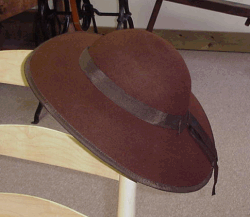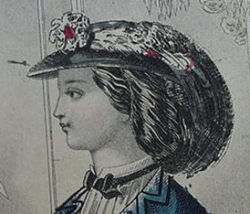 LEGHORN HAT
Goodey's Ladies Fashion Plate for March, 1862, figure #5 calls this style hat the "Leghorn". In this particular fashion plate the hat is shown with plumage but I can show you several other litho.s of the period with far more modest decoration and some with none at all.
In the March fashion plate it is being worn with a riding habit but this hat is just as fashionable with any number of outfits for the "out of doors", walking dresses, etc.
Made from 100% wool felt with a handsome ribbon for a band that drapes off the back of the hat ever so slightly, perfect for those of a modest nature. The edge of the hat is "taped" with a matching ribbon (machine sewn) and a band on the inside of the hat to prevent it from losing it's shape or size.
A hat pin is recommended with this hat but not entirely necessary.
Available in a variety of colors and just in time for the fall season.
Heretofore this style has been seldom seen in our hobby but is without a doubt one of the most appropriate styles available to date.
A welcome accessory to any of this seasons fashions.



BLACK LEGHORN HAT ITEM #2176-BK $29.95 BUY NOW!

GREY LEGHORN HAT ITEM #2176-BL $29.95 BUY NOW!

PURPLE LEGHORN HAT ITEM #2176-PU $29.95 BUY NOW!

GREEN LEGHORN HAT ITEM #2176-GR $29.95TEMP. OUT OF STOCK

CREAM LEGHORN HAT ITEM #2176-CR $29.95 TEMP. OUT OF STOCK




---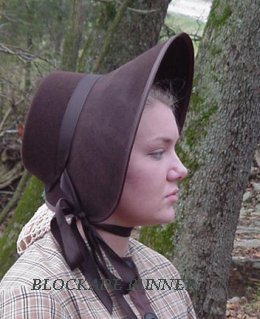 WOOL FELT BONNETS
Here is a great looking bonnet that is ready to wear. Sure to add that special touch to any outfit you wear it with. Made from heavy wool felt, the edge is trimmed with cotton tape and the one inch wide ribbon is extra long so you can tie as large a bow as you like. If you desire the inside of the bonnet can easily be trimmed with silk or cotton to give it that personal touch.



One size really does fit all!

ITEM #717 $89.50

AVAILABLE IN GRAY BUY NOW! BLACK BUY NOW!

OR BROWN BUY NOW!



---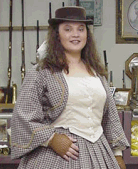 LADIES RIDING HATS
Our very fashionable wool felt riding hats are just the thing for an outing with friends. Whether your side saddle, in your favorite coach or strolling down a shady lane with your beau, you will always look great in this chapeau.

The come with a matching ribbon that is tied in a bow on the rear of the hat and then flows off the back 12 inches long. There is a small piece of fine netting attached to the rear of the hat that compliments the ribbon. This is easily changed from color to color by buying small pieces at your local notions shop. You can make the hat match any outfit you like!
Although several styles of this hat can be seen in period photos and illustrations in the periodicals of the day such as Godey's & Petterson's magazine, the style in the photo above seems to be the most prevalent by our research.

This hat comes in one size, a ladies medium, but it can be made into a larger size at any hat shop or made smaller by adding a padded head band.



ITEM # 2082 $89.95

AVAILABLE IN BLACK BUY NOW! BROWN BUY NOW! AND GRAY BUY NOW!




---
Hand Crocheted Snood
Was Crochet Popular?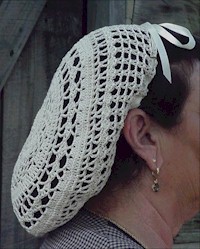 Click the photo for a larger view.
Our beautiful hand crochet snoods are made for us right here in Tennessee by a young lady who is very talented with her needles. Each snood takes a minimum of 3 hours to make. There numbers are limited but there timeless style and elegance knows no bounds. Each time you look at the meticulous stitching it harkens you back to an image of friends sitting round the hearth tending to there crochet, knitting and sewing while trading all the latest news. "Who was seen holding hands with whom?" They are held fast in place by means of a cotton ribbon tied in a bow. This lets you adjust the size of your snood to fit any hair style or length. They are available in various colors: Black, White, Cream or Ecru if you prefer. Other colors are available occasionally and we will be happy to try to help you with specific color request as long as you are not in a hurry. You will have to supply a sample of the color desired.

Would you like to see a great war dated snood photo?

Call, e-mail or instant message us and we will be happy to show you what colors are available via our web cam.

By the way, the store Opens at 9 O'clock and closes at 5 P.M. central but the phones are open (for orders only) until 7 P.M. and of course our web site catalog with online ordering is open around the clock.

Hand Crochet Black Snood Item # 2081BK $29.95 BUY NOW!

Hand Crochet Cream Snood # 2081CR $29.95 BUY NOW!

Hand Crochet White Snood # 2081WH $29.95 BUY NOW!


---
Snoods
These snoods are probably the most widely worn variety in the hobby today, why you might ask? Because they are so very inexpensive. At any event you attend you can safely wager that over half the heads there who are wearing snoods are wearing this snood.
They come in a variety of colors, there is no sizing as one size fits all.



Item # LA115 $4.95 Each

Choose your color below

Black BUY NOW! White BUY NOW! Cream BUY NOW!

Blue BUY NOW! Purple BUY NOW! Pink BUY NOW!

Brown BUY NOW!




---
Click here for ACCESSORIES on page 18

Return to GLOVES & MITTS on Page 16

Return to LADIES FASHIONS home page

E-mail us

Call us from 9 A.M till 7 P.M. at 931-389-6294 or use our 24 hour fax line 931-389-6294

This site designed and created by Blockade Runner Publishing
Copyright © 2017 - No portions of this website may be redistributed in any form without expressed written permission from Blockade Runner Inc.